Whittle Evolution Hardwax Oil

Review and photos: Raf Nathan
Hardwax oils have become very popular over the past few years as a great alternative polish to lacquers and polyurethanes. Personally I am slightly allergic to the latter and now solely use these hardwax oils. Whilst they are claimed on curing to be fully foodsafe and non-toxic I do find during application that the fumes are a little offensive. I therefore wear an organic vapour disposable mask and always polish in a well ventilated area, or weather permitting, outside.
Evolution is a newer version of the Whittle hardwax range that is formulated to dry faster than earlier products. It is very easy to apply with brush or rag and suits flooring, woodwork and furniture.
In my experience it is best to initially apply a reasonably wet coat with a brush and let the finish soak in till dry. After drying, sand with 320 or 400 grit abrasive, wipe or vacuum the surface, brush or rag the next coat on, wait one minute, and then gently buff off the excess surface oil with a clean rag.
If you leave it too long before buffing it can go tacky. If this happens apply another coat of oil and buff immediately. The manufacturer recommends two coats to be sufficient however I find three or four coats best.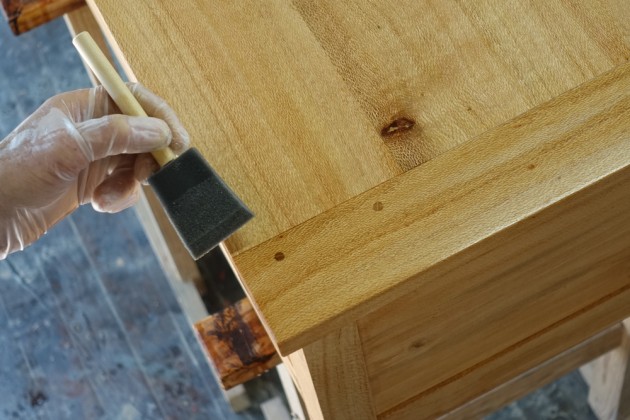 Drying time varied greatly depending on ambient humidity. Recent very heavy rainfall in my area seemed to delay drying for more than a day. In fact I waited till the third day before applying the second coat on a silky oak piece. However, when the weather changed to drier conditions I found a one day drying time was more than adequate.
There are three versions of Evolution available – Classic, Satin and Gloss. The gloss levels achieved in my workshop however did not match what you would expect from sprayable lacquers and polyurethanes.
The hardwaxes offer more of the hand-rubbed appearance rather than a glossy surface finish. To me the Satin and Gloss were much faster drying and with better build. Applied in the morning either of these oils was able to be sanded and re-polished after around eight hours drying time in low humidity.
Comparing the three versions on sample wood pieces the Gloss displayed the figure in the wood better and became my oil of choice.
It's important to note that the timber species you are using will affect the final finish and build. Open grained silky oak can easily take up to four coats, although grain filling prior to oiling can reduce this significantly. Hardwoods such as blackwood and jarrah are less hungry with their closed grain and therefore need fewer coats. For flooring or countertops brushing on 3–4 coats without buffing off will give a thicker, glossy build.
Hardwax oils are water resistant, hard wearing and the finish they achieve is easy to restore if need be. I find them suitable for dining tables and general woodwork and importantly they are fairly 'idiot proof' in their application.
Available from Whittle Waxes, the Evolution range also includes coloured finishes and pure oils for refinishing existing work.
Samples supplied by Whittle Waxes, see www.whittlewaxes.com.au