Reviewed by James Brook
Also called a chisel plane, this type of tool can be the one to use for cleaning up dry glue runs, detailing corners of joints such as a table rail joint or in places where you would use a chisel. Adjusted correctly you can also use it to trim flush protruding dowel ends, although I do think a smoothing plane is better for this. I have a WoodRiver chisel plane and there is another similar tool on the market that is made by Lie-Nielsen. This fairly new offering is made in Canada by Veritas.
At about 160mm long and 45mm wide (6-1/2 x 1-3/4") the Veritas sits well in the hand and has enough mass at 0.5kg to function well. The bubinga handle is comfortable to hold and in use my forefinger sat automatically on the top brass lock wheel.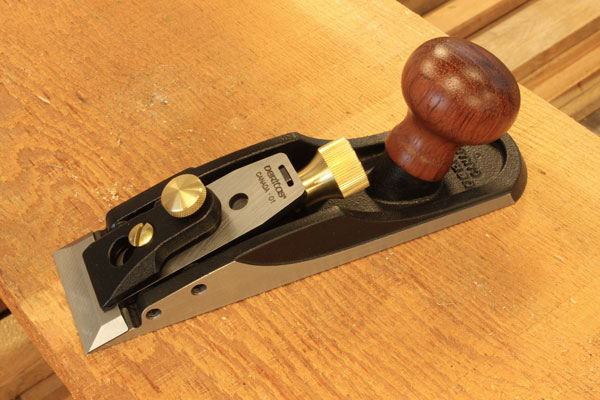 Cast of ductile iron it seems very strong but with a 15° bed angle the weak point, if dropped, would be the edge of the sole where it becomes very thin. The blade arrives ground at a low 20° so the combined angles cut at 35° which in theory should minimise tear-out.
There is a large brass knob at the rear to effect blade movement fore and aft, and the small allen screws that align the blade are a nice touch. The allen screws are set once to locate the blade in position, and from then on removing and replacing the blade for sharpening is painless as the screws give a pretty consistent re-alignment.
The pre-lapped 01 steel was flat on the back and reasonably sharp out of the box. Once honed and set the tool worked very well. On a table base it scraped away glue runs for me and cleaned up internal corners on leg rails quite easily. I was also able use it instead of a chisel for random workshop tasks and this impressed me. It is not, in my opinion, an essential tool. But if you enjoy specialist tools then this one is superb.
Available from Carba-Tec, see www.carbatec.com.au