Unplugged Woodshop Two-Handed Rasps

Review: Damion Fauser
Anyone who likes to involve some shaping in their work will know the worth and versatility of files and rasps in the workshop.
Traditionally, rasps are designed to be used by grasping the handle in one hand and holding the tip of the cutting surface in the other. Many of you will know that extended sessions like this can become uncomfortable and, like me, have attempted to solve this by wrapping tape etc around the cutting tip.
The team at The Unplugged Workshop, a hand-tool-only school in Toronto, Canada approached master rasp maker Noel Liogier in France to assist in getting around this issue by custom- making these two-handed rasps.
Designed with a spokeshave in mind, users can choose between three grades of cut – a coarse No.6, a medium
No.9 and a fine No.13. With beautifully shaped walnut handles and brass ferrules these tools are exquisite to use.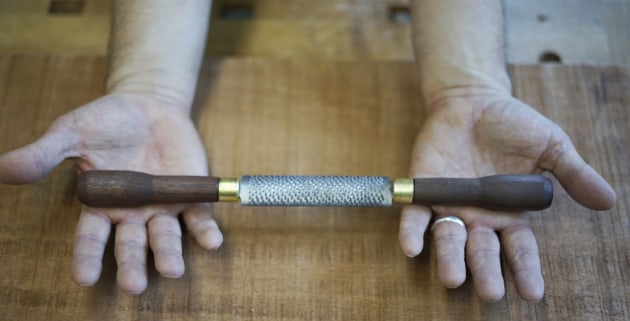 The cutting surfaces are approximately 4" x1" (100 x 25mm) and each tool has a flat and half-round face. On a traditional rasp, the teeth are oriented to cut along the length of the blade, but on these tools the hand- stitched teeth have cleverly been rotated by 90° to allow for cutting across the tool.
The overall length is 12-3/4" (324mm), so these tools are wonderfully balanced in the hand and ideal for shaping work held in the vice or shavehorse. Just like a spokeshave, users can easily switch between pushing and pulling the tool, something that is more difficult with a traditional rasp.
It is clear that serious thought has gone into the development of these tools, and the fit and finish is of the highest quality. I consider them to be extremely good value for the quality and performance.
For anybody who likes to shape with hand tools, these rasps are a truly exciting development and I'm sure you'll find yourselves reaching for them time and time again.
Available from www.theunpluggedwoodshop.com
Damion Fauser is a designer maker in Brisbane who also teaches woodwork. See www.damionfauser.com