UJK Parf Guide System and TSO Products MTR-18 Square

Review: Damion Fauser
The accuracy of this tool combination has to be seen to be believed. The Parf Guide System from UJK Technology has been designed around one of the most famous mathematical formulas – the Pythagorean theorem. Its purpose is to allow the user to create a grid of 20mm holes in a benchtop whereby any line of holes are in perfect alignment, any two rows or columns are perfectly parallel and any row/column is perfectly square.

There are two parts to this system. Firstly, two stainless steel rules that each have a row of perfectly spaced 3mm holes. By using the provided 3mm drilling guide, 3mm steel locating pins and 3mm drill bit, an initial series of rows and columns of 3mm guide holes can be formed.
The second part is the CNC-machined aluminium drilling guide for boring out these holes into 20mm holes. This component has three 3mm guide holes that allow it to be perfectly located with the aforementioned locating pins. This feature, along with the supplied Forstner-style bit that also has a threaded guide tip, ensures the larger holes are perfectly located.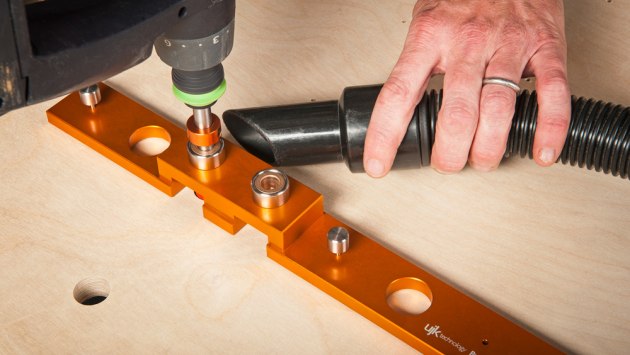 Unlike commercially available grid tables, this system allows the user to custom make a table of any size and with as few or as many holes as desired. When combined with compatible dogs and other accessories, the user can then use a track saw and guide rail to make cuts with exceptional accuracy. Excellent instructions are included, the build quality is exceptional and everything required is included.
To upgrade the capabilities of a grid table, TSO Products have developed the MTR-18, which is essentially
a large CNC-machined aluminium square. TSO claim it to be accurate to within 0.001" over its length.
By using the accessory pivot pin, compass bar with registration cursor-points and a locking pin, this square turns your grid table into a mini panel saw, putting exceptionally accurate cross and mitre cuts within reach of the small shop or jobsite user.
This tool has features that make it useful independent of your grid table. It has a removable edge that can act as
a registration lip, or as a shoe to allow the square to stand independently, allowing it to be used for checking case glue-ups for example.
Both of these systems are available from Carbatec. The Parf Guide System costs $279, with additional accessories available. The MTR-18 is $430, with the accessory kit costing $265. Whilst this is a serious investment, I consider it to be good value given the results and performance that are achievable.
This tool combination essentially creates near panel saw like capabilities, albeit on a smaller scale. Accordingly, it would be an excellent choice for smaller workshops or for the discerning jobsite user. As I have a panel saw, I don't see the need to invest in one for myself, but as a furniture maker with an education in applied mathematics, the simplicity of this system and the resulting accuracy were a joy to experience.
Review tools supplied by Carbatec, see www.carbatec.com.au