Silent-Power Cutterblocks

Reviewed by Damion Fauser
Spiral cutterblocks for jointers and thicknessers are nothing new, having been commonly available for over a decade. I've used many of them, both here and in the USA, using a wide variety of woods and on a good range of machines, including 150 and 200mm jointers, 300mm benchtop and 450mm floor-standing thicknessers, through to retrofits on 600mm pre-WWII cast iron behemoths. Since moving back to Australia in 2014, I've used the Silent-Power cutterblock, available from Felder. I have a Hammer A331 and a Felder AD941, both combination machines.
This cutterblock is available as an option on new-order machines from the Hammer/Felder/Format4 catalogue. It cannot be retrofitted to their machines with a traditional straight-knife cutterblock, nor can it be retrofitted to other brands of machines, but the staff at Felder tell me this is something they hope to rectify in the future.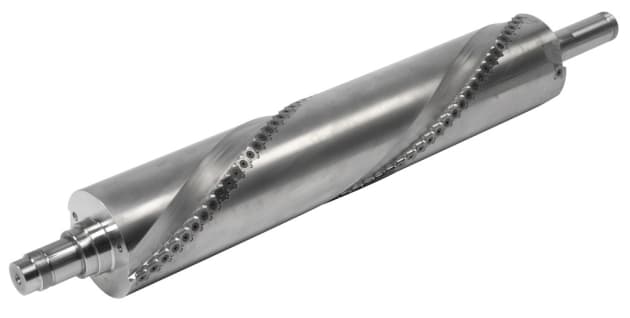 There are some key differences between the Silent-Power and others on the market. The Silent-Power has a significantly larger gullet, which greatly improves dust collection. The cutters are aligned right next to each other, resulting in a continuous cutting action and larger number of cuts per inch at any given feed speed. And, according to literature available from Felder, there is on average a 20% reduction in power consumption. At time of writing Silent-Power cutterblocks sell for $1100–1400.
Of course the proof is in the actual results. I can categorically state that in my opinion, the Silent-Power cutterblock is by far the best on the market. I base this comment on my experience with the surface finish result with the range of woods that I've put through a range of different machines. The Silent-Power leaves a surface that requires significantly less subsequent surface treatment prior to gluing or polishing.
The self-indexing carbide insert cutters have a very good working life. Between my own work and use by students, mine see an enormous amount of use. I track the dates that I rotate to a fresh edge and on average this occurs every 9 months. I could probably get a little longer out of each edge but I prefer to change sooner and maintain premium performance.
More information from www.felder-group-australia.com