Roofus carpentry combination square

Words and photos: Patrick Szewczuk
In a world which is more competitive by the day with startups and technological disruption across all industries, it is good to see a tool with this level of sophistication coming out of our own backyard.
The Roofus is an advanced combination square. It blends the basic elements of the sliding bevel and the square, while squeezing in many more functions to give the old tools a much needed upgrade.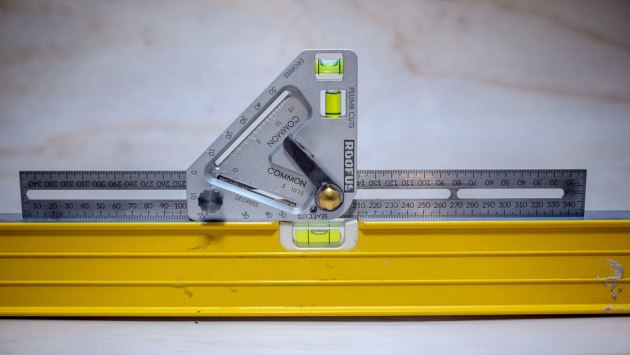 I was sent the Pro variant to test. Made from aircraft grade aluminium with a reinforced stainless steel rule there is a sense of strength. It feels solid in the hand, but like all tools it should still be well cared for to ensure longevity.
The Roofus functions like a combination square or sliding bevel to mark, gauge and transfer angles, however as the name suggests its primary application is for roofing. It has two level vials and one of its great advantages over existing and often expensive digital levels is that it can measure pitch with ease, which comes in handy when working at heights.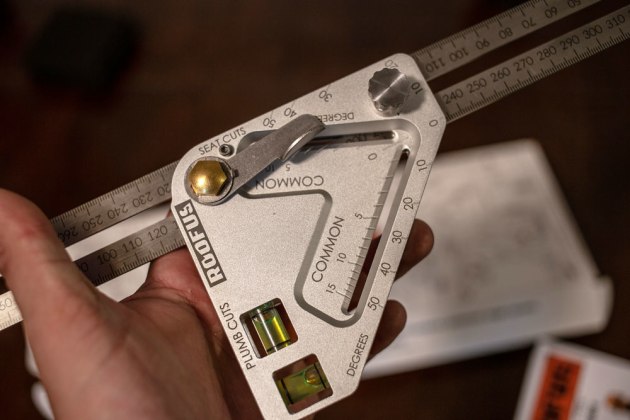 The Roofus, for me, comes with a bit of a learning curve as you need to keep in mind while using the tool which edge of the blade is providing the angle you are trying to use. Roofus does however come supplied with an instruction manual listing all its functions and there are also some short and helpful clips on the video shown at the bottom of this page.
After a few moments using Roofus I began to wonder why it hadn't been invented earlier as an innovative and simple solution to the juggle of bevels and squares typically needed to mark out and cut rafters. Depth and angle can be set with a simple flip of the tool as both lines can be marked out for checkouts such as birdsmouths without having to make any adjustments.
The Roofus comes in two variants, Standard and Pro, and both imperial and metric. The Standard model retails for $97AUD and is made from an orange composite resin with a 350mm stainless steel rule and bronze hardware. The Roofus Pro, which is the one made of aircraft grade aluminium, retails for $153AUD and also has a 350mm stainless steel rule with bronze hardware. Both are available online at www.roofus.tools
Beyond roofing, the tool can be used across carpentry and woodworking applications. Roofus functions as a depth gauge which can be used to mark out joins and the blade can be used as a straightedge and serve as a plumb and level in conjunction with the inbuilt level vials. The final game changer however are the common rafter and hip and valley gauges where with an easy flip of the tool and a quick adjustment with the quick release level you can obtain a corresponding hip and valley angle to your common rafter cuts. A quick release dial locks the blade in at 90°.
All in all, a brilliant and clever tool that can make roof framing quicker and easier.
More info at www.roofus.tools
Patrick Szewczuk is a licensed builder and currently completing an interior design course. In the March 2019 issue (#102) of Australian Wood Review magazine Patrick will write about treating timber with the shou sugi ban method.