Rikon: First Look

Rikon 210H thickness infeed.
Words and photos: Philip Ashley
Rikon (pronounced Reekon) has hit the floor at Beyond Tools and I was able to get a first look at the last AWISA show. A number of machines were on display from the large range available and I looked at three to get a feel for the build and features of this relatively new brand. They sell in America very well and reports have been very good; in fact better than other popular brands such as Laguna and Grizzly. The three machines were the 25-210H (12-inch) planer thicknesser; the 23-400H (16-inch) thicknesser and the 10-375 (20-inch) bandsaw.
Chinese-built machines have come of age and the Rikon is no exception. They are extremely well-built, rugged in construction but with a finish more expensive equipment would be proud of. While I was unable to use the machines, I was able to satisfy myself that should I want a new machine, a Rikon would be one I would definitely look at. All the Rikon machines have a familiar look and feel about them, so much so that if you've used a Jet machine before, you will be at ease with the Rikon.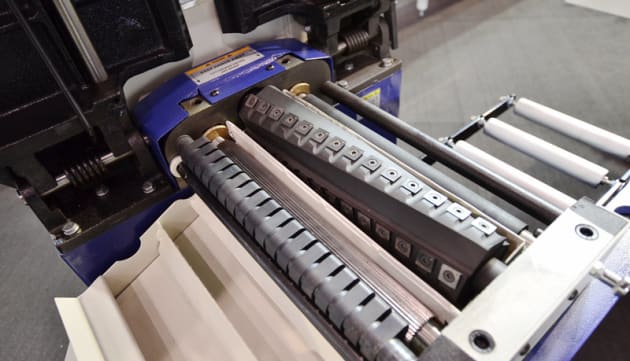 The 210H planer thicknesser comes with a helical cutterhead with 56 four-sided cutting tips (hence the H in the name) and these plane to a fantastic finish and last years before replacing. The cast iron tables are as strong as I have seen and the adjustments are well made, easy to use and have a good, solid feel about them.
The 400H thicknesser also has a helical head with 72 cutters for the extra width and is equally well built. What you see on the outside may be sheet steel but the frames of both machines are thick, professionally finished and look very capable.
The 375 bandsaw was no less impressive and a look under the table reveals a thick, ribbed casting onto which is bolted a very substantial tilt mechanism that's adjusted by a rack and pinion. You don't see this on many bandsaws at this price point.
The guides, arguably the most important part of any bandsaw, are equally impressive with a knurled fine-screw adjustment for the blade clearance and chunky locks. The rise and fall of the guide bar is also by rack and pinion and the generous table is fitted with a very nice fence that can be laid flat for thin work. At the back, the tension and tracking adjustments are big, solid and inspire confidence.
A quick look at the pricing shows the Rikon is no cheaper than its equivalent in other brands but if you're looking for a machine that will last, the Rikon comes highly recommended. The factory produces some of the world's top brands even if those dealers don't want you to know this so rest assured the product is as well designed and built as any you will find.
Reprinted from Australian Wood Review, issue 92.