Review: Walrus Oil furniture finish and wax

Reviewed by Richard Vaughan
I've used oil based finishes since the start of my career as a studio woodworker because I liked the appearance and because they are far easier to refurbish than polyurethane and lacquer finishes. There were very few to choose between 40 years ago but the range has steadily increased, and many products now tout their green credentials. Another has come to the Australian market from environmentally conscientious American manufacturer Walrus and they are emphatic that their products are made from totally safe natural ingredients.
One drawback with fully plant based ingredients is that they can take up to four weeks to fully polymerise. That's quite a wait before you can risk getting it wet. It is possible to speed up the curing process by adding a small amount of a natural solvent – look for citrus, eucalyptus or pine based. Mineral turpentine or 'turps' is a petroleum derivative. It will do the job but not in the green way that is the intention here.
Walrus Furniture Finish is an oil that is penetrating but not water resistant. For that you need to apply their wax, but I found that even spills of water, wine and coffee left for 30 minutes or so did affect the wood. Prompt cleaning up of accidents when in use would be necessary and periodic rewaxing would be a good practice.
The furniture finish is free flowing and almost transparent with a slight and pleasant hint of lime by way of smell. It is easy to apply. The Walrus website instructions show pouring it on, rubbing it in and wiping off excess. This is okay for table tops but not so much for many other surfaces which would require a brush or rag to apply. The instructions recommend allowing 24–48 hours before buffing it. The wax alone works nicely on bowls burnished on the lathe.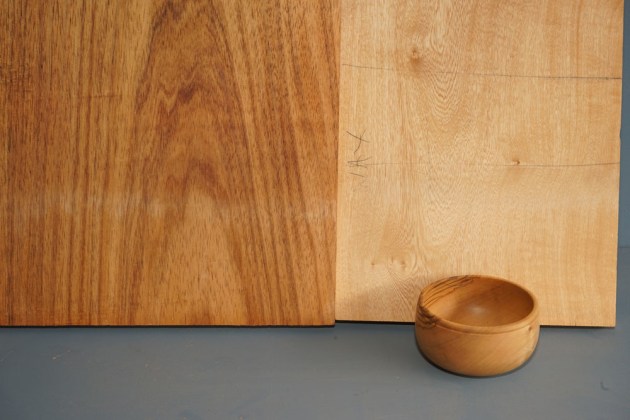 It does enhance wood with less than the obvious yellowing of most oils. The photo above shows my Tasmanian blackwood and jacaranda test pieces on which the oil was allowed to cure for four weeks before waxing and testing. The bowl is jacaranda. On the bottom edge of each board is a strip sealed only with a water clear finish to give a comparison with the appearance of the oil finish.
The combination of Walrus Furniture Finish and Furniture Wax does give a nice look and feel but I would be inclined to reserve it for decorative items or pieces such as boxes that have less risk of spills than much furniture does.
Walrus oil is available from www. walrusoil.com and www.amazon.com.au
Richard Vaughan is a furniture designer/maker in Brisbane who also runs woodwork classes. See richardvaughan.com.au