Review: Plano Vertical Glue Press
Wall mounting saves space and clamps keep panels flat.
Review and photos: Neil Scobie
This cleverly designed clamping system has a number of benefits over traditional sash clamps. Set up against a wall a lot of workshop space is saved, and glue won't run off the joins while you are clamping.
When clamping up, the unique design of the linking arms allows equal pressure to be applied – up to 800kp pressure is applied to the edges as well as the faces when you tighten the handwheels. Boards from a few millimetres up to 120mm thick can be clamped.
The manufacturers claim the side pressure will keep the surfaces aligned so no biscuits, dominos or dowels are needed. Being made from anodised aluminium and galvanised steel, rust should not be a problem. A plastic strip on the edge of the vertical rails stops the wood sticking to them and thus becoming damaged.
Following the instructions, I attached a horizontal 50mm thick timber rail to the wall so I could screw on two of the one metre long mounting rails. On the bottom another 73mm wide horizontal rail is attached to pack out the bottom of the clamps from the wall. The bottom is not screwed to the rail so the clamps can slide along the mounting.
The length of what you can glue is determined by the number of clamps you have along the rails. The manufacturers recommend a spread of 300mm, however I think you could go to about 400mm especially on thicker timber.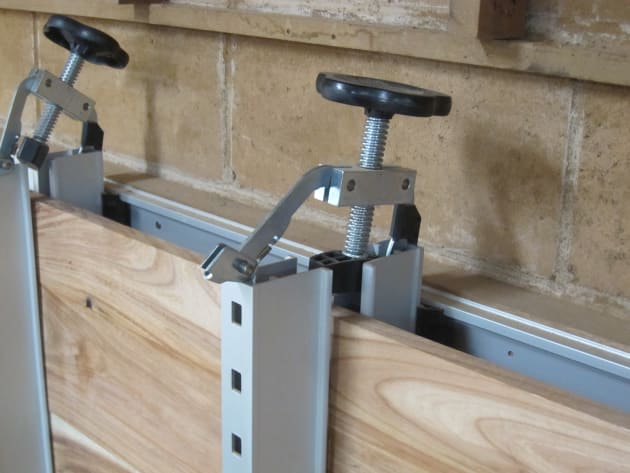 Top clamp can be hooked up at the back to stop it sliding down when loading boards.
With my setup I could clamp to a maximum length of two metres. With three clamps you could clamp boards up to about 1200 to 1300 long, or add one or two more if you need to regularly clamp longer lengths.
One disadvantage was when using PVA glue I found it hard to wipe the squeezed out glue off the side facing the wall. You can reach down a certain way from the top and up from the bottom, depending on how wide the panels are. Mostly though, I use polyurethane glue for gluing panels and tabletops, which is better not wiped off, so this is not problem for me.
After reading the instructions I found that you could hook the top clamp up at the back to stop it sliding down as you loaded the boards. I think this is a great system as it saves space and keeps your panels flat while gluing up.
Review press supplied by Promac, see www.promac.com.au
Reprinted from Australian Wood Review magazine, issue 88