Review: Hafco Drum Sander DS-1632

Reviewed by Raf Nathan
Made in Taiwan, the Hafco DS-1632 drum sander is a fairly rugged machine that comes equipped with a steel stand. It has a generic design based on the original Powermatic sander, and to me all drum sanders in this style are the same, albeit with different capacities, materials, and levels of refinement and build quality.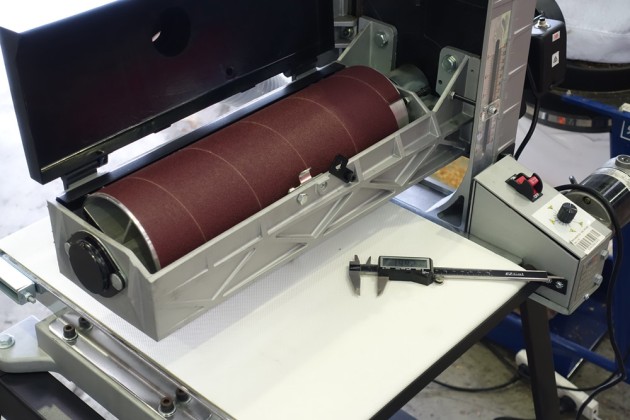 As for all drum sanders of this type, winding and securing the abrasive on the drum is a skill you will develop, and once learnt it is a quick process.
The large drum is supported by a 6mm thick aluminium frame, and rise and fall is via a top mounted winder. There is some adjustment of the drum to the table, a critical point as this distance  needs to be constant over the width so it will sand evenly.
With this machine I sanded 200mm wide boards and found the thickness varied negligibly overthe width, so ten out of ten for this key element. It will sand 400mm wide, or 800mm wide in two passes.
There is a height gauge to read sanding thickness but really an aftermarket digital gauge would be a boon. Otherwise it's a bit of a hit and miss operation.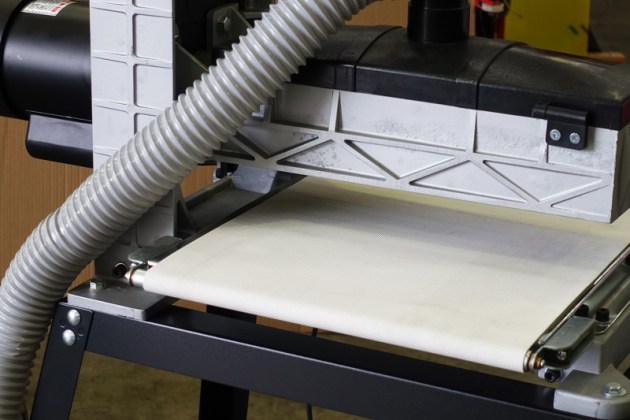 The table has a rubberised mat to feed the wood through the drum. Some other brands use an abrasive as a feed mat and arguably this may be a better option. An 1/8hp motor with variable speed of 0.6m–3m per minute drives the feed mat. The main motor driving the drumis 1hp (0.75kw) which appears adequate.
Thickness capacity is 127mm maximum down to 3.2mm minimum. Be warned that wood can be flung back towards the operator, so stand to the side when using it.
These sanders are not thicknessers and the common mistake it to try and hog off too much material which will stall the motor. I could however take up to 1mm off with an 80 grit belt on the drum which is pretty much the limit. In my opinion,
120 grit and higher is ideal to run on this machine.
Small 5mm thick parts, a difficult size to hand sand or plane on the bench, were sanded very well and efficiently. A small frame and panel door that I would normally have had to plane and hand/power tool sand was perfectly leveled in about 60 seconds!
For $1045 you are getting a good drum sander including a metal stand at around half the price of the other more refined makes. This machine appears well suited for light to medium duty use sanding of boards, cabinet doors and components of various sizes.
For more information see www.machineryhouse.com.au