Kreg K5 Pocket Hole Jig

Review and photos: Raf Nathan
We all know the Kreg jigs – they have been around for years. Whilst not a replacement for traditional woodwork joints, the Kreg can be used to construct small tables, bookcases and to make some repairs. It does offer a quick and easy way to put something together using very few tools and skills. Kreg keep updating their various models and the K5 is a newish addition.
The main body housing has an adjustable drilling guide that suits various thicknesses of wood and is easy and quick to set up. A small jig is placed on the housing to set screw length. With three drilling holes there is plenty of choice in positioning the screw holes. The drilling guide can also be removed and used on its own as a portable jig for working on larger panels or when doing repair work. There are also two support wings that double up as storage compartments.
Above: Wood and plastic plugs areavailable to conceal the screw entry holes. Here I used wood plugs.
Importantly there is a relatively fast action sliding clamp to secure the workpiece. Relatively fast because I found it effective but a bit fiddly to use. Having said that once you get the hang of moving the clamp head it's fine.
An inbuilt dust port connects to a portable extractor which is a great innovation, although the port size wouldn't fit the standard sized hose of my extractor. Instead I taped the hose in place and it worked well. Without dust extraction you will need to keep clearing out the swarf as you drill.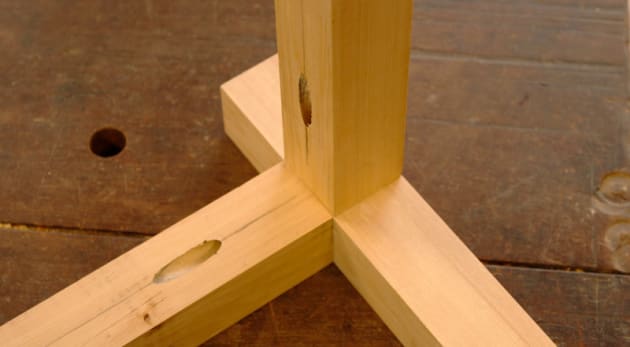 Above: Three-way joins,normally a challenge to make, are easy with the Kreg, although joint strength is limited.
A starter selection of screws and wood cover plugs as well as drill bit, stop collar and extended driver are included in the kit. I was able to quickly make up various fixtures that with glue added are very strong. A three-way joint was easy to put together however this would not really be strong enough on its own for a chair. For chair repairs the Kreg can be great however. Remove the drill guide and clamp it to a loose chair rail, drill in a screw, apply glue and you have repair. Jigmaking with a Kreg is also easy.
Personally I like to limit Kreg joinery to smaller pieces or use the system as a great way to clamp and pull shelves or components into place and secure work whilst glue is drying.
Review tool and information from www.carbatec.com.au