Isolation book picks
With thoughts of those in lock-down and isolation in mind, we asked some well known woodworkers and Wood Review authors to nominate some of their favourite books.

Phoebe Everill, Drummond, Victoria
Handmade, Gary Rogowski (Linden Publishing, 2017)
My current read and a magic loan from a student/mate of mine who is also a Gary! Handmade is a marvellous biography of the life and woodworking journey of a master self taught maker. In it he reveals the dedication it takes to become the best maker you can be and why that matters. He reveals there's been plenty of mistakes and the lessons learned from them. So many quotes from this read to practice in life and at the bench, here's one "Screwing up is a given. Forgiveness is not. Unless you practice it."
Heartwood, Rowan Reid (Melbourne Books, 2017)
It was my father's passion before me to grow timber that we could harvest and make things with, now it is my life practice to be aware of where this precious resource comes from and to use it wisely. In Rowan's book is the science and practice of this dream, laid out with instructions and passion for making it a reality. He describes himself as a farmer and tree grower – wow that is a humble description of this giant of a man who is making a difference in real terms. "A story we can all help to write on our landscape, with trees."
The Soul of a Tree, George Nakashima (Kodansha Int,1981)
This one is part of my journey and was a gift from my dad when he realised I was serious about this craft. It is a biography of a pivotal maker which includes an extraordinary insight into his belief in craft and its place in the human psyche. Full of original drawings, the evolution of so many signature pieces and his design philosophy. "Each plank…can have only one ideal use. The woodworker must find this ideal use and create an object of utility to man, and, if nature smiles, an object of lasting beauty."
Phoebe Everill is a designer maker and woodwork teacher based in Drummond, Victoria who runs her own woodwork school and teaches at Sturt School for Wood. Phoebe has also written for Australian Wood Review, see parts 1 and 2 of her shavehorse project in issues 106 and 107. See www.phoebeeverill.com
Alastair Boell, Blackburn, Victoria
The Furniture Masterworks of John and Thomas Seymour, Robert. D. Mussey Jr (Peabody Essex Museum, 2004)

I have collected hundreds of books over the years and added them to the Melbourne Guild of Fine Woodworking's library. I have many favourites but personally one book stands out more than most. To understand the significance of The Furniture Masterworks of John and Thomas Seymour by Robert. D. Mussey Jr. for me, I need to fill you in on the back story…
I moved to Boston, USA in 2003 to study at the North Bennet Street School, a well known school specialising in furniture making techniques of the 18th and 19th centuries. It was a two year programme that exposed you to not only those particular centuries but in any given year a multitude of exhibitions and events centred around fine furniture making.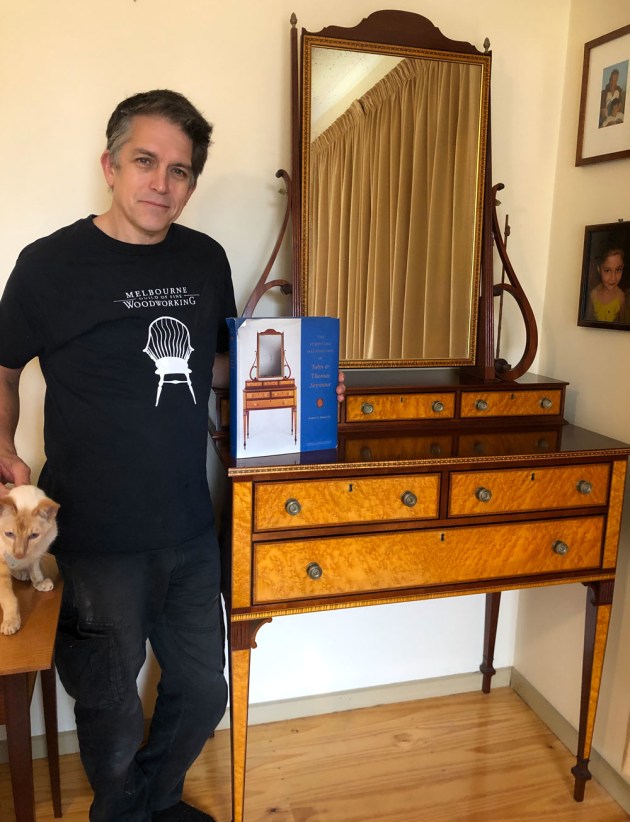 One such highly significant exhibition presented by the Peabody Essex Museum was a retrospective on the masterworks of father and son team – John and Thomas Seymour. Luxury & Innovation: Furniture Masterworks by John and Thomas Seymour, which highlighted some 70 visually stunning and superbly crafted pieces made by this renowned duo roughly between the years 1785 and 1815. Many people in the United States consider this to be one the most significant periods of creativity and craftsmanship in American furniture making history, and that John and Thomas Seymour's works are among the best examples of this period.
As a class we were very fortunate to be given a private tour of this exhibition by 'the one and only' Robert Mussey. By the time of the tour, I had already fallen in love with the Stand-up Dressing Table on the front cover. Its simplicity of form, its symmetry and its beautiful proportions were things I connected with, but the highlight for me were those stunningly refined curves of the brackets next to the mirror. I had never seen anything like it! It was this piece I was most looking forward to during Robert Mussey's tour.
We made ourselves comfortable while Robert Mussey spent a good deal of time talking about this poster piece of the exhibition and book. It was a little known detail from Robert at this moment that would stand out amongst all others, and which would connect me intimately to this book, this exhibition and this piece. Robert explained that the banding around each drawer was made from Australian northern silky oak, a detail that is not mentioned in the book.
From my point of view this was incredible, considering this piece was made around 1805–1810. A very early export for Australia or perhaps ballast on a return voyage to Boston, this silky oak had probably been cut down by convicts. I was drawn to this piece consequently even more. Well, it was at that very moment that I decided to make this for my graduation piece!
I put in my proposal for this to be my graduation piece, but I was not ready and it was rejected. Fortunately after a few months, I eventually won the support of the staff and was granted permission. I rang Robert Mussey and was delighted to be able to visit him at his workplace and talk to him about the Seymours and in particular, the beautiful dressing table on the front cover of the book. 
I was given nearly 30 digital pictures of the original, which I gratefully used to recreate the proportions and intricate details of the original. My finished graduation piece now sits proudly in my bedroom and although there is little money to be made in producing work like this in Australia, the skills I learnt in making it have set me up for life!

Alistair Boell is a furniture designer maker, woodwork teacher and director of the Melbourne Guild of Fine Woodworking. He has appeared on the cover of Australian Wood Review, issues 49 and 74. Learn more at www.mgfw.com.au
Robert Howard, South Brisbane, Qld
Ernst Barlach, His Life And Work
It wasn't until I was over 50 years old that I knew I had the capacity to appreciate a work of art. Until then, art puzzled me. I heard and read words about it, but when I looked at it I just didn't get it. I desperately wanted to experience some positive feelings about some work, somewhere, but all I could think was that someone was playing some gigantic confidence trick on us all.
When I read cleaners threw out a pile of bricks, or building debris, they found on the floor in a corner of the Tate Gallery, only to find out it was a very valuable piece of modern art, my reaction was that they were probably the only people there to express an honest opinion about it.
I haven't changed my opinion about most modern art, but I have discovered that the problem was not that I lacked an aesthetic sense. The problem was that I had not seen anything to awaken it.
Ernst Barlach, Russiche Bettlerin, 107, bronze. Image from Ernst Barlach - His Life And Work
I discovered the sculpture of Ernst Barlach one day as I looked through a photographic book on the history of world art. I will never forget the moment I turned a page and saw, in amongst a number of other artists' works, a small photo of one of Barlach's sculptures. My reaction was so powerful that I can only describe it as a shock. I had never experienced anything like it before.
It was pure luck that the photo happened to be of a work of his that I particularly like, for I don't like all of his work equally.
Ernst Barlach, Verhullte Bettlerin, 107, wood. Image from Ernst Barlach - His Life And Work
The point I want to make is not to bring Barlach to your attention, but to stress the importance to me of that event. It was like discovering I was not emotionally dead, that I was able to appreciate art and that I could trust my reactions. I didn't care if I was the only person in the world who felt as I did about what I liked. I rejoiced in knowing that I liked what I liked and that was enough.
Curiously enough, I cannot say why I like his work so much, but I am quite content with that. I never was one for reading the essays on the wall supposedly explaining what the art in front of me was about.
Robert Howard is a Contributing Editor for Australian Wood Review and teaches woodcarving and woodworking classes from his South Brisbane workshop, see roberthoward.com.au