Having That Natural Edge

Above: Lawrie Davis and friends stand before a massive
six metre long slab of red cedar sawn near Calliope, Qld.
Story by Linda Nathan, Wood Review Editor
Lined up, standing end-on to best display their glorious figure and colour, timber slabs are one of the more eye-catching features of most wood shows and selected timberyards. Although they comprise a small part of the timber sold in this country, they present a unique opportunity for wood users and wood lovers alike.
WA species displayed at The Timber Bloke, Naval Base, WA. Photo: Linda Nathan
Slabs of cedar, cypress, camphor laurel, sequoia, redwood, blackwood, blue gum and redgum amongst others are likely to come from a diminishing resource of larger trees, and may display astonishing figure and feature. They are sourced from all over Australia, mostly the product of rural, forest and urban recovery. They can be milled from freshly felled timber, however some argue that slabs from salvaged logs are better.
'No two slabs are the same,' Gareth Lazarides, timber expert and former large scale timber merchant once pointed out to me. 'It's like buying a painting', he said, 'what appeals to one person may not appeal to another'. While many designers prefer not to rely on live edges for furniture design solutions there is a strong trend of makers such as Ross Wilding of Wild About Wood, whose range of tables and desks crafted from slabs of various species are popular.
River Table in camphor laurel by Wild About Wood
A slab is technically a piece of timber which retains part of its natural edge; once these are removed the wood is classified as sawn timber. Literally a slice of a tree, a slab is a warts 'n'all kind of thing which may or may not contain sapwood, heartwood, splits, cracks, borer holes, gum vein and other natural feature. Different species and different trees will exhibit different feature. Knowing this explains why a slab of timber can't be evaluated or priced as a piece of graded, sawn timber. Not all trees may be slabbed bark to bark; species such as silky oak, for example, are vulnerable post-harvest to infestation by pinhole borer.
Air or kiln dried?
Just because a slab may contain various features or defects, doesn't mean the would-be buyer shouldn't be discriminating. Slabs must be seasoned before use, that is, either air- or kiln-dried to the accepted 12–15% equilibrium moisture content (EMC). Any lyctus susceptible sapwood should be immunised to prevent ongoing degrade. There is some debate as to which is better for slabs, air- or kiln-drying. One or the other, or a combination of both may be favoured.
Craig Perring aka Cedarworks with some of the slabbed timber treasure he regularly offers at Wood Shows.

Looks vs strength
Whilst the visual appeal of feature may be in the eye of the beholder, the structural integrity of the wood in relation to the feature it contains must be objectively considered. According to Richard Parsons, of Canalpie Timbers a good slab should be free of heartwood and preferably quartersawn. Quartersawn timber is more stable and any interlocking grain or figure will be better highlighted. Slabs which are not totally sound will be resawn or 'optimised' to produce standard sections. Wide boards have a tendency to cup, and need appropriate handling—more on this later.
Other features to watch out for are excessive wane, that is the slabs or slices that are close to the ends of the log. These boards will have a steep angled edge and will be more likely to cup, curving always towards the outside of the 'tree'. Slabs from the centre are therefore more stable for use in furniture. It may also be possible to obtain sets of boards which can be bookmatched or otherwise displayed to effect.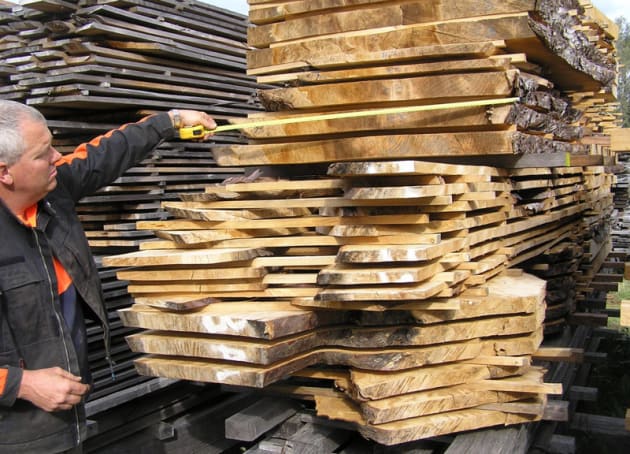 Richard Parsons of Canalpie Timbers with outaniqua yellowwood from Royal Botanic Gardens Sydney slabbed for the Treecycle 2016 project. Photo: Ginny Sadubin
Buying slab timbers
Most slabs are sold at a cubic metre rate, while some are priced at 'piecemeal' rates, where their particular feature or rarity is uniquely valued. Green timber will cost less than seasoned, however it's only the latter which should be used for the benchtops, bartops, tabletops, counters and cabinets which slabs are commonly used for. The extra cost of properly seasoned timber reflects the overheads of the timber producer who has spent time and money selecting, milling, storing and drying their product.
On the upside
Visually it's not hard to see the advantages of this resource. Large wide boards best display grain, colour and feature and this makes them a very marketable commodity. The rarity of some of these pieces alone can add considerably to the value of a piece. Utilising the wane or bark edge can lend a unique, sculptural, earthy or rustic effect which can also be a sale point. Wide boards are much rarer now than they used to be, another feature which adds value to a work and which may remove some of the work of laminating boards.
On the downside
The features of size and width of the slabs you've bought make them harder to manhandle and also mean more time spent machining them. You mightn't have to join boards but your slabs may not fit through your planer/thicknesser. Unless you have a very wide thicknesser or sander you may have to have your slab/s machined at a workshop, factory or timberyard which offers this kind of service. If you are going to specialise in working with slab timbers you might have to purchase a machine that can do this work for you.
If you don't want to pay someone else you'll have to flatten your slabs with an electric power planer and sanders. This is certainly achievable but you will have to budget for more time. There are also other considerations to keep in mind regarding the storage and handling of slab timbers and, most importantly how they should be used for the making of furniture. Supply of slabbed timbers depends largely on what trees have been milled at a given time. Whilst some merchants offer seas-oned slabs 'off-the-rack', buyers need to know that supply will be variable.
Above: Derek Doak aka The Timber Bloke
stands tall with one of his sawn slabs.
Photo: Linda Nathan
Handling slabs
'Wide boards are like giant barometers', explains Richard Parsons, which expand and contract in direct sympathy with the moisture of the atmosphere around them. If you can't work on them straight away they should be stored flat and evenly stickered out of direct sunlight. What you are trying to achieve is an even airflow around both sides of the boards.
If left flat or against a wall the side uppermost will cup. Try turning it over for a period of time before flattening, as some natural correction may take place. Remember that both laminated panels and slabs should be sealed on both sides as the unsealed side will move more in response to air moisture.
Joinery with slabs
Knowing how to fix slabs is crucial, and the area where it is easiest to come unstuck. Your slabs may show 12–15% moisture content but they will continue to move. The following points may help to keep your boards flat:
1. Select pieces closer to the centre of the log; these will be more stable.
2. More heavily figured pieces will be more stable than those which are straighter grained.
3. Ensure slabs are correctly seasoned.
4. Use appropriate joining and fastening systems. It may be appropriate to design your job using a system of through dovetails and/or cleats. Screwing tabletops to frames invites disaster no matter whether using slabs or joined boards.
Designing with slabs
Beautiful natural-edged sections of wood are not enough on their own to create well designed furniture. The same principles of good design with regards to aesthetics and function apply to cabinets and furniture created with slab timbers and it's best not to err on the side of overkill.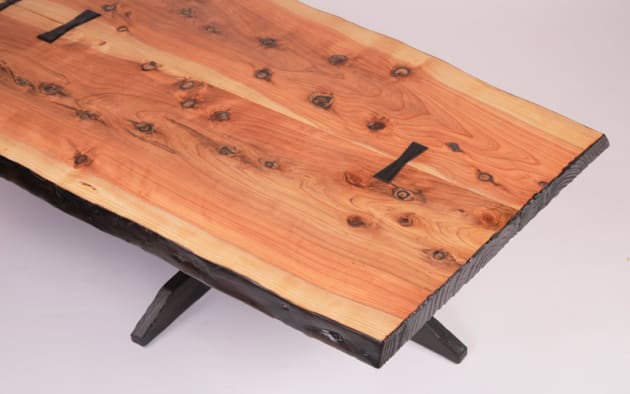 Table made from Japanese cedar by Warwick Wright and Isao Takezawa for Treecycle 2016. Photo: Isao Takezawa
A great part of the appeal of using natural-edged timber sections lies in the fact that you can still see evidence of the source of the wood, the tree itself. Incorporated into domestic and commercial situations they can serve as reminders of the infinite variety of naturally occurring forms.
Waterfall Desk by Wild About Wood