Different readings
Fifteen years ago, fourteen Tasmanian furniture designer/makers were invited to interpret selected pieces of antique English furniture from a personal and contemporary perspective. The late John Smith reflected on the eclectic creations that resulted in the exhibition titled Different Readings.
Contemporary designers do not often look back very far into history. This is perhaps understandable, as it is most often the excitement of looking forwards towards possible futures that drives the design process to a large extent – together with the opportunities that new materials and technologies present.
But the basics of furniture functions have not changed all that much, at least from a fundamentally ergonomic point of view. We still sit at tables to eat or write, relax in chairs and couches, sleep in beds, display objects on shelves and store others in cupboards. Nowadays however, our writing desk is more likely to be a computer console, our journal a laptop and our travel diary an electronic organiser. But the physical and psychological connectivity to domestic furniture remains the same, in that it can teach us something about the human condition at any given time in history.
By leaping several centuries backwards and confronting the furniture styles within the Allport Collection at the State Library of Tasmania, the gauntlet was thrown down to a group of 14 selected contemporary designers. The challenge was for each designer to reflect, to interpret and then to re-invent a piece from the collection in contemporary terms.
Answering the challenge
Whilst many of the technologies associated with everyday furniture may have changed over the past two centuries, many of their functions have not – though they have been fine-tuned over time by social and cultural customs. For example, the role of 'play' as entertainment remains one such common thread.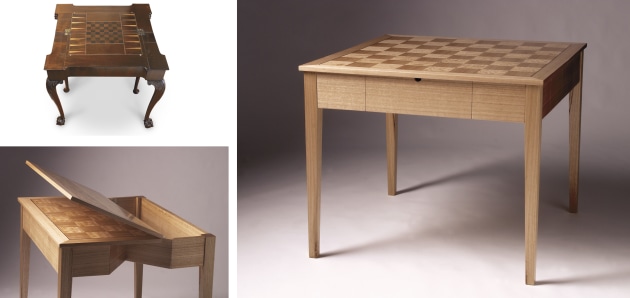 Linda Fredheim, Games Table, Eucallypt, blackwood, plywood. Inspired by Card Table, top left.
Linda Fredheim explores this in her Games Table through the idea of multi- functional transformations – from side table to games table. The latter aspect being incorporated into a table as a 'secret' function to conceal from daytime public view the 'sinful' act of night-time dealing with card and dice. But the blank face of the computer screen is open to public view at any time, and in almost any place—it too, however, can conceal a duality of illicit function from seemingly innocent computer games to online gambling.
Thus when new technology first finds its way into the home environment we do not always know quite how to deal with it. Brendan Sharpe also deals with ideas of secrecy as well as security in his Re-Writing Sofa Table through which he examines how we have re-read the performance of 'writing' – on our lap-tops in our living rooms.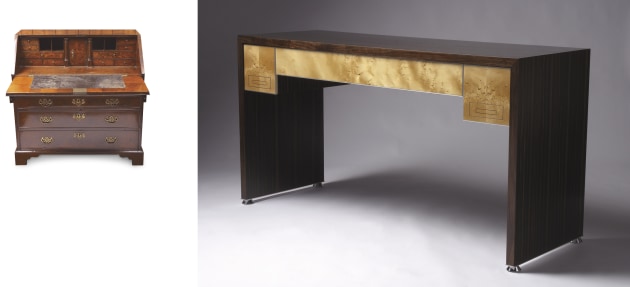 Brendan Sharpe, Re-Writing Sofa Table, reconstructed veneers, Huon pine veneers, aluminum, leather. Inspired by Bureau (left).
Like the secret compartment within Sharpe's choice of an 18th century writing bureau (here provided by the slide out Doric column) that reveals a secure repository for private documents, so too has he provided a cunningly contrived compartment for the lap-top computer. The front drawer slides open to reveal a leather-clad writing surface that in turn, with a flick of a hidden button, pops open to reveal the ubiquitous lap-top – a current day security box for private information – instead of an inkpot and quill.
Laura McCusker, Compact, Tasmanian oak (solid and veneer), MDF. Inspired by the wash stand shown left.
Discretion rather than secrecy is the hallmark of Laura McCusker's Compact. A modern day vanity, this piece reflects the changing attitudes towards personal hygiene. The wash stand in the bedroom has long since been replaced by the bathroom suite, but in McCusker's Compact she accommodates those final, vital female touches required by today's career woman. Designed for the bedroom or the hallway, where lipstick can be applied, keys and mobile can be grabbed on the way out of the door, this piece is sleek, feminine and practical.
Fractured remains feature in Patrick Hall's Bone China cabinet that displays the altered shards of china tableware, fossicked from a local beach near Hobart that once served as the city's dump during the early 19th century. Assembled into skeletal configurations, Hall's cabinet draws from its earlier 19th century companion piece and the culture of collection and display, but it also plays upon the duality of meaning behind 'bone china'.
Patrick Hall's Bone China cabinet, MDF, aluminium, china. Inspired by the display cabinet (right).
It was, after all, Josiah Spode's experiments in 1800 into the use of calcined bones as an ingredient in the composition of English proto-porcelain that earned fine tableware of the time the generic term bone china. Additionally inspired by a close relative's debilitating osteoporosis condition, Hall's piece also alludes to an even darker past: that of acknowledging 'the worst kind of cultural obtuseness – a skeleton in the cupboard of colonial culture'*.
Ross Straker, Easie Chair, closed cell foam, plywood. The winged chair shown left was his inspiration piece.
On a lighter, more whimsical note, Ross Straker pokes fun at the longevity of traditional antiques, and how society has come to value them in fiscal terms, to what has now become a throw away society. His Easie chair was drawn from an original 18th century, upholstered winged chair that was designed for maximum comfort—the classic padded wings providing draft exclusion and support for lolling heads. Straker's lightweight Easie, made from closed cell packing foam and glass buttons for the deep upholstered look, is also surprisingly comfortable. The speed with which this piece was able to be constructed—layers of foam stitched together, glued stacks carved with a bandsaw—also gently mocks time honoured and time consuming craftsman practices.
Right: Stuart Houghton's slab and stickwood Chair, horizontal scrub, blackwood. Left above: Chinese Chippendale armchair.
On a similar note, Stuart Houghton's slab and stickwood Chair delights in the historicism of its source—a fine Chinese Chippendale armchair in mahogany. In his chair, Houghton cleverly manipulates and combines some of Tasmania's special timbers—horizontal scrub (Anodopetalum biglanduoosum) and blackwood (Acacia melanoxylon). This chair not only reflects and celebrates its materiality directly, but also pays homage to Deloraine's Jimmy Possum tradition of stick and slab furniture.
Whilst domestic rituals and social conventions may have changed over time, the overall objectives of much of our furniture remains constant. In summary, I can't do better than reiterate George Hepplewhite's words from The Cabinet-Maker and Upholster's Guide published in 1787: 'To unite elegance and utility, and blend the useful with the agreeable, has ever been considered a difficult, but an honourable task.'
Republished from Australian Wood Review magazine, issue 48, September 2005.
John Smith (1948–2015) taught Furniture Design at the University of Tasmania from 1981 until 2007. Learn more here.
*Daniel Thomas refers here to the Tasmanian Museum's wanton display of Truganini's remains until comparatively recent times in his review of 10 Days on the Island, Art Monthly Australia, May 2005.