Bosch Cordless Trim Router – GKF 12V-8 Professional

Review and photos: Raf Nathan
This is a new design for what were once called laminate trimmers. It features a brushless motor, standard 1/4" collet and is quite lightweight. Its off-set design offers a different way to use a tool like this. In use the front of the rectangular base can be placed on the wood first offering good support. Then the cutter can be brought into action. On a 32mm wide piece of wood it can be tricky to balance a standard barrel type trimmer and run a bevel along both edges. However the rectangular off-set base on the Bosch made the job quite easy.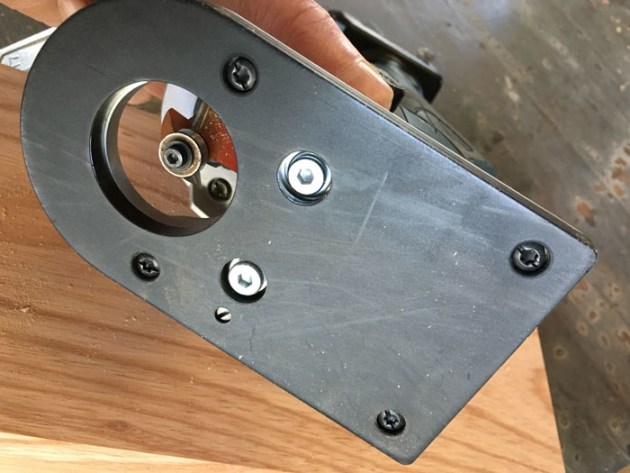 Compared to a corded tooI it has a slower cutter speed of 13,000 rpm without the same power, but of course that's not the point. Don't underestimate it as I hogged off a very large bevel quickly without any slowing down or straining sounds from the motor.
Changing cutters is easy with the clever spindle lock, and depth adjustment is quick on the sliding thread that can be also be finely dialed in. There is not a lot of travel in height, I could not use some longer spiral cutters, but all shorter cutters were fine to use.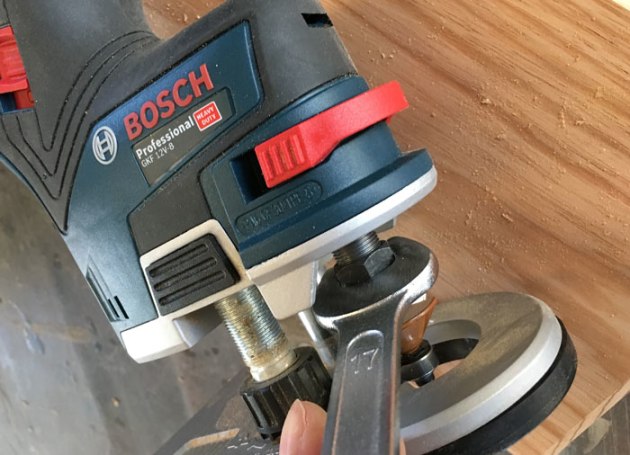 Visibility of the cutting area can be poor due to the low position of the body and small opening and this applies to large cutters like rounding over bits. Straight cutters can be viewed well so you can creep up on a cut.
Run time depends on use and battery size. The smaller 2 amp batteries are very light and cheap but be real and get a 4 or 6 amp amp battery which is heavier but offers a massive difference in run-time.
Pricing is high compared to corded tools. There is an optional dust shroud for extractor connection but then it will lose its cordless freedom.
It is not as heavily built as some corded trimmers and won't like being banged around on-site. The collet was a bit tight and hence fiddly to remove cutters, and as mentioned the visibility with larger cutters is limited. However, I loved it.
For this tool you will need a charger at around $100 and ideally two batteries at around $120 for a 4 amp version.
Review tool from Bosch Australia
Raf Nathan is a Qld woodworker and tool designer, learn more at www.interwoodshop.com.au