Blue Spruce Marking Knife System

Supplied in a suede wallet the kit includes a handle with interchangeable blades.
Review and photos: Troy McDonald
Blue Spruce has established an enviable reputation as a maker of premium quality tools since first entering the market more than 10 years ago. This system is their first attempt at producing a marking knife that has the ability to take interchangeable blades for varying woodworking tasks.
The tool is beautifully presented in a custom suede wallet that includes three spear point blades of varying thicknesses, a joiner's knife and a scratch awl. The blade holder is turned from a range of exotic timbers and includes a stainless steel ferrule with matching collets.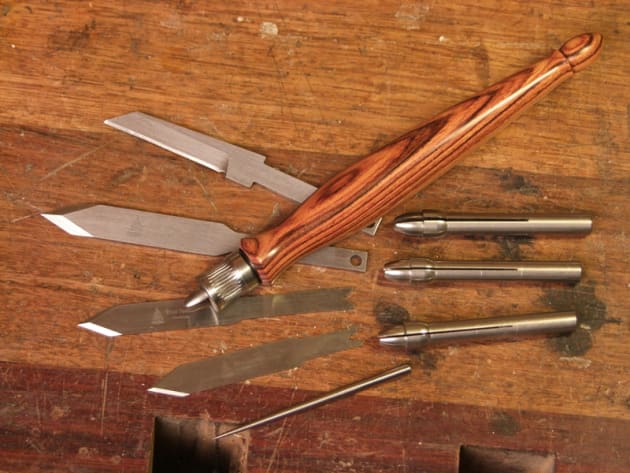 All components of the system including the blades, collets and turned handle are faultless in both presentation and function. I found all blades honed and ready for use on removal from the packaging. So how is the system in use?
The handle supplied was in kingwood and fitted my hand perfectly when held in the manner of a utility knife or pencil. I prefer the traditional double bevel joiners knife over the more popular spear point blades so I was keen to test how both types compared in a range of applications.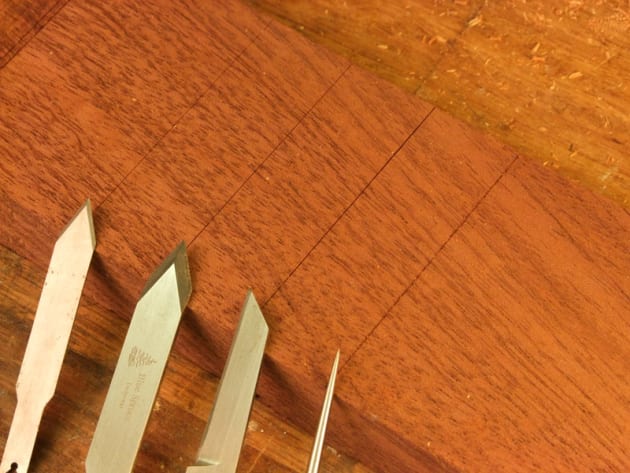 Above: Results of blades and awls in standard cross grain marking.
For this application the two thicker spear point blades and the joiners blade were best. Whilst the flexibility of the thin 0.5mm spear point blade was a disadvantage when marking up against a rule it did shine when marking tight dovetails.
The flexibility ensured it could be run confidently against even the tightest tail for accurate marking. The awl has been designed for marking curves and it too performed this task quite well although I would prefer to have seen a square shafted bird cage awl supplied with the kit rather than the standard awl. Apparently there are additional blades to be manufactured for the system in future that could broaden the use of the tool even further.
Because the blades vary in thickness, you need to ensure its matching collet is used to allow the ferrule to tighten it in place. With this done correctly, I found the blades were firmly held with finger tightening of the ferrule.
Despite all blades performing their designed tasks flawlessly, there is a fussiness to some multipurpose tools that I dislike and I was questioning to some degree whether the modest task of marking with a knife had been overcomplicated. How often would I actually have the discipline to change blades? Fussiness aside, this is a beautifully made tool and the handle was one of the most comfortable I have ever used. For those that can justify the need for variable marking options the system will certainly provide years of enjoyment.
Supplied for review by Blue Spruce Toolworks, USA