The December issue of Australian Wood Review will contain a feature on Treecycle 2016, an exhibition of work made from timber salvaged from the Royal Botanic Gardens, Sydney. Ben Percy was one of the featured artists.
Ben Percy is a Sydney designer/maker and also teaches design and technology at Freshwater Senior Campus. As an invited maker for the Treecycle project, Ben said he wanted to produce work that would both celebrate the wood, and the 200 year anniversary of the Royal Botanic Gardens Sydney.
The Treecycle exhibition had a lead time of three years, during which end-of-life wood and prunings were milled and air dried, before being allotted to 45 makers who were selected to make something.
Looking back, Ben said it turned out to be an enjoyable challenge that allowed him to go beyond his comfort zone and push his own designs. Interestingly it was the nature of the material that he received that determined a good deal of the direction his work took.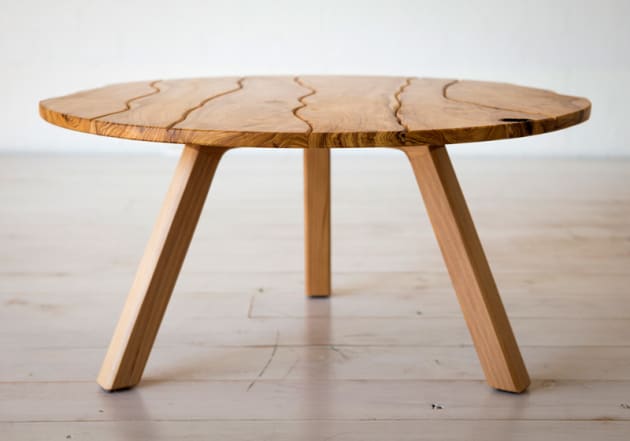 Ben Percy's Undergrowth Coffee Table, African olive, Pacific kauri. Photo: Carol Gibbons
'It was quite challenging in the way you had to deal with really raw and rugged timber that had been cut as slabs', he said. 'The African olive tree had grown as a mess of branches; there weren't any straight sections, so the grain, shapes and even bark occlusions dictated the designs.'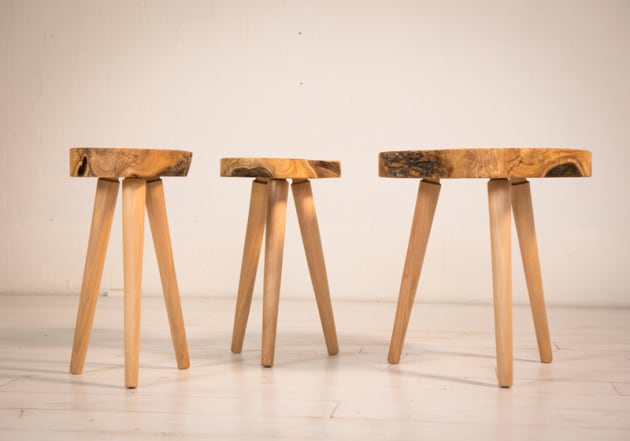 Ben Percy's Wilding side tables, made from African olive and Pacific kauri for Treecycle 2016.
For at least two months Ben left sections of the wood laid out in view and periodically rearranged them. 'In the end I took inspiration from oil paintings and watercolours and decided to let the wood do the talking.' A further complication was that the sawn wood was not kiln dried, explained Ben. 'I left it virtually until the last minute to make the pieces, first cutting the wood into smaller sections, then leaving it to settle'.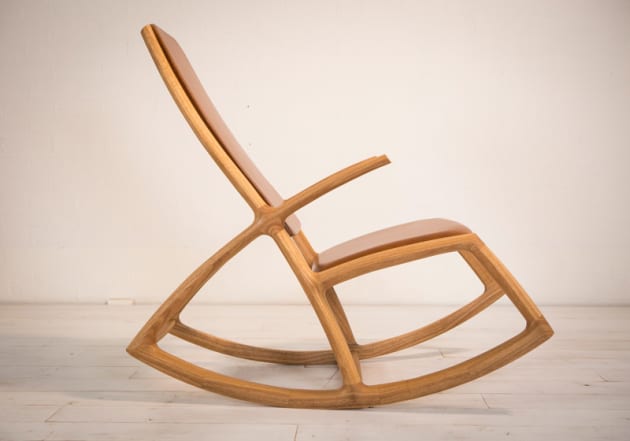 Above:  The Rocker, brown barrel (Eucalyptus fastigata). This is a development of Ben's first rocker design from 2012. 'For close to two years I've been picking away with sketches on this design. This version has a higher back and is more ergonomic for older people.' Photo: Carol Gibbons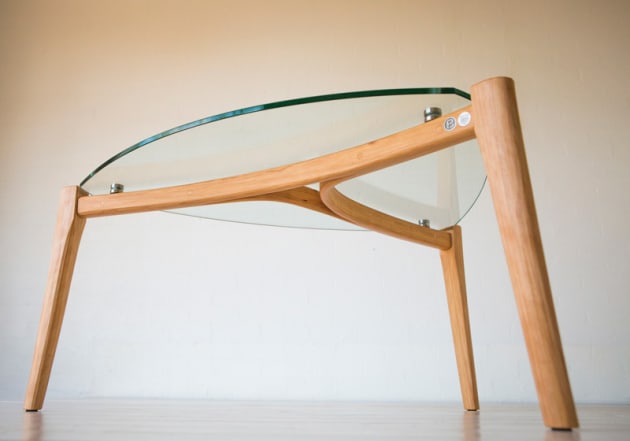 Mantis Coffee Table, Monterey cypress. 'This wood was great for steam bending,' said maker and designer Ben Percy. Photo: Carol Gibbons
See the December issue of Australian Wood Review for more on the Treecycle exhibition.
Learn more about Ben Percy at www.benpercydesigns.com