The Toolmaker's Workshop: A Visit to Vesper Tools
This year Vesper Tools celebrates 20 years of hand tool designing and making which highlight the international reputation for quality tools that Chris Vesper has achieved. We visited Chris a while back, prior to his relocation to bigger premises in Carrum Downs. The location may have changed but Chris's dedication to precision manufacturing remains the same...
Words and photos: Linda Nathan, Wood Review editor
Visit Chris Vesper's workshop and you'll quickly appreciate that what takes place there is a homage to all those dedicated to the engineering of wood and metal that have gone before him. Light filters down 4.5 metre high walls against which are suspended antique drive pulleys, bandsaw and saw blades, block and tackle and various ropes and straps that cast interesting shadows. Behind them run channels of electrical conduit which power the industrial machinery which sit below.
Chris Vesper in the original Vesper Tools workshop in the Mornington Peninsula before he relocated to Carrum Downs, Victoria.
Much of what you see is above is vintage and part of what Chris calls his 'museum', however below is a comprehensive and fully operational machine shop with hand finishing areas geared specifically to the production of fine hand tools for woodworkers.
It's so atmospheric it could be a movie set and it's hard to believe it's the endeavour of one man alone. It's only recently Chris has taken on a part-time assistant, but when you understand the fanaticism of his standards for quality and accuracy you can understand why few would live up to his standards, or survive under his scrutiny.
Chris may be single-minded and hold firm opinions on a range of topics but his smile is legendary and can light up a room. It's the first thing I remember about him when I first met him at wood show in Melbourne 18 years ago when his enthusiasm at having his tools for sale on Bailey's Toolbank stand was palpable.
Chris is intense, but how could hebe otherwise when you consider the  breadth of his skills and what he has achieved. Making hand tools evolved out of a high school interest in woodworking. A fitting and turning apprenticeship preceded a few years' trade employment concurrent with years of self-guided study of tools, machinery and processes that will probably never stop.
Signature Series bevel gauges with 10,000 year old black redgum, lace sheoak and boxwood infills.
In 2003, at the age of 23, Chris jumped in and went full-time as a maker of hand tools, starting his range off with marking gauges,
knives, simple sliding bevels and then double squares. The addition of the current range of widely acclaimed bevel gauges and try squares took the company profile up another level.
'I like machines, l like learning and I like accuracy', said Chris describing the source of his fascination with machine tools. In particular his interest lies with 'mother machines, those that can reproduce themselves', he explains, referring to machines that can manufacture the parts and components of other machines. 'With a lathe, surface grinder and some sort of saw you can make other machines', he said, 'and I like to work at the top of the tree'.
A mixture of antique and vintage machines are in everyday use.
Collecting hand tools and machines of all trades is part of his investigation into industrial heritage. His interest lies deeper than rarity or function however and extends into how developments in machine tools and processes have affected human life.
Upstairs in 'the Vesper mancave' are collections of books, tools, vintage signs and machine badges, geological specimens and much more that skirt around office and storage areas.
I'm shown into the intriguingly named 'Panic Room', a small chamber with insulated walls that acts as a dehumidified storage room. On the shelves are sections of specialty timbers, trays of blanks for bevel gauge and try square infills, as well as roughed out marking knife handles and other pre-finished components.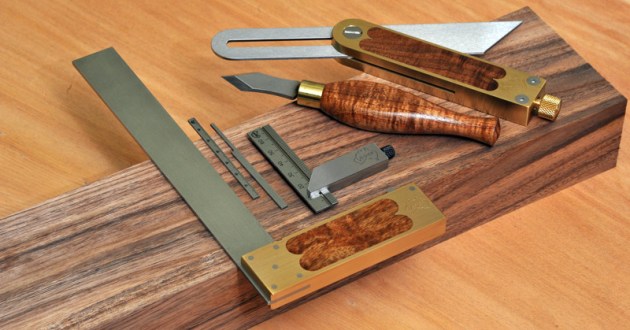 Vesper Tools trysquare, dovetail square, marking knife and sliding bevel.
Chris doesn't use great volumes of timber, but what he does buy is guaranteed to be highly figured and richly coloured. Blackwood, ancient (black) redgum, boxwood, hairy oak, ringed gidgee, ebony, cocobolo are some of the premium wood infills he offers.
Out in the machine shop the work is exacting, and the speed and surety of movements borne of repetition is impressive. Handwheels and collets are spun, levers operated, gauges dialed and metal and wood are shaped and turned at a ferocious speed.
Marking knives in progress await finishing stages in the panic aka dehumidifing room.
Chris is a connoisseur of fine machinery and what it can do. As we go from machine to machine he explains how each excels at its function. The Jakobsen precision surface grinder ('definitely my favourite machine') with electronic control and one micron minimum downfeed is used to rough and finish grind all bevel, double square and try square blades.
The Jakobsen 1424 automatic surface grinder is the machine that gives perfect flatness to Vesper square and bevel gauge blades.
Brass tool bodies are precision machined to high tolerances. One of the final machining processes for try squares is to slot the body to fit its blade on the precision Deckel FP1 milling machine. 'It's one of my favourite machines', says Chris with a smile.
Some of Chris's favourite machines, left to right: Deckel FP1 milling machine, mid-60s Pauer & Co machine, Feeler FTL-618 toolroom lathe.
The Feeler precision toolroom lathe (yes, another of his favourites) is used for the final finishing of parts, prototyping and jobbing work and also in-house maintenance work such as the making of parts for other machines. Laser etching of Chris's maker's marks is done in-house on an engraver.
Chris with his restored and highly valued Bandosawrus.
In and around the 'possibly world famous Bandosawrus' (the first machine Chris bought at the age of 18 and spent almost a year restoring), past turning, finishing and assembly areas into a wood machining area to visit his double-ended patternmaker's 24" disk sander that can precisely shape small blanks. 'It's a beast of a machine, this one', says Chris with a gleam in his eye.
The reputation of Vesper Tools has built steadily over the years but more so since his participation in overseas shows such as Woodworking in America in 2008, and last year in the UK at the European Woodworking Show. A growing following on Instagram is also increasing his marketing reach. Ideas for new tools are always on the drawing board but the next step for the moment will be a relocation to larger premises and taking on some employees to keep up with a growing demand.
With the rise of the handmade in recent years has also come a new generation of specialist toolmakers who largely work alone in order to achieve the super high standards which expert hand making and finishing can give. What is the secret of his success? 'Lots and lots of bloody hard work', was the predictable answer.
Learn more about Vesper Tools at www.vespertools.com.au