Story by Linda Nathan. Main photo: Greg Piper.
If you could judge a book by its cover or a person by the environment they create around them, then perhaps you could judge Ray Gurney, furniture conservator, by his workshop.
Go up the timber stairs and peer into, first of all the office of Ray's Leichhardt, Sydney place. Step in, look around the corner of the door and down through the narrow 'path' which skirts the mushrooming piles of wood, boxes, bric-a-brac, broken bits and other Unidentified Furniture Objects. It's an understatement to say there's lots to look at.
From floor level to ceiling, the piles mutate to objects of lesser weight: handtools, possibly once-used custom-made jigs, parts, papers, pieces, jars, jars and more jars of clear, oily, murky and viscous liquids. There are tools of other technologies too, dissection microscopes, video screens and even TV cameras.
John, who works for Ray, smiles and welcomes you to the 'den of iniquity'. There are three areas for the three co-inhabitants of this 3,000 square feet workshop. Appleyard Antiques is the furthest from view: a thicket of pre-'restoration' chairs, bentwood, Windsor and balloon-backed, hang from the ceiling on a giant cook's utensil ring.
'Over there, where all the lights are on, is where John tries to make things neater than my area, which is over here…', explains Ray. 'But there's also downstairs as well…This is where all the dead men's junk is: old furniture 'breakers', machine tools, storage for rare woods and not so rare woods and veneers…The range of things down here includes metal work, all sorts of ethnographic materials, you know: masks, boomerangs, stuff from New Guinea and the islands.'
The air is dank as you push past an early chest of drawers from Port Arthur. Piles of wood lie in horizontal and vertical arrangements. 'There's not that many people working here, so you just tend to push things aside. If I had a more time…', says Ray.
A cup of tea is prepared by carefully shuffling objects on one of the least densely conglomerated flat surfaces in the workshop. A low-pitched rumbling comes from two rollers which keep a jar of shellac in perpetual rotation, honey-clear and uncoagulated.
While hitchhiking through Europe in the early 70s Ray landed a temporary job as a site carpenter. 'I'd done silversmithing and all sorts of strange things, lab tech… concrete technician,' he explained. 'Then I got a job holding a hammer on a building site and did it reasonably well. At a friend's suggestion he got interested in antique furniture and visited the Victoria & Albert Museum. This was his 'road to Damascus' and he then ended up at the London College of Furniture studying cabinetmaking, French polishing and woodcarving. Later he undertook a full-time conservation course at West Dean College, which was run under the auspices of the V & A and the British Antique Furniture Restorers Association. In the early 80s Ray returned to Australia.
Restoration always appealed more to him than making new things, and yet there's nothing at all romantic about the business, Ray affirms. 'There's no alchemy, it's all science, alchemy is pseudo-science. Effectively, it's application of techniques to things, the manipulation of things. It's about the art of artifice. An artisan is one who is trained in his profession who makes and does things, but the artificer is one who has to think and do. The solving of problems is a different area and one which is rather interesting. To make things is great and yet…I wonder about the work of some makers. Some people make furniture as an expression of themselves and it worries me sometimes…'
Pausing for another shot of black coffee he continued, 'because what they produce is an indication of what they are like, and it's a need to be seen, a need to be appreciated and…all sorts of things. There's a lot of ego mixed up in the whole artistic scene. Mine is a not-so-quiet confidence, but it is one in which there's often considerable doubt in what you do, nothing is fixed, nothing is absolutely absolutely sure when you work on it. You know that especially when you're working on pieces of heritage value. They say that the good thing about being a restorer is that you can fix what you bugger up. But there are times when you have to hold off working on pieces because you can only apply certain treatments but you're not quite sure how they will react. I can't let things be mucked up, it's not ego, it's more of a responsibility, knowledge of your limitations.'
Ray restores museum pieces and collector's items. 'I call myself a conservator mainly because it infers the care of the objects is close to that of a museum's situtation, whereas restoration is just that: bringing back something to an earlier stage,' he explained.
Below: The scroll of the arm of this early Australian cedar sofa frame was extensively damaged. Ray repaired this and replaced other missing sections in the course of its reconstruction. The fully restored and upholstered sofa is part of the collection of the Australian National Gallery.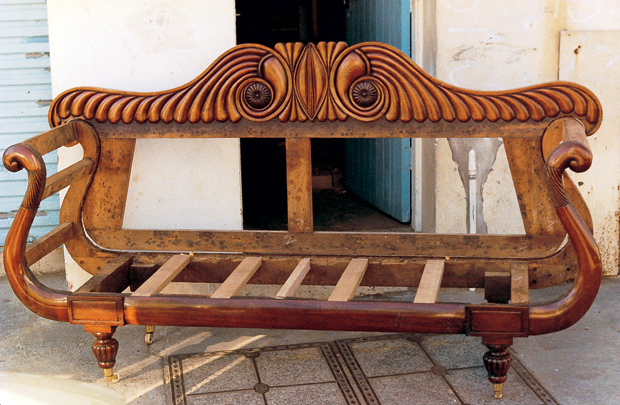 Conservation is about stabilising, preserving and possibly repairing the structure and surfaces of pieces of perceived value. 'It's just too easy to strip and polish something. In a case like that, stripping and polishing should only be reserved for pieces that are so far gone that that's about all you can do. So much furniture has been devalued by polishing…more people are now appreciating an original finish. From a conservation point of view the finish is part of the history of the piece.'
When carrying out work for an institution, reports are made detailing the condition of the piece and the suggested treatments. After the work has been done another report is made which details what was done and the materials which were used. Structural changes are not made to a piece unless it won't last without them, and in that case work is done in a way where it can be taken apart again (animal glues are used for this reason).
'One of the worst things you can get are pieces on which somebody else has worked. That's when you, say, find nails driven through the side of a joint and into a tenon and you have to try to extract that nail so the piece can be taken to pieces normally. What you've then got is more work trying to correct that than if the piece had just failed through old age.'
Ray Gurnery's list of clients include the Power House Museum, the Australian National Gallery, The National Trust, State Library of NSW, Art Gallery of NSW, National Maritime Museum, the Historic Houses Trust and many more.
Reprinted from Australian Wood Review issue 28, September 2000.
Below: Three stages of repairing an 1830s bracket clock. The piece of veneer arched over the top had split and shrunk, and needed to be repaired. Replacing original veneers requires very accurate placement as there is no wood available to trim as with the normal method of veneering.