The Chinese Chair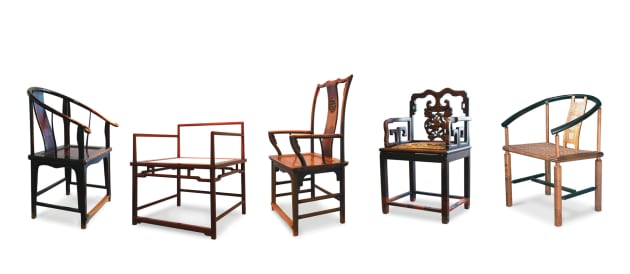 Chinese and Chinese inspired chairs drawn together by Nigel Lendon and Rodney Hayward formed a small but hugely popular exhibition shown at Craft ACT in 2006. Story by Rodney Hayward, former Head of Wood Workshop, ANU School of Art. Reprinted from Australian Wood Review magazine, issue 51.
The chair always establishes relationships beyond itself. Of all the artefacts in our lives, the chair is integral to historic or contemporary expression of humanity and culture. A techno-social revolution shook Chinese society during the Northern Song Dynasty (960–1126 AD) when the floor and mat were abandoned for the chair.
The chair now determined everything: complementing furniture, clothes, etiquette, posture, grace. Those who used chairs needed tables raised high enough to fit the seated person's leg beneath—wardrobes and cupboards were inconvenient for mat-sitters. Windows and ceilings were raised, room size increased, and scrolls were hung higher. The soul soared.
Forms never materialise out of thin air. The chair is a structure that sets about managing and directing the forces generated in its use. The strategies open for the designer of a wooden chair are conservative and derive from attempts to resolve the universal and timeless problem of conducting stresses through the union of vertical and horizontal components. A chair speaks eloquently about itself: its structural integrity, its proportions, use, and its generative culture. A chair can simultaneously function and comment on its function.
Peter Giles's Ming Meditation Chair, made as part of his research for his Post Graduate studies in Furniture Design, was the fulcrum on which the idea for The Chinese Chair exhibition was created. Giles made the chair as a way of balancing and equating design about the human form, and as a way of understanding historical and cross-cultural precedents.
In 1997 the late George Ingham traversed a similar territory, both for his own processes of discovery, and as a teaching methodology. What George saw in the Chinese chair echoed that of the great Danish designer Hans Wegner—a chance for renewal of the chair form: a chair with its top rail and arms in a single piece, an unrestricting chair. The details of his translation of these forms also came from his passionate sense of process that is held by all craftspeople. This chair tells the rationale of its process.
The hardwood chairs from the Ming period have become a near art form for the West: they have been elevated to be products of immaculate thought unsullied by utilitarian concern. However, throughout Chinese furniture there is a wonderfully considered play, a tension even, between material and structure. The traditional round-back vernacular armchair of Southern China as exemplified in the chair loaned by Nigel Lendon has equivalence with the English Windsor chair. Both stem from material intimacy and the direct methodologies of the rural craftsman. However, in process and structure the Chinese chair asks a lot more of its materials: it has a sense of solid wood being understood as fibre, like its alternative, bamboo.
Charles Merewether's 'hybrid' chair can be traced to Fong Lee's Emporium in Wellington, NSW in the 1920s and in its story it reminds us of the flow of Chinese cultural history in Australia. The exhibition was small yet the public response was huge. It trolled deep amongst its visitors to set alight the power of the chair to link cultures and personal histories. We think through our body and remember its relationship to objects. The chair can be a manifesto.
The thematic choice of the chair for this exhibition was because of its role as a surrogate for the body. The accompanying wall-texts carried the owners' experiences of their chairs. These stories were sometimes intensely personal and emotive. Two of the chairs came from China in recent years, and their owners reflected on their appreciation and motivation for bringing them to Australia.
To explore this collection of chairs is to find things that are hidden, and details that have fallen out of value. To find these attributes a maker's knowledge and imagination brings comparison and speculation, producing plausible interpretations and renewed appreciation. Ultimately, in both the contemporary chairs and their predecessors, why form follows form may be understood.
Photos by Creative Image Photography and courtesy Craft ACT Craft and Design Centre. For more information about Craft ACT visit: www.craftact.org.au
Family chair from Fong Lee's Emporium, c.1920s
'This Chinese chair is the companion piece of another. For as long as I can remember, the two chairs stood like sentinels in the entrance hall of the house where I grew up. They never left there until my family moved and even then they were placed again to the ceremonial entry of my parent's subsequent house. Sometimes when we had many guests, we were short on chairs for the dining table but these chairs were never sat on. They were in one sense too fragile, but it seemed too, that their status was beyond mere sitting.
'The chairs have now been in the family three generations, and carry forward a cultural memory. They remind me of how my mother always referred with fondness to her childhood days filled by a daily life and friendships in which both indigenous and Chinese people were a part. When I began my interest in China, it seemed only appropriate that I would inherit the chairs as a way of safeguarding this part of family memory and history of how a small country town in Australia that became a place of exchange between cultures.'
Charles Merewether
Ming Meditation Chair
'My enchantment with Chinese furniture began with my research in response to a chair design brief set during my Diploma of Art. Within Chinese society is possibly the oldest continuous chairmaking tradition on earth. To my engineering past the logic of the joinery in the construction was breathtaking.
'My Graduate Diploma research has been to re-make the Ming Meditation Chair. Through a post-Bauhaus lens, this chair from the 17th century is unequivocally modern: it is geometric; puritanically spare in its form and structure. It is a chair that anticipated the proselytising of early 20th century Modernism. I knew the chair through the seemingly only two ever published photographs.
'Every object, high or low, embodies the values or beliefs, consciously or unconsciously, that prevailed in the time and place of its making. This is the object's style: its 'information', its design language. The Meditation Chair bears upon the whole of our understanding of pre-modern Chinese culture.'
Peter Giles
Ming Chair, George Ingham
'George had a great love for classic Chinese furniture, particularly that of the Ming Period. This chair is in no way an attempt to copy a classic Chinese chair but, from an informed and integrated understanding of the period, aims to capture the essence of a Ming chair in structure, proportion and resolution, to give finally what is in every way, an authentic Ingham piece.
'It is a 'teaching' piece. Each year he designed for the first year students a piece which would consolidate all their newly acquired hand skills and lift their standard exponentially in order to liberate each student's design vocabulary. He would make the same piece in conjunction with them, demonstrating and always taking his own piece to the point where it challenged him.
'Of all his chairs this one became special because it accompanied us through the years of his illness. In the Ming period it was not done to sit on another's chair: the chair was for one person. This was George's chair. I sat on it at his funeral. I sit on it now. But it is still George's chair.'
Pru Ingham
High Back Official's Hat Chair
'This chair in northern elm is known as Guan Mao Yi or Official's Hat Chair because the crest rail is said to resemble the tapered ends of the hat worn by Song dynasty officials (960–1279AD) in imperial China.
'Official's Hat Chairs were formal chairs, often used in the offices of the imperial administrators. They were also placed in the central hall in the homes of the wealthy, where guests were received. In traditional China seating was very hierarchical, family heads taking the grandest of chairs while guests and other family members took seats according to their social position. The chair and stool could be used to honour or insult.
'This 19th century chair from Shanxi Province captures the characteristics of Ming style workmanship—clear and simple
lines in a well-proportioned structure. The open, carved medallion reveals dragon's heads, a symbol of strength and authority, within a stylised form of a long life character. The lower apron has a chrysanthemum motif, a symbol of elegance and nobility.'
Roger Carter, Humble House of Chinese Furniture, Fyshwyck, AC
Round back armchair
'Ichi's friend had the biggest antique furniture business in Beijing…We entered the furthest building, it was crammed full of furniture…and the chairs. Yes, two chairs. They were a pair. You had to have both. And if I hadn't bought them, Ichi would have.
'Use had rubbed (the chairs) free of lacquer on the arms and the footrest, revealing the paler wood from which they were made. And they were said to be late Ming (lots of paper and red wax and seals on the documents). Then someone in Australia said, 'Oh no, they must be Qing—they simply couldn't be Ming!' But, it really doesn't matter. Nor does it matter that they gave them a quick coat of epoxy to stop the lacquer wearing any more and to make them easier to clean. After all, isn't that what is wanted in the West?
'And it didn't matter either that by the time I had paid for the chest, the ceramics, the chairs, the freight, insurance, customs clearance etc, that my minor extravagance had become seriously major.
'They are my chairs. They are not merely something to sit on. They are the architecture of a space where I can be seated.'
Janet Deboos
The Survivor
'At face value this chair has no known origin prior to 2003. In that year I drove to Yass with two small boys in search of some plastic artefacts a friend had spotted in a main street junk shop. Instead, we found the Chinese chair, in a rather dilapidated state, dusty, missing its backsplat, and when you turned it upside down, apparently the home to a family of borers. Having been alerted to the history of Chinese furniture…$80 seemed a fair price. Not so to the long-suffering boys, who had to squeeze into the remaining space in our small car for the return journey.
'The chair has revealed its history through an almost forensic process of examination—to our surprise we discovered it has been repaired four times! Electron microscopy revealed species from both hemispheres: it is essentially made of elm (Ulmus sp) and yet its seat panel is made of southern beech (Nothofagus sp).
'It holds, tantalizingly, the possibility that it may have been made in Australia; perhaps on the southern tablelands and slopes during the Gold Rush era of the 19th century.'
Nigel Lendon