Talking to Linda Fredheim, Judge for Wood Review Student Awards 2017

Above: Linda Fredheim with Passage, made from Tasmanian eucalypt with brass fittings. Photo: Peter Whyte

Linda Fredheim lives in Hobart, Tasmania and is a judge for Wood Review's Student Awards 2017. Linda is a furniture designer/maker who has exhibited in numerous exhibitions and taught at University Tasmania. We asked Linda a few questions about herself, and also what her advice to this year's entrants would be!
AWR: How did you get into woodworking?
LF: About 30 years ago I bought a little house that was badly in need of renovation. I thought there were lots of little jobs I could do, but I lacked skills. So I started with some Adult Education woodwork classes, and after attending a talk given by the American designer and maker Kristina Madsen, I enrolled in Design-in-Wood at the University of Tasmania's School of Art In Hobart.

AWR: What do you most like making?
LF: I like making boxes, cabinets, and chests of drawers. There is something special about an object you can hold in your hand and also I love the challenge of making and fitting drawers.
A Table and Chair for Mr Wedge, blackwood, plywood, brass fittings. Dismantles into a carry case. Photo: Peter Whyte

AWR: Who are your favourite designer/makers?
LF: I really like the work of Jye Edwards and Scott Van Tuill.

AWR: Who or what has taught you the most about woodworking?
LF: I have had some really wonderful teachers along the way, but Phillip and Robert Blacklow taught me lots about woodwork, and Peter Adams taught me a lot about the process of design.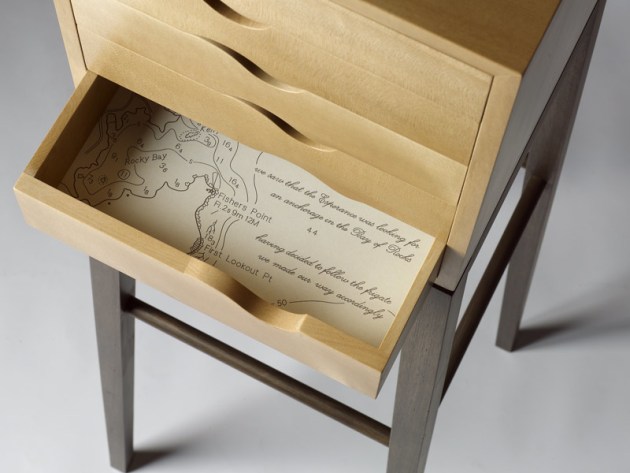 Detail of D'Entrecasteaux, sassafras, pigment stained Tasmanian oak, plywood, CNC engraved plastic laminate. Photo: Peter Whyte

AWR: Favourite wood species?
LF: Tasmanian myrtle for its beautiful colour grain and ease of working and finishing, but I also have a soft spot for anything with a ray fleck or a crazy figure.

AWR: Favourite hand tool?
LF: I have a 25mm Japanese dovetailing chisel that is always the first one I pick up. Other than that I couldn't work without my dial vernier calipers and adjustable 100mm square.

AWR: Favourite machine?
LF: Festool 1000W router...as well the tablesaw and widebelt sander!

AWR: Favourite woodworking book?
LF: Encyclopedia of Furniture Making by Ernest Joyce. If I am looking for an answer, it's usually in there.

AWR: Your biggest woodworking disaster!!?
LF: The CNC router is a great tool, but I was once routing a pattern into some carefully matched drawer fronts for a colleague, when I accidentally pressed the wrong button and drilled a hole 10mm deep in a very conspicuous place. Fortunately I've made a quite few mistakes over the years, so I have got quite good at fixing them. Luckily he had some matching timber left over, so I was able to re-thickness that particular piece and glue a matching sawn timber veneer over the whole of the drawer front, hiding the mistake.
AWR: What is the best thing about woodworking?
LF: I think it's when you put the finish on and the wood comes to life. (Hopefully there won't be any sanding errors!)

AWR: What is the worst thing about woodworking?
LF: Dealing with the dust.
Above: Linda Fredheim, Writing Desk, eucalypt. Photo: Peter Whyte

AWR: The best thing you've ever made?
LF: So far I have never been entirely happy with any piece I have made. I always think I could have done something better. But I do like the writing desk in eucalypt I made in 2014, especially the secret chocolate drawer.

AWR: As a judge for Wood Review's Student Awards 2017, do you have any advice for the students who enter?
LF: For this competition, try and make sure the photos you choose show the piece from its best aspect and don't forget to include some details of all the best bits.
Also some general advice:
• Always source the hardware before you finalise the design
• Make sure your clamps are big enough to make it
• Make sure the piece will fit through the workshop door when you are finished
• Also it's worth getting some of your best pieces photographed professionally. Once you have sold them, that will be the only record you have of them. Also they are great to have for publicity and applying for exhibitions and other opportunities.
• And if you do have a woodworking disaster – DON'T PANIC. Walk away, come back tomorrow, think about it, ask for advice. It's easy to make things worse by trying to fix it without considering all the possible solutions.
Learn more about Linda Fredheim at www.lindafredheim.com.au
Student Awards 2017 are proudly sponsored by: