Talking to Darren Oates: Judge for Wood Review Student Awards 2017

Above: Darren Oates with two of his laminated sculptures recently exhibited.
Darren Oates is a regular contributor to Australian Wood Review magazine and this year a judge for Wood Review's Student Awards 2017. Darren lives in the Hawkesbury, NSW and is a full-time furniture designer/maker who has also taught at Sturt School For Wood. We asked Darren about himself, and if he had any advice for this year's entrants.
AWR: How did you get into woodworking?
DO: I was heavily into Bonsai in the 1990s and wanted a stand to display my most prized specimens. I quickly discovered that there was not much in the market to purchase in this field, so this led me to designing and making my own. I ended up selling about fifty bonsai stands which allowed me to purchase more woodworking equipment. Later in 2006 I undertook two six week part time courses with Terry Gleason and this is what got me hooked.
Darren Oates, Apollonius Table and Chairs

AWR: What do you most like about making?
DO: Delivering a specially made piece to clients and seeing the look on their faces .
AWR: Who are your woodworking heroes / favourite designer/maker?
DO: The work of Matthias Pliessnig just boggles the mind. I think he is the most incredible designer/maker anywhere on the planet and would one day love to go to America to meet him and see his studio.
Darren Oates, Parabolae Hall Table
AWR: Who or what has taught you the most about woodworking?
DO: Without a doubt, Tom Harrington. The ten months I spent with him at Sturt School For Wood can not be underestimated in their value of what I learnt. There is no way I would be doing this full time for ten years if it was not for what I had learnt from him. Tom knew I wanted to be a full time designer/maker and set out to teach me how to properly set up my workshop, and what machines to purchase to get myself of the ground.
AWR: Favourite wood species?
DO: Northern silky oak. I just love the variation of grain that you can get from this timber depending on how you machine it in reference to grain direction and how you section it.
Darren Oates, Coopered box in silky oak and cedar

AWR: Favourite hand tool?
DO: My Sturt mallet, I use it every single day in the workshop. It has been used on every piece of furniture I have ever made.
AWR: Favourite machine?
DO: My bandsaw feeder. After three shoulder operations it has allowed me to continue to make my favourite pieces involving curved laminations.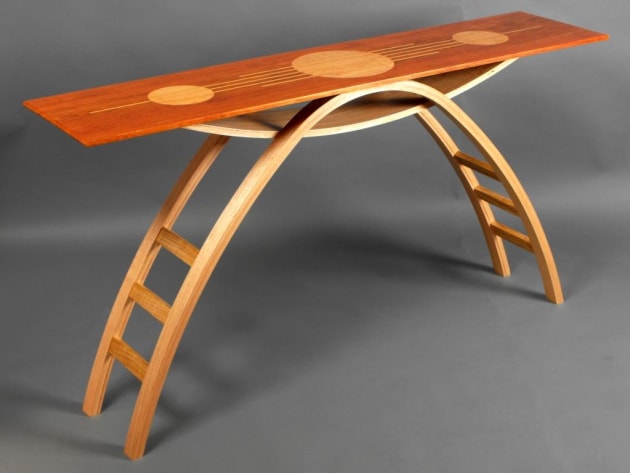 Darren Oates, Hall Table in Mackay cedar, blackbutt, southern silky oak and silver ash.
AWR: Favourite woodworking book?
Woodworkers Guide to Bending Wood by Jonathan Benson.
AWR: Your biggest woodworking disaster!!?
DO: In my early days to try and save a bit of money I tried using white PVA to make curved laminations. They would have made decent sculptures as they ended up twisting and warping in the most hideous ways.
Darren Oates, Three Drawer Hall Table

AWR: What is the best thing about woodworking?
DO: Teaching students techniques that they thought would be impossible to grasp, and seeing the looks on their faces when they finish a piece that weeks before seemed like a unobtainable dream.
AWR: What is the worst thing about woodworking?
DO: Sanding.
AWR: The best thing you've ever made?
A three by two metres extendable dining table with eight chairs. A rewarding commission but an incredibly stressful one as well.
AWR: As a judge for Wood Review's Student Awards 2017, do you have any advice for the students who enter?
DO: Please, I implore you to take good quality sharp images of your work, from different angles with close-ups. It is impossible to judge a piece which is out of focus or has only one view.
Learn more about Darren Oates at: www.darrenoatesfinefurniture.com
Wood Review Student Awards 2017 are proudly sponsored by: