Words: Jim Howell
Photos: Greg Howell
I like power tools. But for some work they don't match hand tools. And when it comes to quality work there's
no substitute for quality tools— though I do keep dunger* tools for rough jobs and when nails may be lurking. Good tools need to be looked after and readily accessible.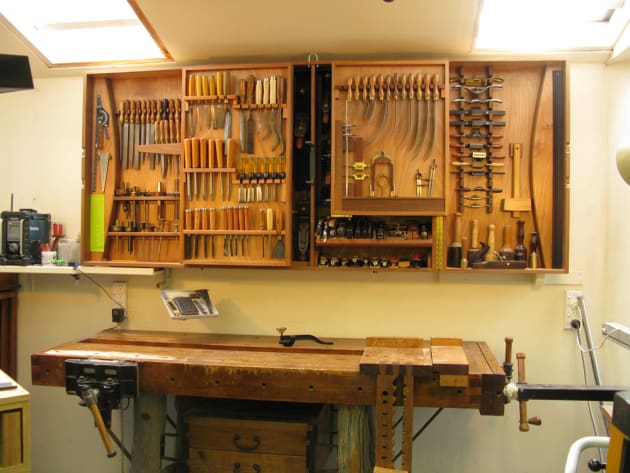 One more thing. Beauty and good order in my workshop set a standard for good work, I've learned. A tool cabinet that served these ends was required. The carcase (1230 x 1035 x 370mm deep) is 18mm gaboon plywood, dovetail jointed. Facings and fitout are cherry wood. Weathered wood behind the lock was recovered from a derelict 19th century sleigh in Montana. Fittings are brass.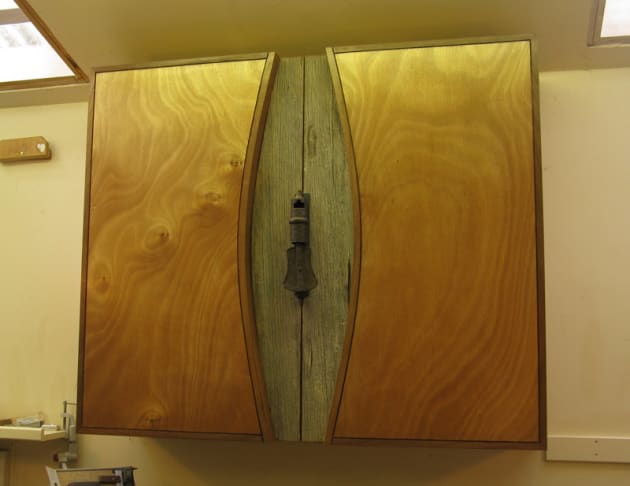 The antique lock is Arab. The design starting point was the antique lock which the doors are shaped to highlight. The curved cherry was steam bent. Shadow lines give emphasis. Storage is increased by inner doors hinged within the main doors. Interior clearances for door closure necessitated careful tool placement with fine tolerances.
As to contents, whether it's favourite planes by Terry Gordon, Ray Isles and Bridge City that supplement the range of great Lie-Nielsen planes, or a good assortment of quality marking gauges, spokeshaves, mallets, plane and chisel hammers, or the excellent Auriou rasps, each and every one beats its rivals in some situation. Horses for courses.
My overall favourite(s)? Lie-Nielsen's block planes, for their heft, comfort, utility and results. The rolling tool chest is maple and Baltic birch ply. The workbench top is maple. They predate the cabinet. I made them while living temporarily in the United States with a restricted tool kit and no power tools other than a battery drill. They were lessons in 'handmade' and the hardness of maple.
On a Montana ranch I gathered 'dead and down' trunks of mountain juniper (and the old sleigh timber). A ring count shows these trees were growing there on the banks of the Missouri River when the explorers Lewis and Clark passed by on their epic first crossing of the USA in 1804–6. I like to think the expedition tied their canoes or tents to them. As solid workbench legs and stretchers, and chest corner posts, they speak to me of those hardy explorers' sturdy character and self-belief.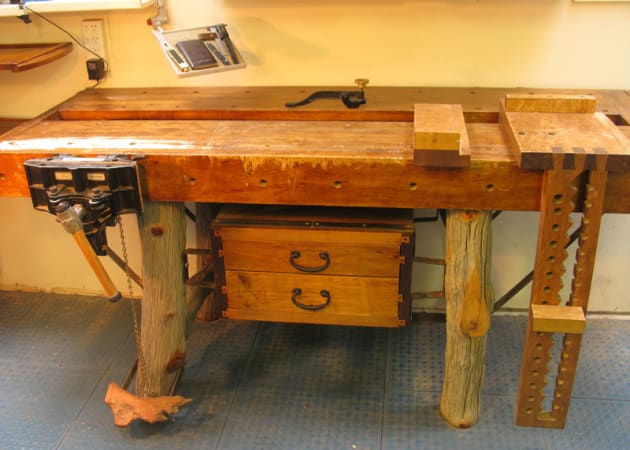 Atop the rolling chest are racks for marking knives, squares, rules and other reach-for layout tools. The surround is of more weathered sleigh wood. Drawers below are fitted out for more measuring and layout tools, specialised planes and blades, and handsaws. For handsaws generally Lie-Nielsen again is my favourite, but sometimes a Japanese saw wins.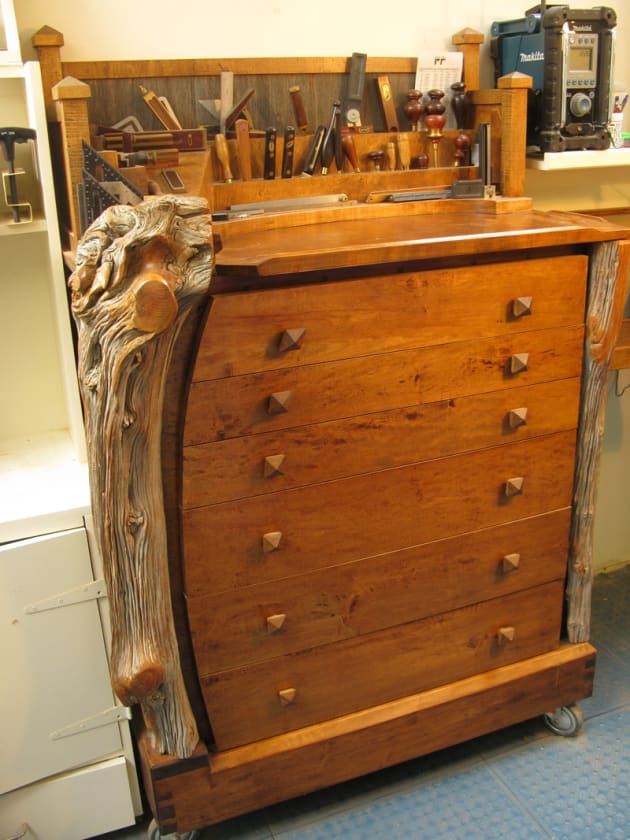 The versatile Veritas Tucker Vise is worth every cent of its considerable cost. I wouldn't be without it. It aligns with the adjustable bench jack for clamping large pieces, and is complemented by benchtop hold downs and dogs (stored in the under-bench drawers). The top of the jack is a (push saw) bench hook. There's a separate bench hook for pull stroke Japanese saws. The two give level support for longer timbers.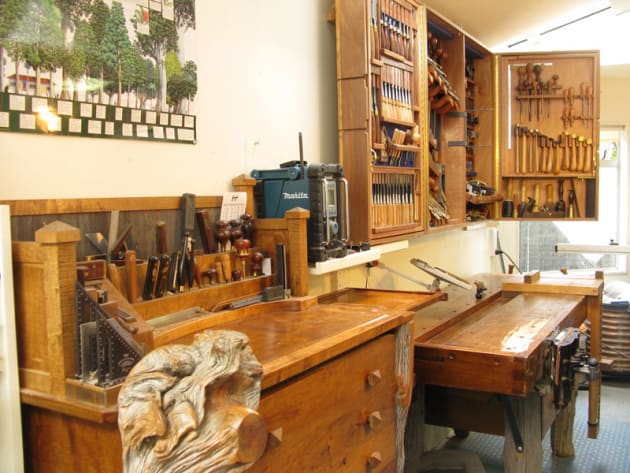 * In NZ speak, a dunger is a worn-out tool or machine.
Jim Howell is a woodworker who lives in Wellington, New Zealand. He was a former New Zealand Ambassador to the Middle East. In AWR#78 he wrote about his replication of Tutankhamen's Cedar Throne and Stool.