Gerard Gilet: Custom Acoustic Guitar Maker and Teacher

Gerard Gilet doesn't do things by halves. Every aspect of the way he builds musical instruments and teaches others how to do the same is done to the max, such is the way this man operates.
Moving his setup from Sydney to Mudgee some 330km away was an opportunity to buy a new bandsaw, thickenesser and tablesaw to add to classic Wadkin, Beaver, Arboga models he owns. 'There are no toy machines here – everything is usable and workable,' Gerard said. Add to this the specialised hand tools and jigs needed for fine instrument building accumulated through decades of doing just that.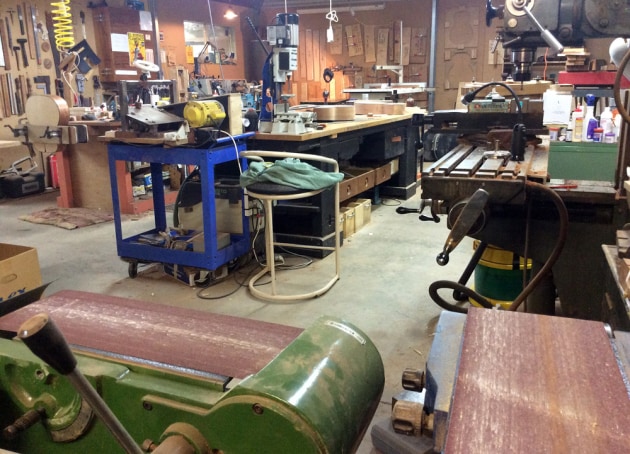 One of the first in this country to specialise in making custom acoustic guitars, Gerard started out in 1976 and also established the first luthier supply business in Australia. Gilet Guitars became an institution in Botany where a team of four made instruments, sold select timbers and accessories, and taught guitar building.
From his new country NSW base, Gerard continues to build fine instruments and also offers three week intensives to those who wish to learn how to make a guitar that not only looks but sounds great.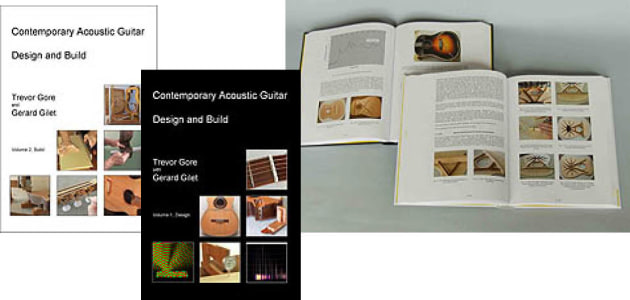 Some years ago, Gerard and long-time associate Trevor Gore took a leap of faith and decided to produce their definitive, two-volume publication Contemporary Acoustic Guitar Design and Build. 'We were told not to do it', said Gerard, referring to the litany of self-publishing pitfalls the two were regaled with. But, five years later, the first edition was released, and over an 18 month period $200,000 worth of books were sold. To say they are comprehensive is an understatement: each volume contains over 800 pages with over 800 photos.
Volume one covers all aspects of acoustic guitar design, an area that Trevor, with a PhD in biomechanical engineering, another degree in electrical engineering and years of specialised industry experience, came to fore with during the five years he spent full-time writing it.
In volume two, Gerard and Trevor looked at build aspects, covering processes and plans. 'Plans for building guitars on a stand-alone basis are completely and utterly useless', said Gerard, leaving no room for argument. 'There are lots of how-to build-a-guitar books which are dumbed down, with lots left out. Take humidity control, essential when gluing cross-grain as you must do with guitar making. We show how to build a unit to take care of this.'
Many would agree that the volumes by Gilet and Gore are now 'the' reference for building guitars, which is why the second edition is now available. 'The books are for serious guitar builders and are written in a logical and scientific way', said Gerard.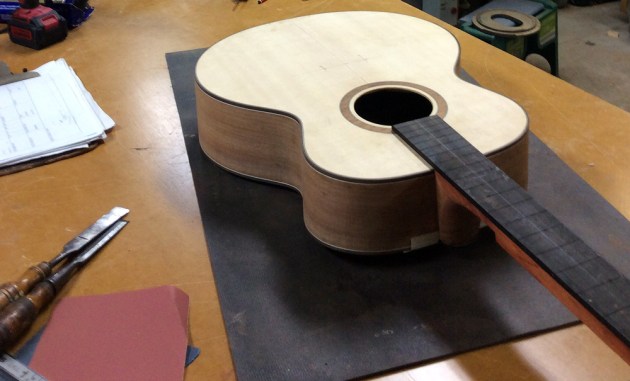 It takes on average 200 hours to build a guitar, but those who study with Gerard from 9:30 to 6pm, six days a week for three weeks will take home a guitar. With a maximum of only two students at a time very careful attention can be paid to each process, every step of the way. A three week intensive costs $4,200 and covers all materials, tools and equipment as well Gerard's tuition.
'I like teaching and I enjoy students', said Gerard, noting that many have become good friends. The relationship is two-way as well, as he said that 25 years of watching people learn has enable him to 'back-think' better ways of doing things. 'Watching people struggling has been an incentive to try and improve methodologies', said Gerard, who as co-author of a respected treatise on guitar building has truly explored this notion to the fullest.
Learn more about Gerard Gilet, the instruments he makes and the tuition he offers by phoning 0412 589 124 or visit www.giletguitars.com.au