Well Made in China
Situated in southern China, Guangzhou is a large city of some ten million people. From the air and on ground it presents as a grid of apartment blocks delineated by connecting streets and highways. Industry and industriousness is everywhere, people are about their business amid the constant stream of foot powered and motorised traffic.

The Woodwell Manufacturing site covers an area of 30,000 m2.
The Mujingfang factory is situated in Foshan City. A 40 minute train ride with one connection will get you there possibly a lot faster than by car, certainly in peak hour when traffic is reduced to a crawl.
Factory manager at Woodwell Tools.
Mujingfang is the brand name for the hand tools manufactured by Woodwell Woodworking Tools Manufacturing Ltd. At their factory, a workforce of 90 produce enough traditional wooden handplanes, spokeshaves, marking gauges and more to make them the largest manufacturer of their kind in the world.
Master Mao is the company's foremost master craftsman.
Mujingfang tools are sold in around 30 countries and, at their price point, offer an exceptional level of quality. It's a family business founded in 1982 by Man Kit Ho and now run by his daughter and sons.
Components are hand fitted and hand finished.
Being shown around the factory by Managing Director Jennie Ho and Production Manager Tim Ho made for a fascinating afternoon. Learning about the manufacturing principles and innovations laid down by the company founder, as well as the processes used by its workers was interesting. Hearing how the company's growth was tied to ensuring the future of its workforce was inspiring.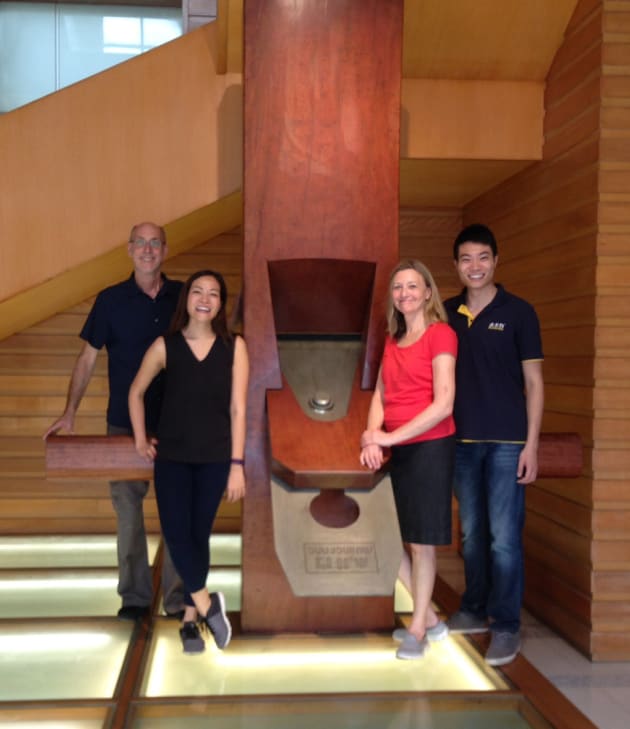 Left to right: Raf Nathan, Jennie Ho, Linda Nathan and Tim Ho stand with the "largest plane in the world". Built for fun but fully operational (if you're big and strong enough), this stands in the entry foyer of the administration building.
The March issue of Australian Wood Review will report on how Mujingfang tools are made and the materials and processes used. See also www.mujingfang.com