VIDEO: Olive Gill-Hille on her work as a sculptor
On show until November 21 at Sally Dan-Cuthbert Gallery in Sydney, Trunk is a collection of sculptural works by West Australian artist Olive Gill-Hille.
Gill-Hille moved to Melbourne when she was 18 to study sculpture and spatial practice at the VCA in Melbourne, and then undertook a degree in furniture design at RMIT – which is where her journey with wood began.
She likes the warmth and narrative of wood, and the physicality of the work. Her sculptural studies started with looking at the classical sculptures of the twentieth century – Brancusi, Noguchi, Henry Moore. In the video she says: 'While I love their works, something always bothered me, that they were mostly men making female forms. In a way, I think through my practice as a young female artist, that I'm repossessing these shapes. ...I also think it's really empowering working through my recontextualisation of a typically male dominated medium such as woodworking and furniture making.'
In the video below Olive Gill-Hille explains how the exhibition Trunk has a far more personal meaning.
See the exhibition Trunk at Sally Dan-Cuthbert Gallery, 20 McLachlan Avenue, Rushcutters Bay, Sydney until November 21.
Learn more about Olive Gill-Hille
Cover image: Emma Pegrum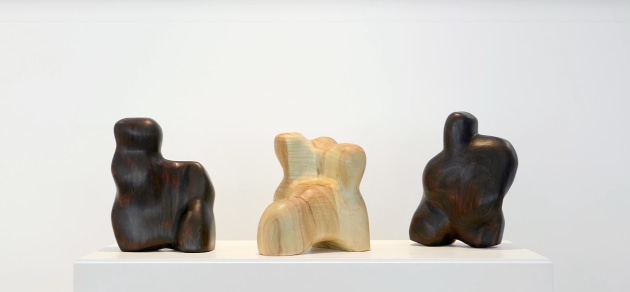 Part of the installation at Sally Dan-Cuthbert Gallery in Sydney