Uluru wood artists show work at Sturt Gallery
Punu – Living Wood is a new exhibition of works featuring walka board paintings and woodcarvings by selected artists represented by Maruku Arts, Uluru NT.
This new collaboration between Sturt and Maruku Arts will feature work by senior artists Niningka Lewis, Billy and Lulu Cooley and over 20 other artists including generations of the Cooley family – David Cooley, Sissy Cooley and Janey Cooley.
Maruku Arts support over 900 artists from the communities surrounding Uluru. Based in Mutitjulu Community, and in the shadow of Ayers Rock Uluru-Kata Tjuta National Park, Maruku today is one of the largest and most successful Indigenous owned and operated arts organisations. This exhibition is a celebration of punu - objects and paintings that incorporate timber.
Niningka Lewis is a skilled punu artist proficient in sculptures but she is also renowned for her walka boards - burnt etching on board where she adds paint in sections often depicting personal memories from her childhood as well as her first connate experiences.
Billy Cooley is a master carver producing intricately carved snakes made from various desert timbers that he sources and shapes to bring to life wanampi water serpents, each one uniquely realistic with distinctive markings that are etched to represent scales and patterns. His work is highly regarded and in many collections around the world.
Lulu Cooley is Minyma Ulkumunu, a senior Aboriginal Woman, she is a consummate carver specialising in pita and wira traditional bowls. The pita or wooden bowl is a traditional woman's carrying vessel for food and water. Lulu's has developed a distinctive scallop pattern to her creations that has evolved after observation of her mothers work.
Billy and Lulu Cooley will be in residency at Sturt for 2 weeks from 8th April and will give a series of free demonstrations and talks during this time.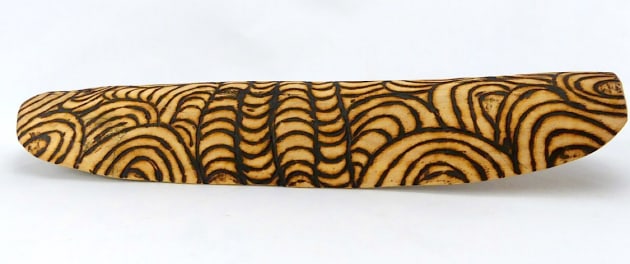 Narelle Holland, Punu kanilpa, 563 x 125 x 86mm. Long and narrow in shape and ideal for winnowing precious grains like wangunu or wintalyka (woolly butt grass seed or Acacia seed).
In conjunction with this exhibition will be a display featuring work by local Indigenous artists. Peter Swain is a Wiradjuri Warrambinga man and a direct descendant of Peggy and Jimmy Lambert, the Daby people of Rylstone. Peter has been sharing his Aboriginal culture and expertise in schools for the last ten years. He is a practising artist having exhibited in galleries across NSW, ACT and Victoria showing works of mixed media. Peter makes tools, Artefacts and teaches Boomerang making and throwing.
The Yirran Miigaydhu Weavers (meaning many women weaving in Dharawal) will showcase some of their work made from local fibres and native grasses. The group learns traditional methods of making to create works in their individual style such as coil baskets, bark water carriers, dilly bags, animal sculptures, random weave baskets, fishnets and adornments.
The exhibition opening will take place on Sunday 14 April at 11am. The exhibition will be opened by special guest Terri Janke, Solicitor Director of Terri Janke and Company. The exhibition will run from 14 April to 2 June.
Sturt Gallery, Cnr Range Rd and Waverley Pde, Mittagong, NSW. The gallery is open seven days, 10am – 5pm.
Learn more about the exhibition at www.sturt.nsw.edu.au
Learn about Maruku Arts at maruku.com.au