The ExLaB Experiment

Above: In the ExLaB studio, Duncan Crowe tests the Steambent Stools that he and Riley Woosnam made.
Words: David Fedyk
Photos: Charlie White
The Experimental Design Lab, or ExLaB, is a design laboratory at the Melbourne School of Design, University of Melbourne, that explores, researches and creates design through an experimental process focused on the materials and machines things are made from.
Playful experimentation and prototyping lie at the core of the ExLaB pedagogy, encouraging designers to re- examine everyday materials and invent new ones. Designers are required to get out of their sketchbooks and get their hands dirty.
Process driven design suggests an alternative 'bottom-up' approach that places materials and the way things are made at the core of the conceptual process. Designers are hereby compelled to uncover latent opportunities that only become evident through open- ended experimentation, while also readdressing our relationship with the planet by requiring a deep understanding of what things are made from. This exhaustive process results in innovative furniture that pushes the boundaries of beauty, function and sustainability.
Each ExLab subject introduces this design process through a series of two week stool exercises. Working in pairs, designers use an assigned machine for the first exercise, and then a material for the second. In the first week designers are asked to play, experiment and hack their assigned machine or material looking for 'moments for innovation'.
After presenting these ideas and experiments to tutors and colleagues, the designers then create a stool that explores and pushes a selected innovation.
This playful approach fosters a deeper understanding of materials and processes that facilitates the creation of unusual and unexpected outcomes. After completing the stool exercises the designers individually produce a finished piece of furniture. For many, the ideas discovered in the stool exercises are developed into the final outcomes, while others find inspiration through further investigations.
Several projects by some of the graduate students of the ExLab Experimental Timber Furniture subject in 2019 are also shown. The design approach here focuses solely on exploring timber (i.e bamboo, hardwood, cork) and the various ways to manipulate it (i.e. steambending, tablesaw, veneer, vacuum forming).
Designers were tasked with proposing an answer to the question, 'Is the world's most common building material still ripe for innovation?' For many students this is their first time using a workshop and making anything beyond architectural models.
Alexander Traylen, Paper Tube Chair
The Paper Tube Chair is an exploration of the varied functionality of the prosaic paper tube, and the chunky aesthetic it creates. The chair started from 3 a stool experiment testing the viability of using paper tubes as a structural material. Further design iterations focused on developing a tubular aesthetic and translating this language into a proper chair.
Alex's final piece celebrates these oversized junctions by using unconventional lathe techniques, combined with classic woodworking techniques to achieve a unique aesthetic. He chose an oft-overlooked material in radiata pine to pair with the humble paper tube, floating a whitewash stain on the timber before clear coating to achieve a more cohesive tone. The Paper Tube Chair combines a craftsman's skill and attention to detail with an unusual material to achieve a unique piece.
Alex was our most experienced designer/maker, bringing years of experience in carpentry, boat repair, furniture making/restoration work as well as undergraduate degrees in Architecture and Furniture Design.
Duncan Crowe, Two Curve Chair (2CC)
The Two Curve Chair is a formal exercise in curve-making through a process of lamination. Drawing on experience from earlier steambending exercises, Duncan wanted to continue developing a language of bending for his final chair. Given a short timeframe and considering the material cost of multiple moulds, he chose to attempt a design that was made from a single repeated curved element.
Confirming the shape and thickness were adequate for curve strength, he then set about formalising the repeating elements into a cohesive design. Research and 3D modelling informed the ergonomics and that the proportioning was correct for the human body. The Two Curve Chair illustrates how one simple design element, when staggered, rotated and shifted, can transform into a dynamic and sculptural form.
Toby Moritz, Meditation Chamber
The Meditation Chamber began with a question, 'Can thin veneer perform a structural role in furniture?' Initial testing using a vacuum bag and various moulds revealed interesting textural qualities and the structural potential of the veneer. This led to weeks of exploring different mould shapes, various veneers types, grain direction, and formal experiments. The final piece joins this experimental approach with a desire to create a sheltered enclosure for meditation.
In a cheeky nod to one of Australia's favourite building materials, Toby used layers of corrugated iron as well as plywood and foam to create the former. The making challenge was also to create a large vacuum bag chamber and a process for executing the glue-up. After weeks of testing and vacuum bag modifications, a team of eight successfully glued up eight layers of 1.6m x 3.6m veneer in about 30 minutes.
Grant Li, Waterfall Stool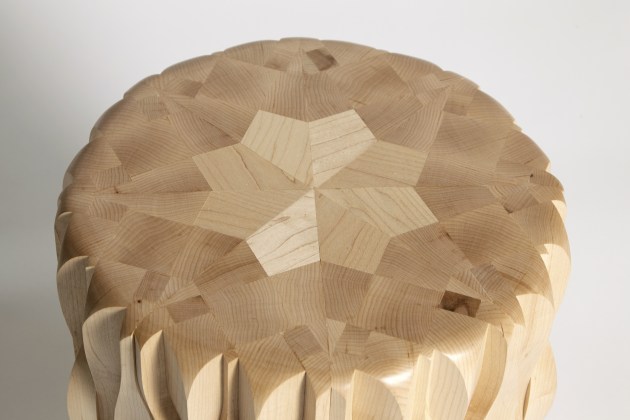 The Waterfall Stool was inspired by cabriole leg construction, where a block of timber is first cut lengthwise into four. Each piece will have two flat faces and two curved faces. Rearranging and gluing the flat faces of these pieces together results in flowing sculptural forms generated from surprisingly simple cuts.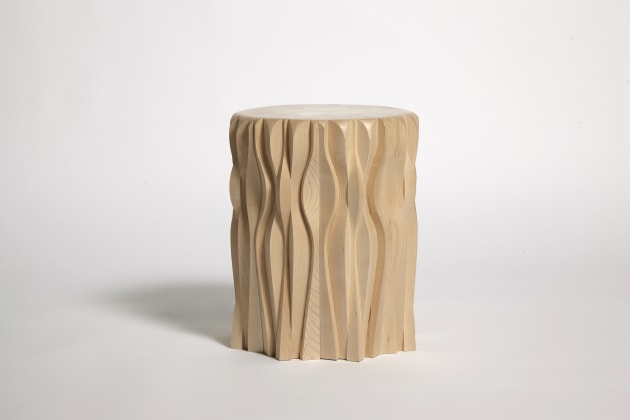 Grant developed a pattern language from these cut fragments and experimented with different arrangements, arriving at a circular shape. The transition from the sides to the endgrain top was rounded to unify the design.
Karen Tsui, Dipping Wafer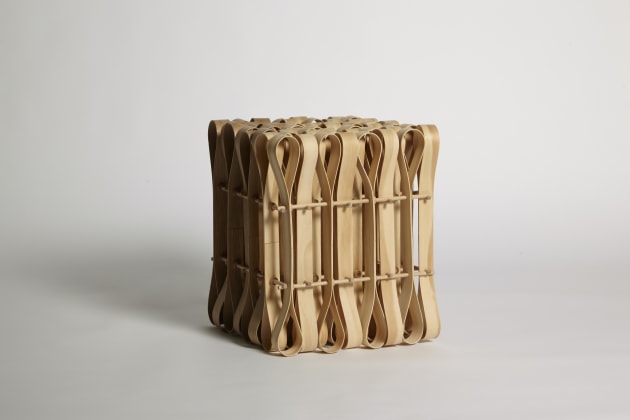 Dipping Wafer is a unique stool made from strips of sawn, soaked and bent timber veneer braced together in a repeating pattern. Each strip was sanded to a uniform thickness before being soaked in hot water, then bent and clamped into position. Once dry, the ends and middle of the strips were glued together to produce 64 double-ended loops, and a new problem...finding a way to join them all together.
A closer look reveals an intricate network of timber washers and half lapped dowels lashed together with cotton twine giving structure to this lightweight yet deceptively strong stool.
Paddy McPherson and Alexander Traylen, Kerf Stool
For one of the experimental stool exercises early in the semester, Alex and Paddy were given the sliding compound mitre saw as their machine to explore. Rather than focusing on the angled cuts the machine is typically used for they decided to use this opportunity to see what sort of surface textures they could apply.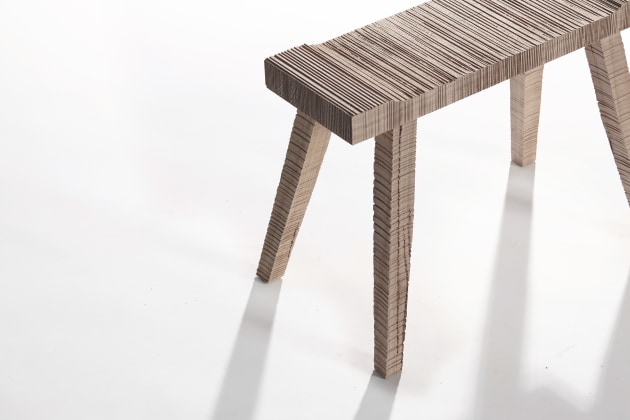 This exploration resulted in a stool covered with unusually rough machine marks and a sculptural quality that you would not normally associate with a sliding compound mitre saw.
The splayed legs were also cut on the mitre saw and attached to the top with floating dowels. Corresponding holes were drilled on the drill press in a jig to get the angles correct.
Stephanie Guest and Sofia Turtle, Lathe Stool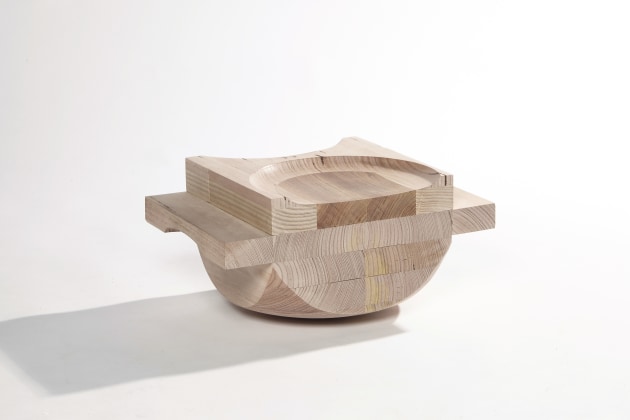 Stephanie and Sofia designed within the constraints of the wood lathe capacity and turned this toddlers rocking stool as part of their two week lathe exploration.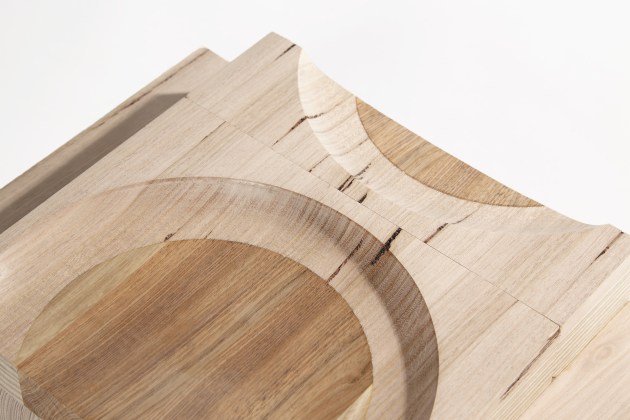 Made from an assortment of Victorian ash, American ash and Tasmanian blackwood they combined different turned elements to create the handles, base, and seat.
Finn Forsyth and Chris Manton, Dowel Stool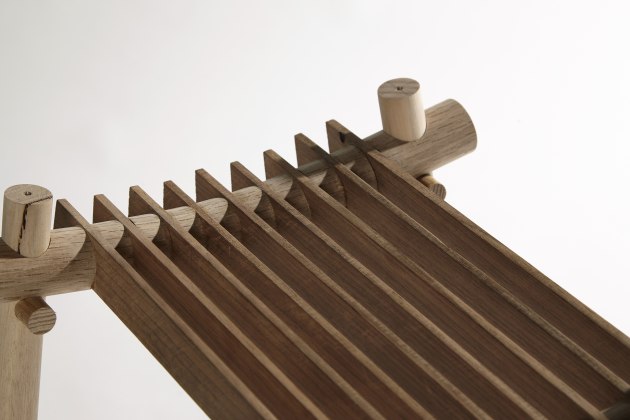 Challenged with designing a stool entirely out of dowels, Finn and Chris experimented with kerf-cutting to create bending and provide a notch for the seating slats. This gentle curve also splayed the legs for more stability.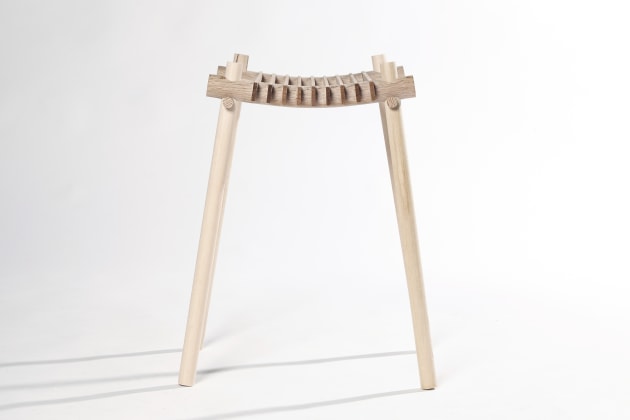 Riley Woosnam and Duncan Crowe, Steambent stool
Having been allocated the process of steambending to make a stool, Riley and Duncan embarked upon a frantic two week build where they tested, designed and completed their piece in American oak.
They quickly discovered the difficulties involved with steambending and the downside of using kiln dried timber and came up with a design comprised of multiple identical pieces rearranged to form a stool. They completed two pieces around a similar curve, one made from 5mm thick sections and the other from 10mm.
Yuxin Jiang, Homemade Chocolate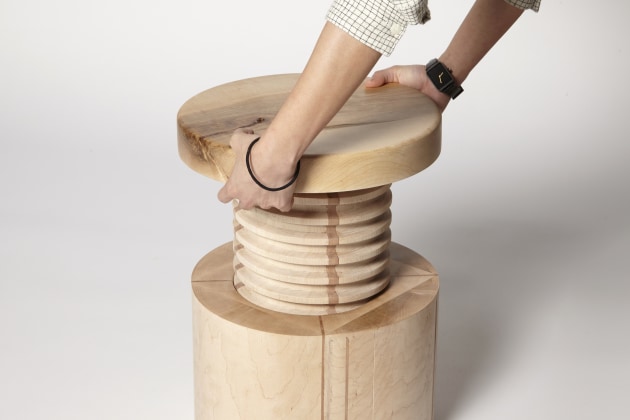 Inspired by the bookbinding presses of Frank Wiesner, Yuxin sought about making an adjustable height stool designed around a timber screw thread. Lacking access to a dedicated thread cutting machine, she designed her parts in quarters and had them machined on a 3-axis CNC router. The design of her stool allows it to be used as a single adjustable height stool or it can come apart and be two fixed height low stools.
This year ExLaB, like other educational facilities, is facing an unexpected range of challenges. Dealing with change is part of the process of exploring materials and means of transforming them.
First published in Australian Wood Review #107, December 2019.
ExLaB: Experimental Timber Furniture was led by David Fedyk, and Josh Stevens. Learn more about ExLaB at www.exlab.org