The Dish by Sawdust Bureau
Melbourne based woodworker, designer and architect Bryan Cush was one of 65 shortlisted makers for AWR Studio Furniture 2018.
His low table 'The Dish' is a piece which pinpoints a geographic and historical snapshot through the medium of a brass, star map inlay. Brass dots simulate the exact stellar positioning of the Southern sky as viewed at precisely 12.56pm AEST on 21st July 1969 from the rural, central-west NSW town of Parkes.
At that exact moment the 64 metre diameter radio telescope at CSIRO Parkes Observatory would be immortalised for broadcasting live TV footage of man's first steps on the moon back to an estimated six million people waiting in anticipation back on earth.
The splayed legs are a nod to the angled support struts of the lunar module, while the moon rise is located as a solitary aluminium marker.
2019 marks the 50th anniversary of the lunar landing with the Parkes Radio Telescope still leading the way in mapping and exploring space today; one of the greatest scientific achievements in Australian history.
See The Dish, along with the entire collection of work created for AWR Studio Furniture 2018 at Bungendore Wood Works Gallery, NSW.
Videography: Bryan Cush, Vivienne Wong, Tiago Brissos
Learn more about Bryan Cush at www.sawdustbureau.com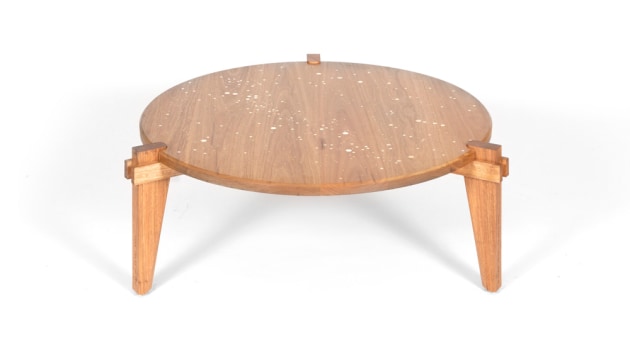 The Dish by Sawdust Bureau. Photo: Vivienne Wong