Sustainable furniture maker PGT-Reclaimed wins 2018 Environmental Excellence Award

One of PGT-Reclaimed's furniture collections, Woodenforge, made from solid reclaimed wood and finished with 100 percent water-based materials.
PGT-Reclaimed's 20 year celebrations continue, with the lifestyle furniture manufacturer winning "Environmental Excellence" at the Australian Supply Chain and Logistics Awards (ASCLA).
At a ceremony in Sydney on Friday 23 November, PGT-Reclaimed was recognised for its huge efforts towards sustainability, by not only using reclaimed wood and responsible use of water, electricity and packaging materials, but by also preserving old-world carpentry and finishing skills.
Prior to the ASCLA recognition, PGT-Reclaimed also won Green World Grand Champion at the international Green World Awards in September, overcoming 500 other companies and government organisations.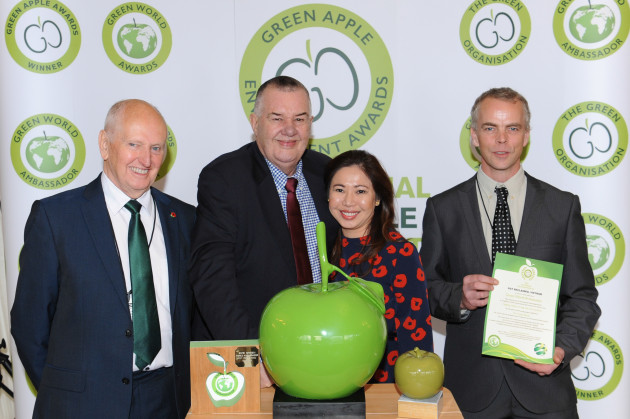 PGT-Reclaimed owners Ian and Yung Burden (centre) with Roger Wolens (left) and Mark Wolens (right) from the Green Organisation.
Founder and CEO of the Green Organisation Roger Wolens noted how PGT-Reclaimed's holistic approach to sustainability had set an example for the rest of the world.
Because of this, Mr Wolens invited PGT-Reclaimed to become a Green World Ambassador, welcoming Mr Burden, and his wife and Brand and R&D Director Yung Burden, to present trophies at the Green Apple Awards 2018 for Environmental Best Practice. A ceremony held at the UK's Houses of Parliament in early November.
"Right from the start, PGT-Reclaimed had the vision of protecting the environment while recycling unwanted parts of it to produce beautiful furniture, encourage and preserve traditional skills and provide excellent employment prospects;' Mr Wolens said
PGT-Reclaimed uses discarded timber; recovering wood from old pallets, shipping containers, shipwrecks and old buildings - wood usually taken away and burned.
In the early years of PGT-Reclaimed, Mr Burden established an involved process to treat and manufacture the reclaimed timber to withstand climates throughout the world. This included the wood being kiln-dried for a minimum of 21 days, with a unique floating panel system created by a tongue and groove technique to ensure the furniture would last a lifetime, while best showcasing the wood's personality, charm and character.
The company has also thrived with its uniquely natural hand-made finishes, created by using a multi-step, timeless French polishing method. The finishes became even more unique when Mr Burden decided to use brand new materials, made from 100 percent water-based ingredients, with zero toxicity, to benefit both PGT-Reclaimed's workers and consumers.
Through the process of using reclaimed wood, PGT-Reclaimed has saved around 500,000 trees from being cut down, which equates to enough oxygen to benefit one million people.
PGT-Reclaimed employs over 700 people at its factory in South Vietnam, while working with people in the 18 countries where product is distributed, including via PGT-Reclaimed (Australia), in Runaway Bay on the Gold Coast.
Mr Burden noted his pride in the company being recognised, especially via the ASCLA: "While I have lived abroad for nearly 25 years, in many ways 'I still call Australia home'. And therefore, it means a lot to me to be recognised by ASCLA. Thank you!"
For more information visit www.pgt-reclaimed.com.au