Spoonies weekend is a festival for woodcarvers

Organiser Carolyn Folland displays entries from the inaugural Communal Spoon Competition.
The scene is now set for another fabulous Spoonies Weekend to take place on the NSW and Qld long weekend October 5–6, 2019.
Spoonies in the Tweed 2018 marked five years of this fabulous woodcarving event. Last September 45 spoon carvers and their guests gathered in the beautiful Uki Valley, within the Tweed shire of Northern NSW.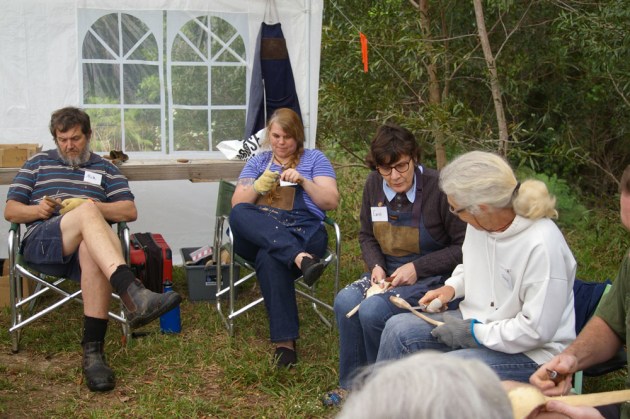 All eyes on spoons as Carol Russell talks technique with Di Page.
There were many returning faces and beginners ready to advance their carving with our esteemed instructors: Robert Howard, Carol Russell, Barton Chesworth, Jeff Fraser and Graham Folland.
Barton Chesworth demonstrated the stages of green wood spooncarving.
Participants were taken through a range of spoon carving techniques – using hand tools, chisels and vices, axe work and all-important tool maintenance. Advanced carvers bonded over their projects and beginners immersed themselves in their new-found skills. Over the weekend the Spoonies instructors generously gave of their time and skill to all participants.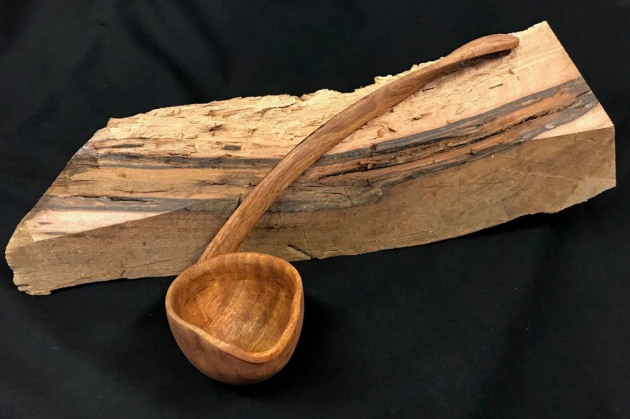 Graeme Findlay's ladle won the amateur Spoonies Artisans Challenge Award.
Once again, the Spoonies Artisans Challenge brought many entrants – both professional and amateur. 2018 was the year of the ladle and many impressive entries were received. Jeff Fraser took out the professional category, and Graeme Findlay won the prestigious amateur Spoonies Artisans Challenge Award.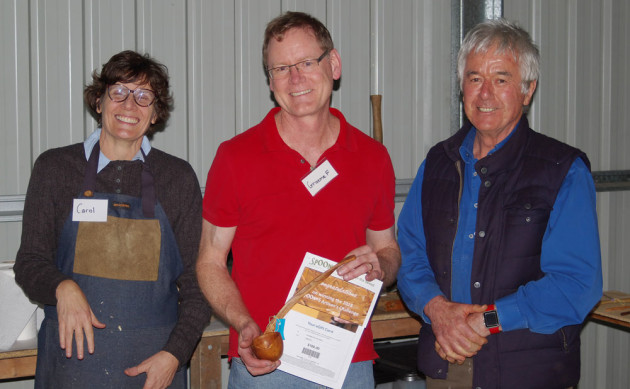 Judges Robert Howard and Carol Russell present Graeme Findlay with his amateur Spoonies Artisans Challenge Award certificate.
Spoonies in the Tweed encourages all carvers to submit their work to the Spoonies Gallery and each year it is exciting to see the efforts of the weekend laid out. Advanced carvers also bring examples of their previous works to display in the event shed. This is a tradition that is well-loved by fellow carvers and their guests.
Spoonies is lucky to receive support from Carbatec, and prizes are offered at the close of the weekend.
The 2018 prizes went to:
Melinda Pendragon (Best Beginner Spoon)
Dianne Page (Most Creative Spoon)
Zac Hartmann (Best Overall Spoon)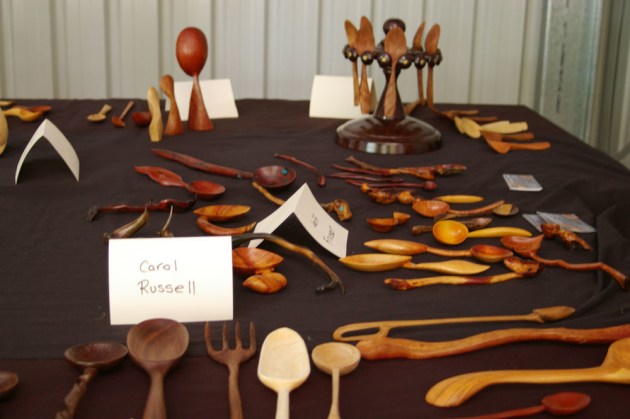 Each year the Spoonies Gallery displays the fruits of the weekend's creative activity.
2018 saw the introduction of the Communal Spoon Competition: carvers grouped into teams to carve against the clock: six carvers working to carve a spoon in 30 minutes. Each team started with an identical spoon blank. The ensuing 30 minutes saw serious team tactics, lots of laughter and some fierce concentration. Most importantly, the exercise gave new carvers the chance to carve alongside more experienced carvers – learning new techniques in a light-hearted way.
Most participants camped on site at the beautiful Uki property enjoying the bright blue skies and native wildlife. A platypus was spotted at dusk on Saturday in the creek running alongside the campground.
As usual catering was of a high standard, including included delicious lunches each day and a campsite barbeque on Saturday evening.
Bookings are open for this year's Spoonies in the Tweed on the weekend of October 5 – 6 and spots are filling fast. Master carver Robert Howard and his team are preparing the tools and timber, and the wonderful Carol Russell, Barton Chesworth and Jeff Fraser will be back to share a whole swathe of new learnings. These fabulous artisans never stay still and are planning new and improved workshops this year – to help attendees to grow their own experience and try new ideas.
Spoon carving is growing in popularity and the Spoonies community supports both new carvers and established artisans.
Tickets are available via www.tweedspooncarving.com.au
Photos: Graeme Folland