Skill Champs Compete in UK

Above, left to right: 2016 WorldSkills Australia's Skills Squad members Joshua Morrissey, Nicholas Johnston and Ryan Grieger.
When carpenter Ryan Grieger, cabinetmaker Nick Johnston and joiner Joshua Morrissey started their apprenticeships they never dreamed they'd need a passport for work. But next week, the three young men will be in the UK's Manchester region for four days of skills competition against their WorldSkills UK counterparts.
Ryan, a 21-year-old carpenter from Swan Reach in SA, Joshua, a 21-year-old joiner from Picton in NSW, and Nick, a 20-year-old cabinetmaker from Roelands in WA, were selected last year as members of WorldSkills Australia's Skills Squad. This followed their medal-winning success at WorldSkills' national competition, which was held in Melbourne in October 2016.
The national competition, which is held every two years, saw more than 500 apprentices, trainees and other vocational students vying for 159 medals across 60 trades and skills.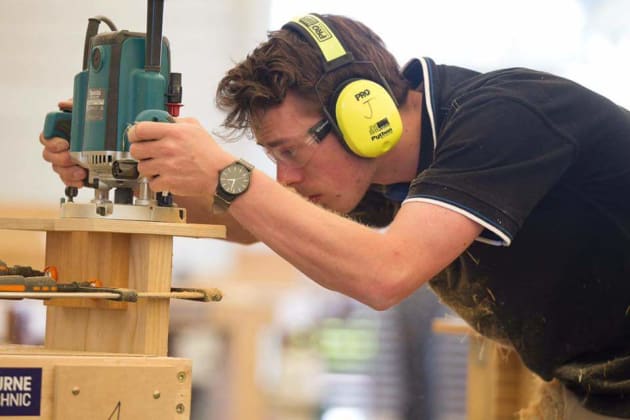 Above: Apprentice joiner Joshua Morrisey, NSW
Skills Squad members participating in the UK competition have all been training with a dedicated skills mentor, and their mentors will accompany them to the UK. Ryan's mentor is Allen Hill, a carpentry teacher at TAFE NSW and an international carpentry expert with WorldSkills Australia. Joshua's mentor is Dion Iori, a cabinetmaking and joinery teacher at TAFE NSW Sydney West and an international expert with WorldSkills Australia. And Nick's mentor is Jason Hindes, a craftsman cabinetmaker with Hindesbydesign in Adelaide and an international cabinetmaking expert with WorldSkills Australia.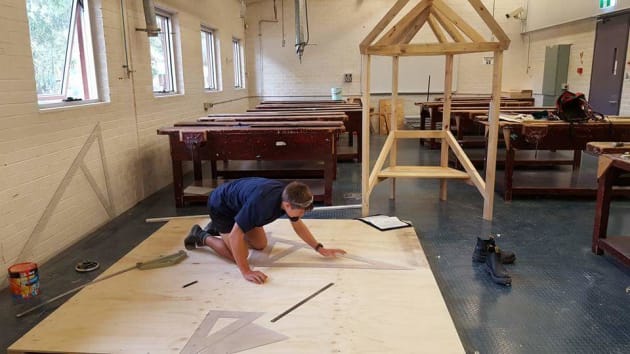 Above: Ryan Grieger, SA training to compete in carpentry skills.
Ryan said he would encourage any young person to pursue a trade or skill. "If you really set your mind to it and put in the hard yards it can take you places all over the country and the world", he said. Joshua said creating a finished product from raw materials was the "most satisfying experience" and woodwork had become "my skill, passion and career". He said his WorldSkills experience had "given me more motivation to pursue my passion in joinery and to continue to better myself".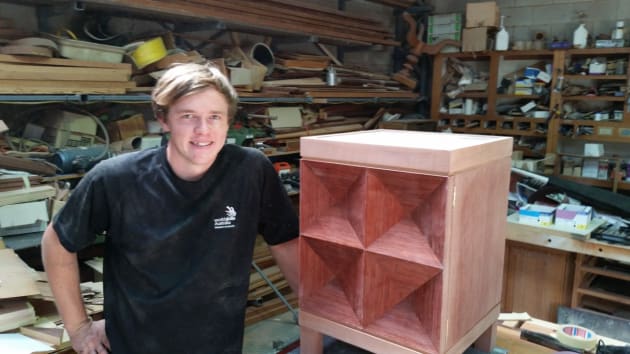 Nick Johnston, WA apprentice cabinetmaker.
Nick said his WorldSkills experience had been a great opportunity and he was "excited to have the chance to represent Australia". Nick thanked his family, TAFE lecturer (and WorldSkills judge) Joe Estermann, mentor Jason Hindes, and his boss, Paul Milton from Studio Milton, for their encouragement and support.
WorldSkills Australia CEO Brett Judd congratulated Ryan, Nick and Joshua on their success to date and said: "WorldSkills is committed to giving young people valuable opportunities, such as this UK experience, to showcase and enhance their skills." WorldSkills Australia celebrates excellence by creating opportunities for young men and women, promoting a skills culture, showcasing vocational education and training and investing today in the future jobs of young Australians.
WorldSkills Australia, a national, not-for-profit organisation, was established in 1981 and is a member of WorldSkills International – a global network of 76 countries that participate in skills competitions.