Rob Barclay's gift for Esther

When Rob Barclay mentioned to his 14 year old great-niece Esther that he would build her a 'basic box' to store her art materials in, he surprised and delighted her when it was finally delivered. As each embellishment was added the box became more and more elaborate, and the result was an attractive and layered storage solution that transports easily as required.
Rob explains: 'I decided to build my great niece a drawing box that incorporated her phone. The top walnut-inlayed phone compartment and its underneath slide-out drawer will stay in place even when the box is inverted. Conti carbon chalk sticks, knead-able erasers, sharpeners, a surgical knife, tracing paper, a fountain pen and ink and a how-to book on drawing are all included. There is also storage space available for USB sticks and camera discs.
'I have veneered an A4 sketch folder in burled Tasmanian myrtle, in which she can work up her drawings, and then transfer them to the two thicker paper artist's sketch pads for completion. This will help avoid any paper buckling, especially when framing is considered. New sketch pads can be glude into the veneered folder as needed.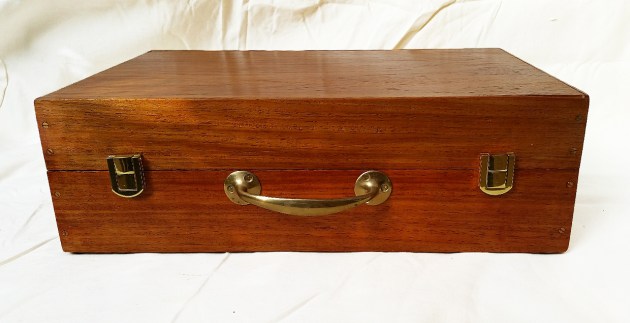 'The whole interior has been covered in billiard cloth, including the inside drawer and the small compartment. All empty spaces have been utilised. New Guinea rosewood and its veneers have been used throughout, and the lot has been given a light stain and finished inside and out with coats of shellac and lightly waxed using steel wool.'