Christmas will definitely be coming early for some of the people who live in Manus Province, Papua New Guinea. Unfortunately not for those who remain in the contentiously known detention centre on the main island, but for many of those who live on the small and nearby island of Rambutso.
Richard Vaughan has written for Wood Review for close on 20 years and is a contributing editor. He lives in Brisbane and teaches woodwork classes from his Sumner Park workshop. A friend, a former student in fact, discovered a while back she had a familial link with Rambutso and then went on to reconnect with the place. In time Lynne Shori set up a foundation, the Friends of Rambutso, a network and support group for its island communities.
A matter of months ago the idea of Richard's involvement hatched into a plan that just kept growing and has now absorbed much of his energy for the last month or more.
Offering to make a practical contribution to the people of Rambutso, Richard volunteered to teach woodwork, and the response from the locals both here and in that place has been overwhelmingly positive. When the word first went out to the population of 350 to 400 people, over 100 signed up for Richard's classes! And if word continues to spread to nearby island communities who knows how much that number could swell. This could be the start of a Woodworking Nation!
Judging by the images on the foundation's Facebook page, Rambutso is a beautiful place, but tropical paradise can come at the cost of, and is perhaps due to, the absence of modern infrastructure. There is no power on Rambutso – so woodworking will be definitely be the unplugged kind as bodger style furniture is what Richard aims to teach.
In just three short weeks Richard, as great a teacher as he is, won't be able to get 100 odd people through all the finer points of bodging, so the initial idea has now evolved into a pilot program. Initially a smaller group will receive basic training so they can pass that on and show others how to make shavings. Richard's first visit is now planned to be a pilot program that there are hopes for extending throughout other areas.
There weren't many tools on the island however. Apart from some axes and chainsaws all they had could be fitted into one small carry bag. So before woodworking can begin, tools had to be procured and shipped over.
Below: 90 odd chisels and carving gouges were donated by friends.

Once Richard put the word out to his network it didn't take long to receive offers of new and unused but still sound tools and equipment. Friends also assisted in refurbishing and even making some of the tools that will be sent.
The response that Richard received once he put the word out, reminded him of the support he received from the woodworking community in 2011 when his workshop went under water during the Brisbane floods. (He wrote about that in issue 71 of Wood Review magazine.)
As an example, of 90 or so chisels donated, most needed regrinding and sharpening and friends came to his workshop to help with that. Another mate helped make drawknives, while another built some hand-powered grinders for sharpening.
Below: Some of the drawknives made from jointer blades.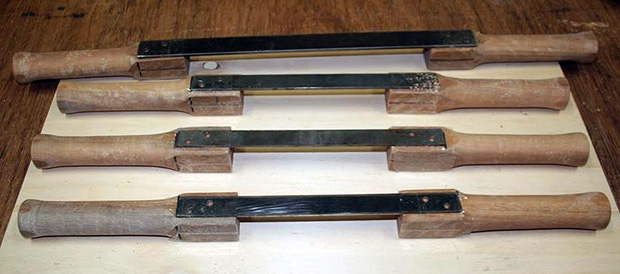 At the time of my visit the last of 21 crates were being packed. Richard built some of the crates from plywood, repurposed others and has used several large blue plastic barrels that will quickly find a use as water storage on the island.
Included in the shipment are 12 vices, panel and backsaws, braces and bits, files, rasps, drawknives, spokeshaves, hammers, adze heads and also an assortment of garden tools.
Below: Adzes restored and ready.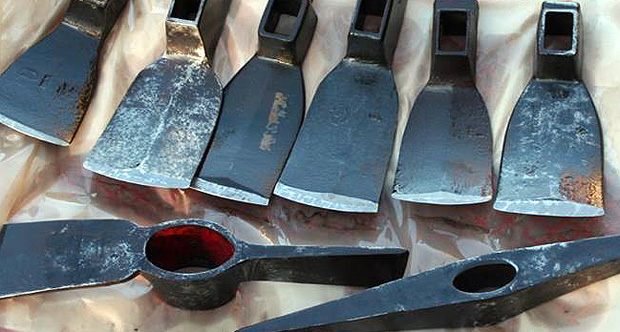 The shipment would be collected by Transfield (the company that runs the detention centre) consigned to Lorengau on Manus Island, where it will be loaded onto a banana boat bound for Rambutso. Richard's own voyage in early January will involve flying to Port Moresby and then Manus Island before taking the five hour motor boat trip to the even smaller island of Bundrou where he'll be based.
But at home there's still more preparation to be done. One of the first tasks will be to build some shavehorses. These ingenious clamping devices that can hold irregularly shaped work by foot pressure from the seated user will be indispensible for shaping components. Before he gets there though, Richard will do a trial run in his own workshop of building one with hand tools alone. Of course he knows how to do it, he just wants to streamline the process because there won't be a minute to waste on 'problem solving', for example making jigs to get the required angles right. He'll also give similar thought to some of the furniture he'll be showing his new students to make.
As well as teaching bodging techniques Richard hopes that the locals may be sparked to rediscover their own traditional canoe building and crafting skills, put into abeyance since the use of tinnies and motor boats has taken over.
Learning a new language is another task Richard is trying to rapidly get on with with because mostly pidgin is spoken in Rambutso although some people know English.
During his stay Richard will be living a very down-to-earth lifestyle. With no electricity for refrigeration it will be a matter of today's catch going straight to the campfire, then topped up with sago, the local staple. Lights go out when mother nature says so on Rambutso, so there'll be quiet evenings ahead in his dwelling made from woven sago palm leaves.
We're looking forward to bringing you an update on Richard's experience in Bundrou in a forthcoming issue of Australian Wood Review magazine.
Story by Linda Nathan, Wood Review print and online editor.
Learn more about Richard here, and on his website www.richardvaughan.com.au