New range of Japanese saws

New from Shogun Japan, the Master Craft range of dozuki saws is now available in Australia through ProTooling.
For those unfamiliar with nokogiri (a Japanese pull or razor saw), the dozuki is an extremely thin bladed handsaw (just 0.27mm in this case), with non-set, or minimally set teeth (here, yielding just 0.27 – 0.4mm kerf depending on the model). Traditionally used for tenon shoulders in Japan, they are an ultra accurate saw suitable for many fine joinery applications including dovetails.
Shogun has released three variants of the dozuki saw in the Master Craft series, with multiple ryoba and kataba also in development. All models sport a replaceable, hard-chrome plated blade and a rattan wrapped paulonia timber handle. They are a well balanced saw, with a bit more weight than the cheaper nokogiri on the market.
From the range, the smaller 180mm dozuki is designed for extremely precise cuts, with non-set teeth the kerf is a mere 0.27mm. Of note, it will only achieve a maximum cutting depth of 33-36mm however.
Next is the 240mm, this saw will give you a 55mm cutting depth (quite deep for a dozuki) and yields a 0.9mm kerf, a great all rounder still more than accurate enough for fine joinery.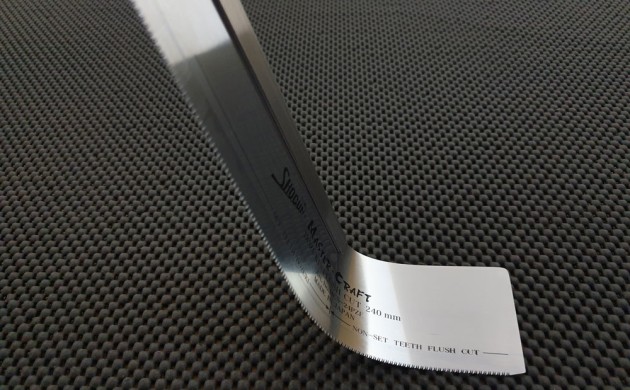 Last in line is an interesting combination saw, providing a kugihiki (flexible, flush cut saw) at front and dozuki at the rear. The dozuki section yields a 0.4mm kerf and the normal stiff spine, with the flexible front portion of the blade having non-set teeth, a 0.27mm kerf and (obviously) no spine.
All models are a great professional option, at a mid-range price point.
Available from ProTooling.com.au (or in their new Sydney store) for $90 each, or $52 for the replacement blades.