2016 Maleny Wood Expo
Date: Saturday April 30 – Monday May 2
Hours: 9am to 5pm daily
Venue: Maleny Showgrounds, 13 Maleny-Stanley River Road, Maleny QLD 4552
Admission: adults $15, concessions $12, children under 16 FREE
Parking: onsite by donation to Maleny Rotary
2016 marks the 20th anniversary of the iconic Maleny Wood Expo. It attracts over 10,000 visitors to the region over the weekend, and is now widely recognised as one of the best wood show/s in Australia by exhibitors, woodworkers and visitors alike.
The first Maleny Wood Expo From Chainsaw to Fine Furniture in 1996, was born from Barung Landcare's recognition of the need to raise awareness about sustainable use of native rainforest timbers, which has since expanded to sustainable use of all timbers.
Located in Queensland's Sunshine Coast hinterland, the area covered by Barung Landcare is recognised nationally as a prime region for growing boutique rainforest timbers. The Expo promotes the whole 'timber' story – from seed collection through planting forests, harvesting and the end product, the furniture and other timber.
To attract an audience, regional wood artisans working in sustainably harvested native timber species, weed species and recycled timbers are invited to showcase their work to the thousands of Expo visitors each year.
A typical visitor's experience at the Expo includes:
• Perusing the many wood items for sale or display – from the finest sculpture and inspirational interior design pieces to bush furniture to toys and everything in between
• Catching live woodworking demonstrations - from heritage woodcrafts to the latest woodworking tools and gadgets
• Watching the sawdust fly with the chainsaw carvers and mobile millers
• Viewing the exquisite pieces in the Against the Grain Wootha Prize Exhibition
• Joining in or observing the WoodShed Workshops – seeing master woodworkers and artisans share their skills with aspiring woodworkers of all ages
• Being inspired by Pat Gregory's Woodwork For Women
• Learning about the latest natural resource management initiatives to protect and enhance the natural biodiversity of the region
• Purchasing native plants from the Barung Landcare nursery tent to make your own garden fauna-friendly and help local biodiversity
• Discovering our timber traditions and heritage at the historical displays
• Pulling up a hay bale to enjoy a burger and coffee while catching a talk or some local music in the Maleny Music venue
• Watching the kids play on the ever-popular hay bale maze and of course taking home a slab for that DIY project.
DISPLAYS AND DEMONSTRATIONS
• Furniture and woodwork by the region's finest artisans all made from sustainably harvested local native timbers, weed species and recycled timbers
• Local and regional Natural Resource Management groups showcasing environmental initiatives underway to preserve SEQ's unique natural biodiversity
• Barung Landcare Nursery: local native plants for sale and education purposes
• Farm Forestry Displays
• Heritage Timber & Woodworking Displays showcasing time-honoured techniques and tools
• Trade & Tool Display: demonstrations, displays and sales of the latest woodworking tools.
• Mobile Mills and Machinery, Chainsaw Carving: the latest portable sawmills and wood processing machinery, plus chainsaw sculpting demonstrations.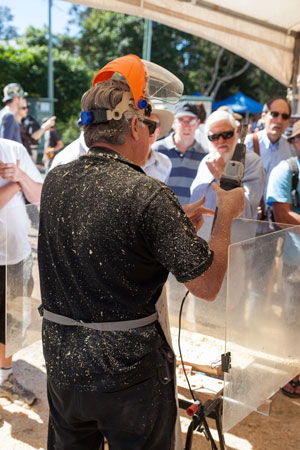 WOODSHED WORKSHOPS
Some of the Sunshine Coast's and South East Queensland's most talented woodworkers and artists will share their expertise during the weekend:
• Hand Held Carving with Don Powell (Maleny)
• Spoon Carving with Carol Russell (Brisbane)
• Get Bent – Steambending and Laminating with Ross Annels (Cooroy)
• Construct a Milking Stool with Richard Knight (Maleny)
• Dovetail Masterclass with Damion Fauser (Brisbane)
• Kids Space hosted by Carbatec (Brisbane)
• Cool Stool School with Scott P. Jones and Richard Vaughan (Cooroy, Brisbane)
• Weaving with Garden Waste Plants with Rene Bahloo (Sunshine Coast)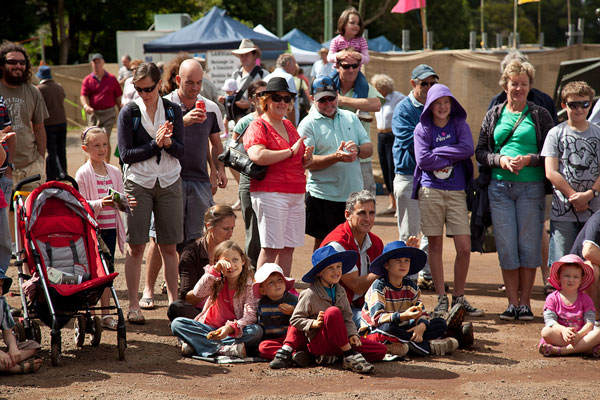 FEATURE EXHIBITION - THE ANNUAL WOOTHA PRIZE
The Wootha Prize is now Queensland richest woodworking competition, attracting contemporary designers and craftspeople in the promotion of sustainable timber use.
The Maleny Wood Expo is hosted by Barung Landcare and supported by Tourism & Events Queensland, Sunshine Coast Council, Visit Sunshine Coast, local and regional business sponsors and artisans, and the wider community.
Surplus generated by the event goes towards keeping the Barung Landcare Resource Centre open for the local and wider community, Landcare education and environmental rehabilitation projects in the region. Barung Landcare's ethical motivation in hosting the Maleny Wood Expo is one reason for the event's ongoing success. The other reason is the tremendous input from community volunteers who contribute to the family-friendly, safe 'country' atmosphere.
More information about the Expo at www.malenywoodexpo.com