Judging award winners is never straightforward. Even when a panel of judges has a set list of attributes to score on it can still be hard to separate the visual, functional and ergonomic appeal of different styles of furniture and lighting. Even more so when you add criteria of sustainability, innovation, build quality, marketability, presentation and value for money.
Before arriving to view entries for the Australian Furniture Industry Awards (AFIA), the Australian Contemporary Emerging Design (ACE) Awards and the recently established Timber Medallion Awards sponsored by Wood Solutions, the 12 judges were given access to preview entrants' briefs and images.
I was one of the 12 and as such had a close look at the entries beforehand, followed by an even closer look on July 9, the appointed D-Day. Furnitex (this year called Furnitex & design) hasn't been out of Melbourne for 27 years and this year made its debut in Brisbane, at the Convention Centre at Southbank.
Entering the hall the awards display took centre stage, next to a real stage set up for floor talks and the awards announcement function. Upstairs, on the first two days, related seminars were led and attended by furnishing industry professionals. Dylan Falecki was the big winner on the day, scooping four awards for his Hinoki Suite, see a write-up. Below are only some of the pieces that caught my eye.
See AFIA award winners here, and ACE award winners here.
Words: Linda Nathan, Wood Review Editor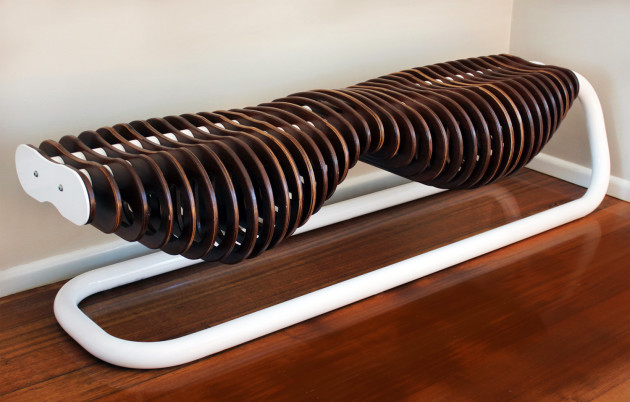 Inspired by maps and topography, the shape of Steve Forrest's Contour Bench also reminded of the human form. The bench was surprisingly comfortable and the slight springy bounce was a fun element. A deserved winner of an ACE Cutting Edge Award.
Last year Kristina Melnikova won a Furnitex award for her innovative Moxie Chair. This year inspiration came directly from Canadian designer/maker Michael Fortune after attending his two-day workshop on design that was hosted by the Perth Wood School. 'That was a great experience', said Kristina. 'We visited Kings Park and took lots of photos, then went back to the workshop and did some sketching, made 1:5 models from foamcore, built a few concepts and then just let it flow'. Kristina's Blumme side table represents a flower with petals unfolding, just as the combined storage and table units can be pivot and reconfigure around a central post. Blumme has a simple and fast assembly system.
www.kristinamelnikovadesign.com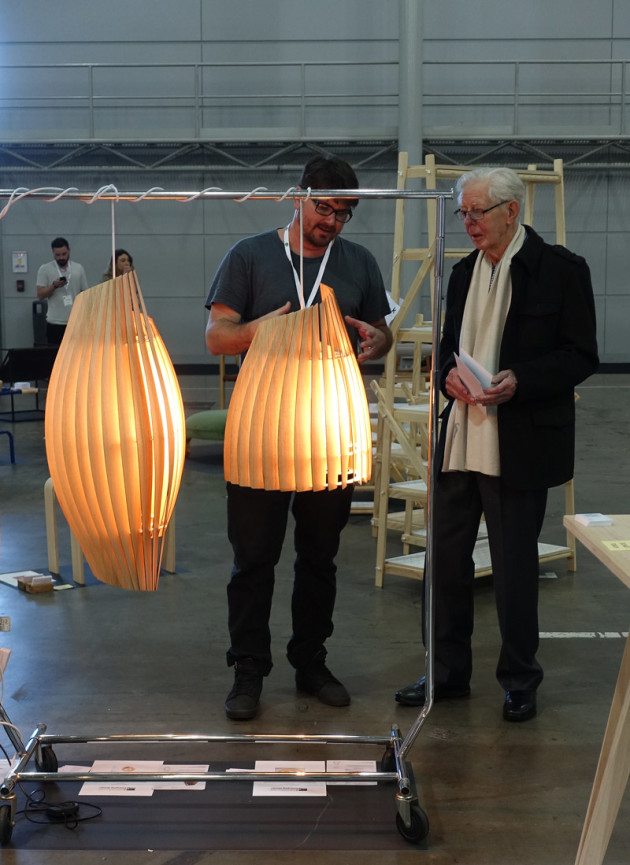 Geoffrey Cameron Marshall, shown here with Australian Furniture Industry Master Ian Howard, displayed three of the nine variations in his Conus range of lighting. Geoffrey received an ACE Craftsmanship Student Award and a Timber Medallion. An electrician by trade, Geoffrey has been working in visual design for 20 years and currently studies Furniture Design at the University of Tasmania. Conus lights are made from custom made Tas oak plywood components however other materials are in the offing. The 'fins' of this seashell inspired design are made by Specialty Veneers in north-west Tasmania and laser cut in Hobart.
www.geoffreycameronmarshall@gmail.com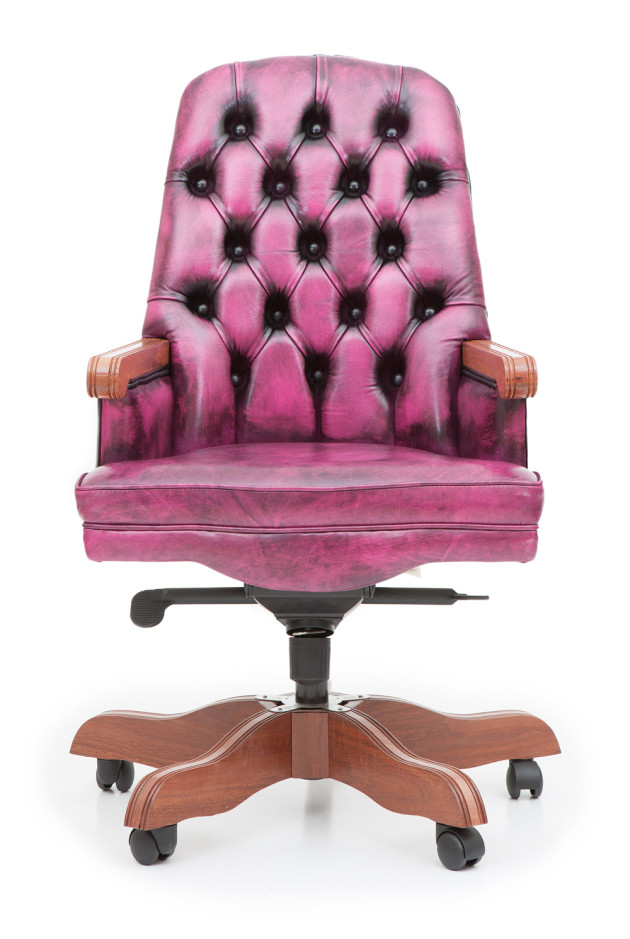 Danial Beinke displayed the superb Chesterfield upholstery he is widely known for. Shown here is Elle with jarrah show-wood and traditional leather upholstery that received a hand-rubbed 'antique' finish. 'The idea is to allow the traditional flare of the stereotyped Chesterfield look to blend into anyone's modern world of home or commercial living', said Danial.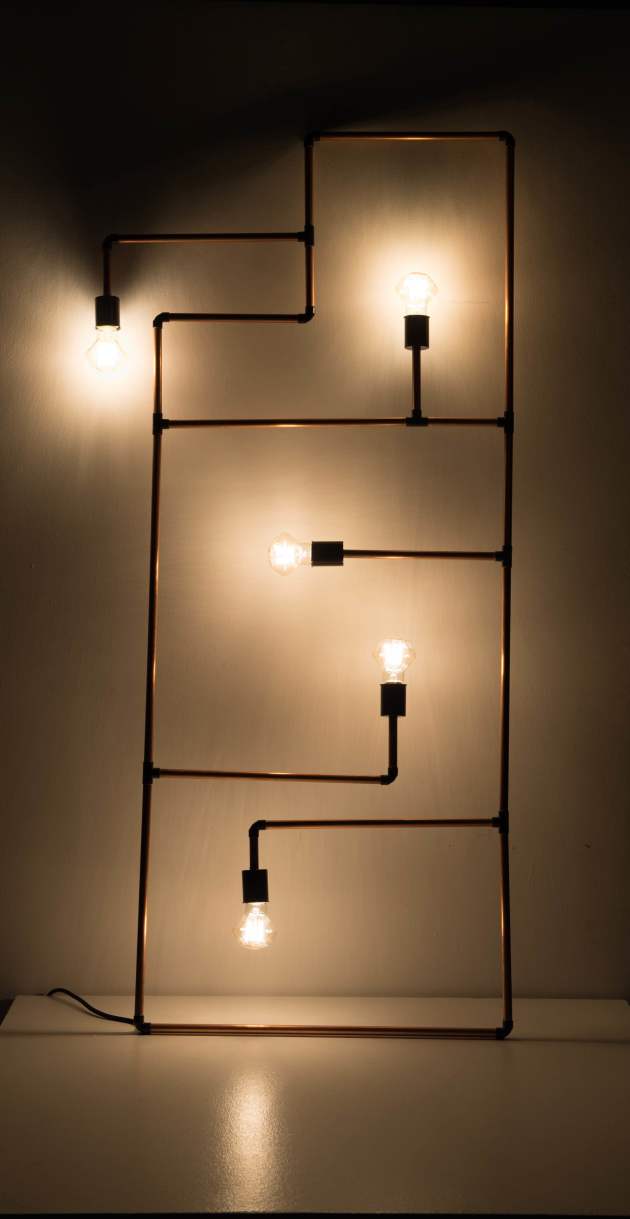 Yasaman Janfada, student of North Metropolitan TAFE, Vic exhibited her Nardeban lighting system. Her submission referred to 'a merging of influences – my Persian cultural background and passion for minimal design forms the basis of my current design ideas.' Designed for batch production using readily available material and off the shelf components. Email: yasi3948@gmail.com
Sydney-based Nelly and Juerger Hegi who trade as JH Custom Fabrications strove for a minimalistic look with their Cube Chair made from 16 x 16mm square tube with Italian leather sling. Copper or custom finishes and alternate fabrics are available. Email: jhcustomfabrication@gmail.com
Flex Table and Stools by Harry Zanios and Ash Allen Furniture presented an elegant solution to modern preferences for the maximised use of sustainable materials in furniture that looks good and is easy to assemble. Made from plywood in natural timber veneer or with Maxifilm surfaces.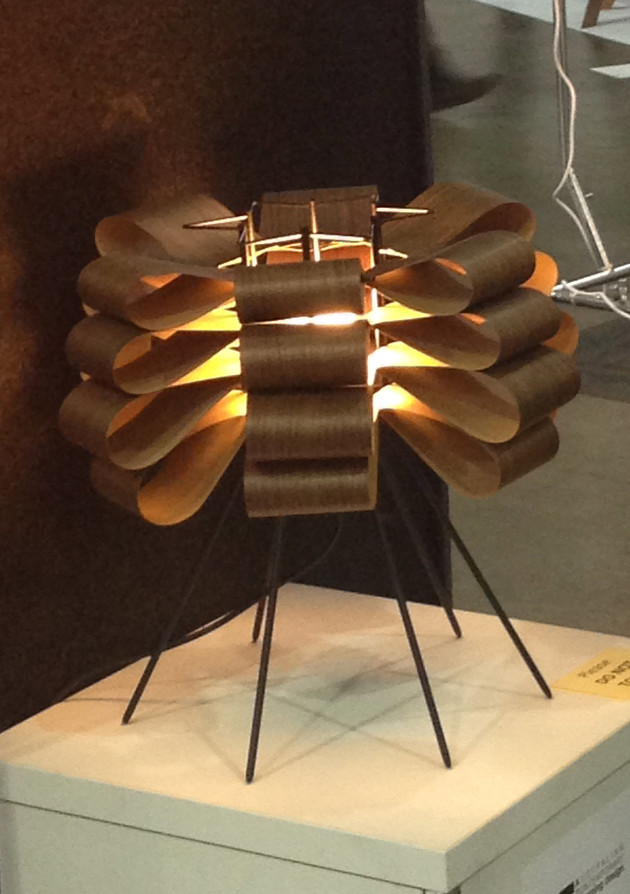 Carina Li-Lin Vincent's design practice Turnkey Living Australia provides an interior outfitting service. However as an industrial designer Carina also has a number of product designs on the go. Her Loopy Boy Lamp is one such product that has undergone several stages of refinement. Inspiration for this piece dates back to time spent in the Great Sandy Desert, WA where stars and insects became visual triggers for the six-tiered configuration of the lamp. Made from sustainably sourced timber veneer wallpaper and scrap metal, Loopy Boy Lamp is flat-pack, easy to assemble and functions as a hanging pendant or a stand alone lamp. Email: design@turnkeylivingaus.com.au
Bryan Micallef aka Nice for Nice received a Timber Medallion for his Warp and Weft Stool. 'I wanted to see if solid timber could look like fabric', Bryan said. Flexiply and veneer are successfully combined in a bent lamination process.
Red Block's PAC Pendant lights, currently sold in Newcastle and online, are an extension of industrial designer and maker Martin Taut's other lighting designs. Made from block laminated bamboo sheet, hollowed to accept the light fitting.
This striking Quedos billiard table in karri received a Timber Medallion as well as accolades from admiring Furnitex visitors. Robert Vudrag, owner/manager of the company for thirty years still has a passion for creating designs that suit the needs and style of his clientele. Made to order tables range from $2000 – $25,000 and most things are possible as even mechanical movements can be fitted to effect transformations. Tables may feature WA woods but also other natives and exotics, and stainless steel can be incorporated for contrast. The tops are all slate covered with 100% English pure wool that comes in over 20 colours.
ACE Creative Vision Student Award winner, Loop Chair by Tamara Glick. Still in prototype the chair impressed with its beautiful silhouette and comfort. Email: tamarajulietteglick@gmail.com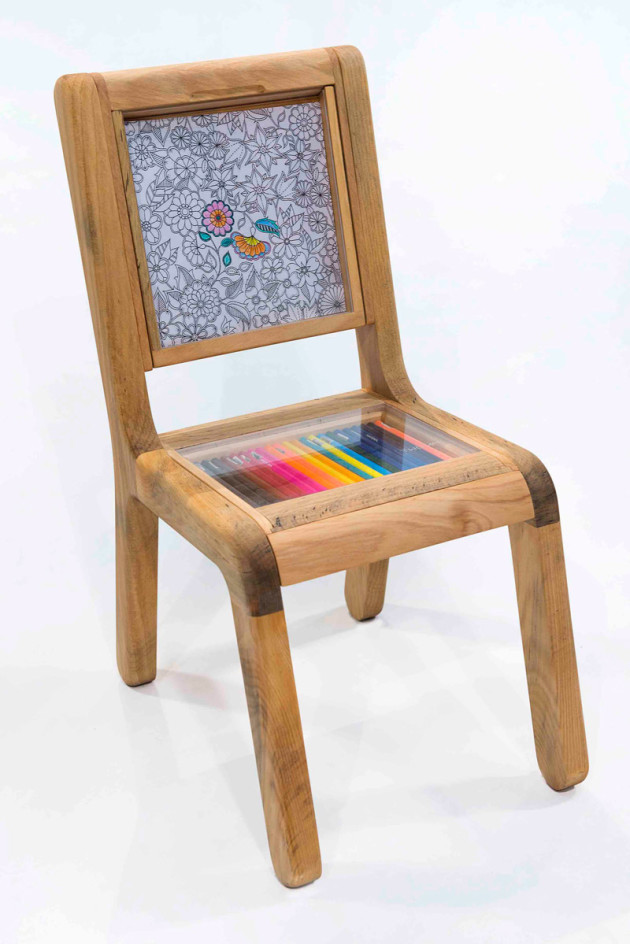 ACE People's Choice Award, Carolina Trombelli and Freddy Mata's Joaquin Chair combined storage and a surface for artworks within a child's chair. Email: caroltrombelli@hotmail.com