Idyll at Sturt School For Wood

Cabinet by Rueben Daniel
Idyll is an exhibition of new work by graduating students from Sturt School for Wood 2017.

Sturt's world-class Wood School, training Australia's future fine furniture makers and designers, will celebrate the graduation of its 2017 students and the opening of their end of year exhibition in Sturt Gallery, Mittagong NSW.
The Sturt School for Wood is now more in demand than ever with a full school until 2019. Amongst many opportunities opened up by the calibre of our students, two of this year's graduates have been offered Associate places in the furniture studio of Adelaide's prestigious Jamfactory.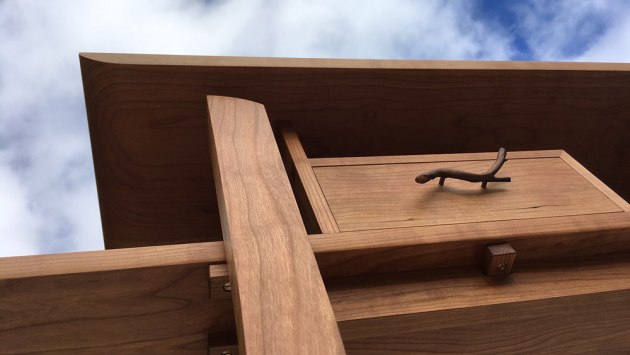 Cabinet by Duncan West
Prepare to be blown away by the quality of the work that will be on display in this important exhibition showcasing emerging talent. A wide range of industry organisations and businesses now support the end of year exhibition for our students.

The 2017 graduation and exhibition opening will take place at 11am on Saturday 18 November with special guest Neil Erasmus, fine furniture make and designer from WA. The exhibition will run from 18 November to 3 December.
The Sturt School for Wood 2017 graduation will be part of the Iris Country Fair that will take place throughout the grounds of Frensham from 9am to 4pm on Saturday 18 November.

Learn more at www.sturt.nsw.edu.au
Below: Bent laminated light form by Scott van Manen.