Full circle: ReCoil + Continuum feature at London Craft Week

Above: Brodie Neill, ReCoil, 2.2m x 1.4m x 780mm high, upcycled Tasmanian species veneers.
Three kilometres of hand-coiled veneer strips sourced from an underwater timber resource make a bold design statement that takes us on a 'journey of the reimagined'. ReCoil is the name of the impressive centerpiece table made by Brodie Neill, which recently starred at an exhibition that launched within London Craft Week.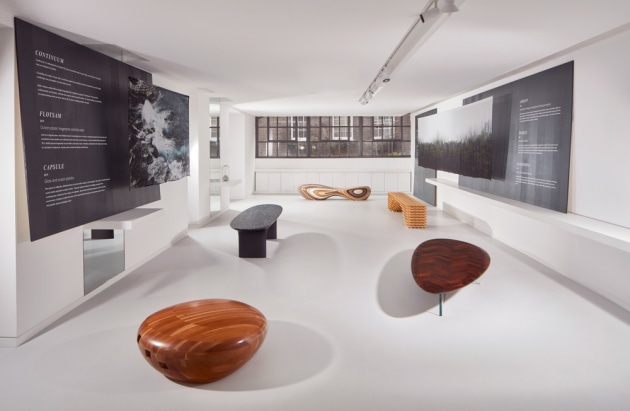 Showing alongside the table was Continuum, a retrospective of Neill's major works which explore the 'upcycled, recycled, and material circularity, within refined designs'.
ReCoil carries an environmental message which is expressed through the use of Hydrowood, an underwater forestry operation that reclaims timber from Tasmanian forests flooded for hydroelectric dams in the Pieman River valley in the 1980s. The veneers that Neill puts centre-stage are by-products of processing at Stamford Hill's Reliance Veneers factory in the UK.
Over three kilometres of veneers were hand coiled in a process suggestive of coming full circle in a pattern that at the same time pays homage to the annual growth ring formations of old growth trees. A randomised algorithm set the patterns for Neill to execute. The coiling process took over 60 hours, over many days.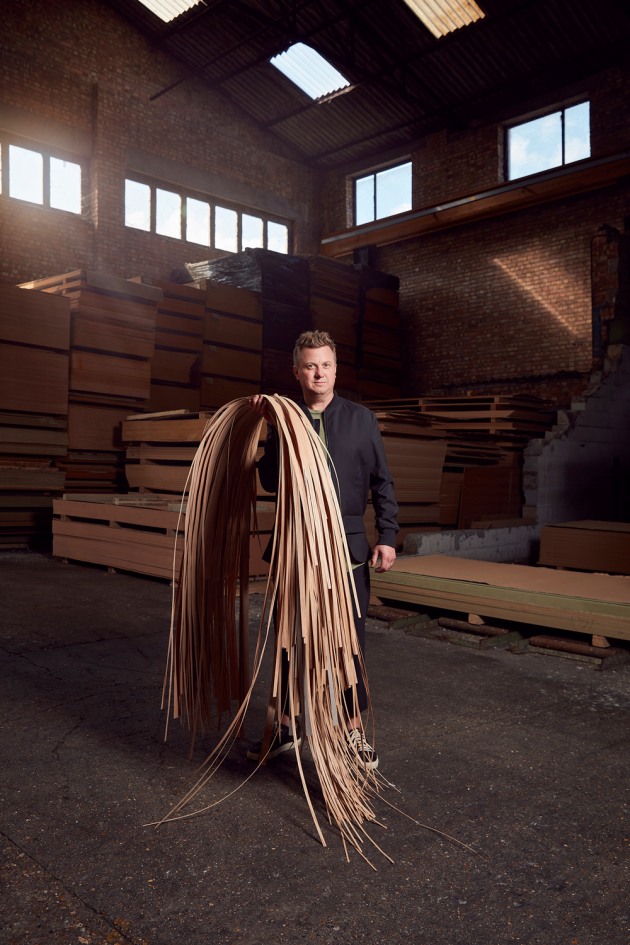 The species used include Huon pine, 'Tasmanian oak' eucalypt species, celery top pine, sassafras, myrtle, and blackwood. The tabletop has been CNC trimmed smooth, flush cut. The surface is polished, finished with resin. The table stem is made of larger pieces of veneer.
Continuum is a retrospective of almost 20 years of design by Brodie Neill, including master works and limited editions Remix, Flotsam, and Supernova. Each design challenges our perception of what waste can be. Each work honours fine craftsmanship and beauty yet finds new ways to think about the future.
The Pebble is made from stack laminated seconds sourced from the Jaguar factory which are CNC cut.
Brodie Neill says: 'The world of waste is plentiful, with limitless potential to recycle. No longer do we need to sacrifice the environment in the harvesting of its natural resources. My intention, through these works, is to start conversations about recontextualising what we have. Above all, it's about creating objects of hope.'
Brodie Neill was born and raised in Hobart, Tasmania and studied furniture design at the Tasmanian School of Art before completing his Master's at the Rhode Island School of Design (USA). In 2005 Neill setup his London studio where his work covers limited editions as well as production pieces for his self-produced brand Made in Ratio. In 2016, Neill represented Australia at the inaugural London Design Biennale with a critically acclaimed installation Plastic Effects, where he launched the now iconic Gyro table.
Remix, reclaimed timbers and manmade materials
Although Neill lives in London he harkens back to his time in Tasmania. 'I've discovered a kind of reconnection throughout the process of ReCoil. It's literally working through the layers of time, with the wood and trees. But maybe also with myself, and Tasmania. Making ReCoil is a challenging process. There is a repetitive nature to the coiling of the veneers. It builds slowly. Usually in my creative process I am keen to get to the outcome creatively. With ReCoil – well, this can't happen! It takes time. But I've found this pace and precision is almost therapeutic, we can reflect on the time it takes the trees to grow.'
ReCoil and Continuum is presented by Design Tasmania and supported by Hydrowood. It's also part of a joint initiative by the British Council and the Australian Government's Department of Foreign Affairs and Trade. The UK/Australia Season 2021–22 aims to deepen and extend cultural connections and concludes in March 2022 in Australia and in December 2022 in the UK.
Photos: Mark Cocksedge, Adam Gibson and Samuel Shelley
See below for an interview with Brodie Neill