Finished and feted: Hare & Forbes Flatbed Felix now in-store

Ninety years in the business of supplying all manner of wood and metalworking machinery is something to celebrate, especially in a world where challenges are coming in thick and fast.
Restoring an icon which dates from the same era was a way for Hare & Forbes MachineryHouse to salute its founders, while underlining core business values of longevity through service.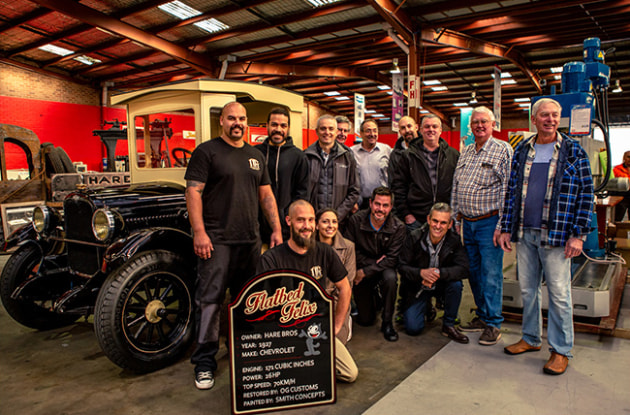 Hare & Forbes family descendants, Rick Foster (Hare & Forbes MachineryHouse General Manager) and OG Customs crew.
The 1927 Chevrolet flatbed truck affectionately known as Flatbed Felix, a similar model to the store delivery truck used back in the 1930s, is now complete. On June 26 the reveal took place at the company's Northmead, Sydney store after a BBQ breakfast and cake cutting celebration.
You can read about the journey of restoration headed up by master builder Sean Hegarty from OG Customs, and if you visit the Sydney store you will henceforth be able to take an even closer look at Felix.
Learn more at www.machineryhouse.com.au