Chris Pouncy turning tour 2019
 
Over 30 years experience working at the lathe underline Chris Pouncy's reputation as a master of his trade. Nineteen of those years have also been spent demonstrating turning techniques on behalf of Robert Sorby, Sheffield, UK based manufacturers of all manner of top quality tooling and accessories for turners, carvers and woodworkers in general.
Chris has been travelling to Australia for over five years to share his knowledge on turning in presentations which cover aspects of tool selection and usage, lathe operation and safe practices. In particular, the essential skill of sharpening is a focal point. This year, due to popularity, the schedule has been extended to run at 24 venues in all states of Australia.
Chris Pouncy's 2019 tour will once again be presented by Carbatec. Dates and venues are listed below. These demonstrations are free to attend. Note: attendees are well advised to confirm dates and times with their local Carbatec store or the venue host  beforehand.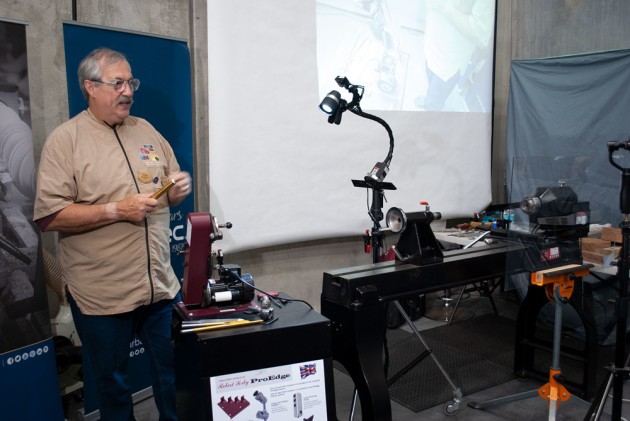 SYDNEY/NSW
Friday June 7 Carbatec Sydney Store, 10am–4pm
Saturday, June 8 Carbatec Sydney Store, 10am–4pm
Sunday, June 9 Trend Timbers at Timber, Tools & Artisan Show, 10am–4pm
Monday, June 10 Raymond Terrace Mens Shed, Newcastle, 10am–1pm
Tuesday, June 11, Laurieton Mens Shed, Lavington, 10am–1pm
Wednesday, June 12, Coffs Harbour Mens Shed, 10am–1pm
VICTORIA
Thursday, June 13 Carbatec Springvale Store, 10am–1pm
Friday, June 14 Warragul Woodworkers, 10am–1pm
Saturday, June 15 Peninsula Woodturners, 10am–1pm
TASMANIA
Monday, June 17 The Ulveston Woodworking Guild, 10am–1pm
Tuesday, June 17 The Shed, Launceston, 10am–1pm
Wednesday, June 19 Carbatec Hobart Store, 6pm–7pm
Thursday, June 20 Carbatec Hobart Store, 10am–1pm
ADELAIDE
Saturday, June 22 Murrayland Woodturners Murray Bridge, 11am
Sunday, June 23 Tea Tree Gully Community Mens Shed, 10:30am
Monday, June 24 Carbatec Stepney Store, 9am & 32pm (TBC)
PERTH
Tuesday, June 25 Carbatec Balcatta Store, 10am
Wednesday, June 26 Swan Woodturners (Swan District Senior Citizen Cte), 9:30am
Thursday, June 27 Wandi Woodturners, 9:30am
BRISBANE
Saturday, June 29 Carbatec Brisbane store, 9am–12pm
Monday, July 01 Carbatec Brisbane store, 9am–12pm, 1pm–4pm
Tuesday, July 02 Blackall Ranges Mens Shed, 10am–1pm
Wednesday, July 03 Bayside Woodturners and Woodcrafters, 10am–1pm
Thursday, July 04 Ipswich Woodcraft Club, 10am–1pm
More details from Carbatec, phone 1800 658 111, carbatec.com.au