Celebratory spirits

Above: the Stabila Spirit Level Production in Germany
To celebrate their 130-year anniversary, German measuring specialist Stabila has launched a limited edition spirit level set. Each 1889 Anniversary Edition contains four spirit levels. Three spirit levels in lengths of 40cm in white, 60cm in yellow and 100cm or 120cm in black, all with the classic Stabila profile and hard-wearing coated measuring surface. Each instrument is inscribed with the Stabila anniversary logo and delivers accuracy of 0.5 mm/m in normal position and 1.0 mm/m in reverse position. In addition, a plastic, mini-format 1889 pocket spirit level is also included to carry out quick horizontal alignments.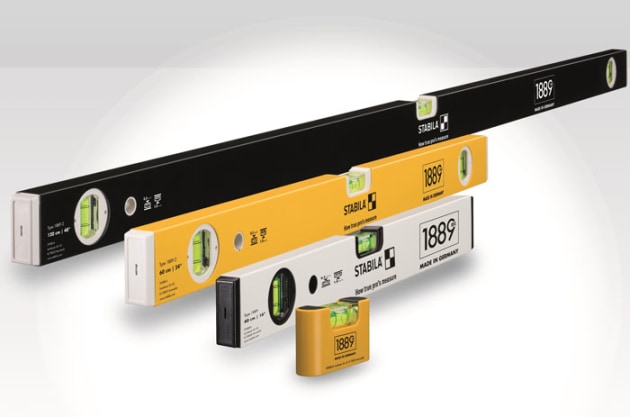 Stabila1889 Edition set
"Stabila products have been available on the Australian market for over 60 years and are renowned for their quality, reliability and accuracy", says Stabila Australia General Manager, Kathy Jack. "When Gustav Ullrich started his 'metre factory' in 1889, his aim was simple. To make the job of builders and tradespeople easier by creating the most accurate and reliable measuring tools on the market. 130 years later, building professionals rate Stabila's range of spirit levels, electronic measuring tools and lasers to be the best in the world. It's a great success story and we're really pleased to be able to offer this very special, limited-edition set to our Australian customers."
Stabila uses a sophisticated, automated process to produce their measuring tools, yet many of the production stages are still done by hand. The permanently cast vial ensures maximum precision and durability even when subjected to high loads. Today, up to 10,000 spirit levels a day are produced at Stabila's Annweiler factory in Germany and sold into 80 countries around the globe.
More information at www.hordernandco.com.au