Celebrating 90 years – Hare & Forbes restoration project

Above: The first stage of Hare & Forbes MachineryHouse's 90th birthday celebration project
Hare & Forbes MachineryHouse is an Australian family-owned business that goes back a long way. To celebrate turning 90 this year on June 26, the company thought ahead to marking the occasion with a special project – restoring a 1927 Chevrolet flatbed truck – a similar model to the store delivery truck used back in the 1930s.
Back in the day, the Hare & Forbes 1926 Chevrolet delivery truck
Restoring 'Flatbed Felix' involved quite a bit of research and also provided some creative freedom in bringing back the original look while also refining elements. All wood, metal and automotive work has been overseen and completed by Master Builder Sean Hagarty from OG Customs.
The name relates to the cartoon character Felix the Cat, designed by Australian cartoonist Pat Sullivan in 1919, which became the mascot for a Los Angeles Chevrolet dealership in the 1920s – of which the owner was a friend of Pat Sullivan's. Felix was adopted onto a three-sided neon sign that still stands today. It was only fitting that this iconic truck was named after another icon of the time.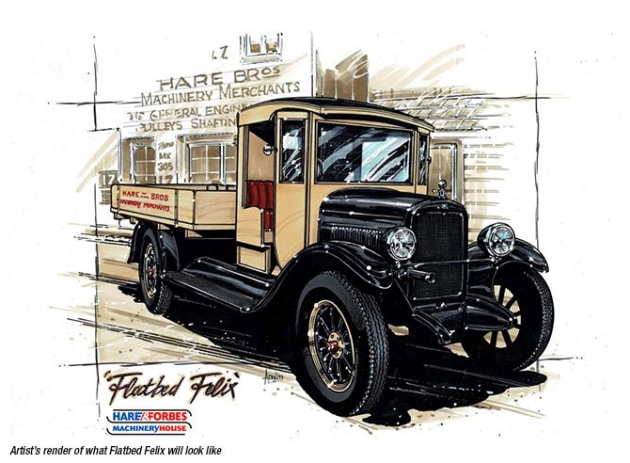 Many will already be familiar with the 1926 Chevrolet flatbed truck that lives on the display floor of Hare & Forbes Northmead, NSW store. However 'Feral Sheryl' is still in her original condition. Rick Foster, General Manager of Hare & Forbes MachineryHouse commented "The previous owner called her Feral Sheryl and the name just stuck. She was so beautiful in her original state, I just didn't have the heart to change her. Her floors are still worn down where people have driven her for the last 94 years and her tin cab still has all the dings in it. Why would anyone want to erase all that history?!"
The woodworking stage for Flatbed Felix took around two weeks and included fabrication, fitting and finishing of all parts. You can read about the design and build of the driver's cab and tray here
Some of the team at Hare & Forbes with their now iconic 1926 Chevrolet delivery truck
Hare & Forbes carry a range of tooling, machinery and equipment that extends far beyond the comprehensive woodworking supplies they offer. Automotive, restoriation, metalworking, CNC, welding and school supplies are just some of the areas covered. Flatbed Felix will become an heirloom for the company, and an example of what can be achieved using Hare & Forbes MachineryHouse tools.
Learn more at www.machineryhouse.com.au