Carbatec 250mm Cabinet Saw

Review: Damion Fauser
Carbatec's new cabinet saws are on the money. Trialling one at their Brisbane testing workshop it was apparent this new range has had a lot of research and development invested into it.
Over the same basic cabinet, table, arbor and trunnion structure, there are separate options to choose from – with a 30" rail and Beisemeier fence; with a 50" rail and hi-low rip fence.
Of course with an additional investment there is nothing stopping the user from having both fences, affording maximum flexibility in terms of ripping and jigging operations.
The saw runs on a single-phase, 2.5hp motor which can be run from a standard 10 amp general power outlet, yet still offers plenty of power for most types of cuts. Power is transferred via a single belt.
Safety has obviously been a major consideration in the development of this saw. They come with standard
and low profile rise/fall splitters. The master switch is a magnetic NVR with emergency stop functionality, and the clear and significant blade guard tilts, rises and falls with the blade. There are also some very solid anti-kickback cauls built into the blade guard assembly.

Above left: Blade tilt control is large and smooth in operation. Above right: The mitre gauge is simple but solid.
Dust control is exceptional, with a master 100mm port at the rear of the enclosed cabinet and overhead collection plumbed through the blade guard, so dust is collected right at the front of the cut.
Controls for blade height and tilt are large, ergonomic, smooth in operation and can be locked once set. Maximum cut height at 90° is a useful 82mm and at 45° is 57mm, both of which are good for a 250mm tooled machine. The blade tilts to the left, which can be beneficial for a western style tablesaw.
The table is nicely ground and polished and has a mitre track either side of the blade, allowing for versatile use of the supplied mitre gauge or shop-made jigs and sleds. The mitre gauge is simple but solid and has a nice flip-down adjustable stop.
A fairly rudimentary 40-tooth blade is supplied but quality CMT tooling was used for the tests. The machine starts smoothly, runs free of vibration and makes nice clean cuts with little strain on the motor. Blade changes are straightforward with the supplied tooling and the arbor lock.
The arbor size is 5/8", ensuring that many aftermarket options are suitable. The machine is capable of running a dado stack out to 19mm (not supplied) and a second dado throat plate is supplied. Both throat plates are level adjustable courtesy of some built-in grub screws.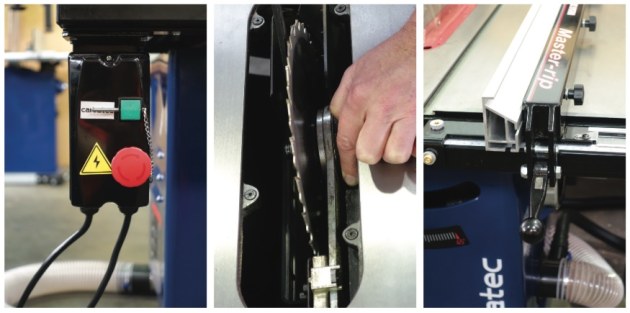 Above left: Magnetic no-volt release switch with emergency stop functionality. Centre: Blade changes are straightforward with the supplied tooling and arbor lock. right: Mitre tracks on either side of the blade allow for use of the supplied mitre gauge or shopmade jigs and sleds.
After a thorough walk around and dry-play to familiarise myself with the machine and its controls, I set up for and made a series of ripping cuts in some 40mm thick hardwoods. I was pleased with the ease with which the machine and tooling powered though the cuts, and the quality of the surface finish was more than acceptable.
After an inspection and a short trial I was left with an impression of a good quality saw with much to offer. It's worth considering against other saws in this size class and budget range.
Review machine supplied by Carbatec, www.carbatec.com.au 
Damion Fauser is a furniture designer maker in Brisbane who also teaches woodworking from his Darra workshop.