Award Winners of 2016
Phoning people up to tell them they've won a prize is a pretty exciting thing to do. For the winners of our Student Awards in particular, it was an acknowledgement of their achievements and encouragment for them to keep learning and making things. After informing and congratuling them we asked each of our award winners what their immediate plans for the future were.
Isaac Williams (Overall Best) is definitely planning to keep up his woodworking and currently looking for a job placement with a furniture maker so he can continue on his path. If you are a professional looking for a highly motivated and talented young offsider or apprentice please contact us and we'll put you in touch.
Kate Spencer (Best Design) is now studying for a Bachelor in secondary teaching, majoring in Design and Industrial Technology in wood and textiles at Newcastle University.
Samantha Fulwood (Best Turning) is now studying maths at university but looking to keep her hobby of woodturning going as a creative outlet.
Frazer Crowe (Best Hand Skills) has deferred for a year and…you guessed it…has plans to build another kayak. By Frazer's reckoning and that of his teacher, Stephen Hughes, 600 hours went into the making of his kayak, quite an act of dedication for someone also completing year 12 in secondary school. Frazer is planning to study industrial design at RMIT in 2018.
Cameron Cornish (Best Carving) is in Year 12 this year. Taking two maths subjects and ruled out studying woodwork in class time, however Cameron now has his own set of Pfeil chisels to continue carving with in the shed at home.
Harrison Bennie (Best Use of Native Timbers) is now also firmly set on a career in design and is currently studying that at university level.
This year's winners of 2016 Wood Review Student Awards are featured in the current issue of the magazine along with comments from this year's judges, Laura McCusker and Stuart Faulkner.
Thanks go to our generous sponsors for supporting younger woodworkers!
Overall Best
Winner: Isaac Williams for Guitar Stand Hall Table. Teacher: Ben Percy  School: Freshwater Senior Campus, NSW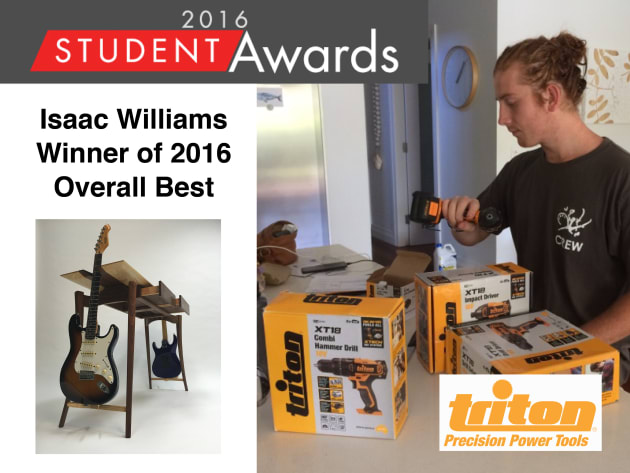 Best Hand Skills
Winner: Frazer Crowe for his Tortoise Kayak. Teacher: Stephen Hughes. School: Haileybury College, Victoria
Best Design
Kate Spencer for her Bathroom Vanity Unit. Teacher: Ben Percy School: Freshwater Senior Campus, NSW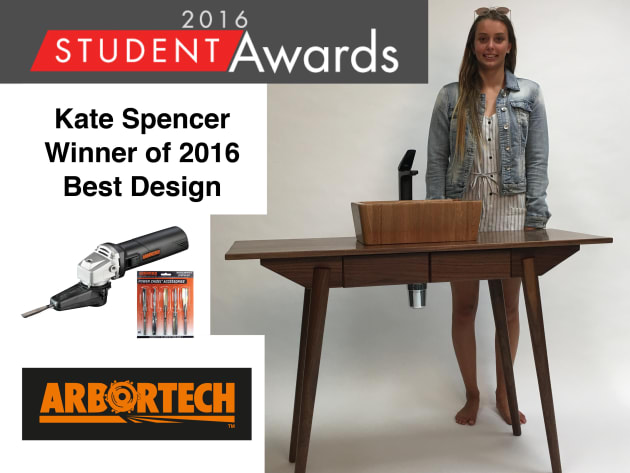 Best Carving
Winner: Cameron Cornish for Floral Carving. Teacher: Ray Ohlsen School: Gisborne Secondary College, Vic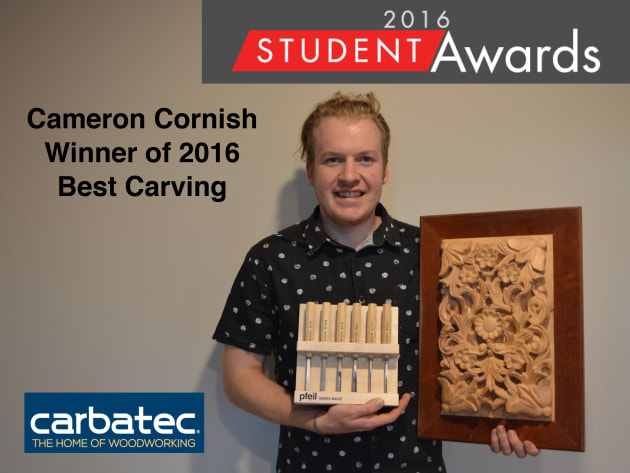 Best Turning
Winner: Samantha Fulwood for her Banksia Nut Bowl. Teacher: Matt Toby. School: St Joseph's Catholic College, NSW
Best Use of Native Timbers
Winner: Harrison Bennie for Modern Outdoor Refectory Table. Teacher: Ashley Keatch School: Scotch College, Claremont, WA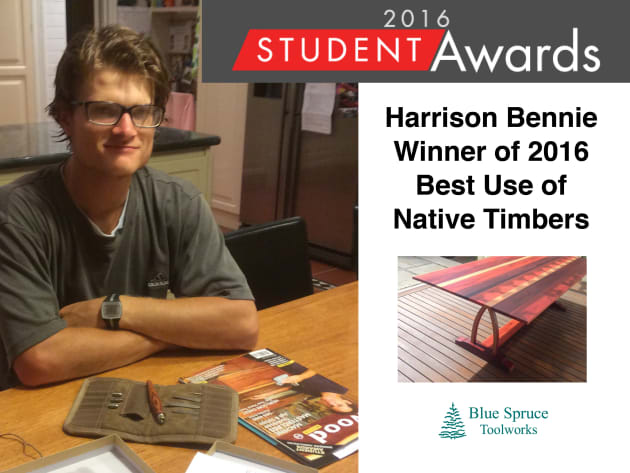 Popular Choice
Winner: Nathan Jurd for his Architecturally Inspired Study desk. Teacher: Andrew Kenneally. School: Corpus Christi Catholic High, NSW
School Awards
The three schools attended by the winners of Overall Best, Best Hand Skills and Best Design also received awards: