Announcing tutor line-up for 2020 full time NZ course

Students at the Centre For Fine Woodworking with tutor Thorkild Hansen at the rear.
2020 will mark the 13th year of the Furniture Makers' Programme at the Centre for Fine Woodworking in Nelson, New Zealand. Those enrolling for the full time course will definitely be in luck however with the opportunity to learn from a world class line-up of tutors, each selected to teach their particular area of expertise.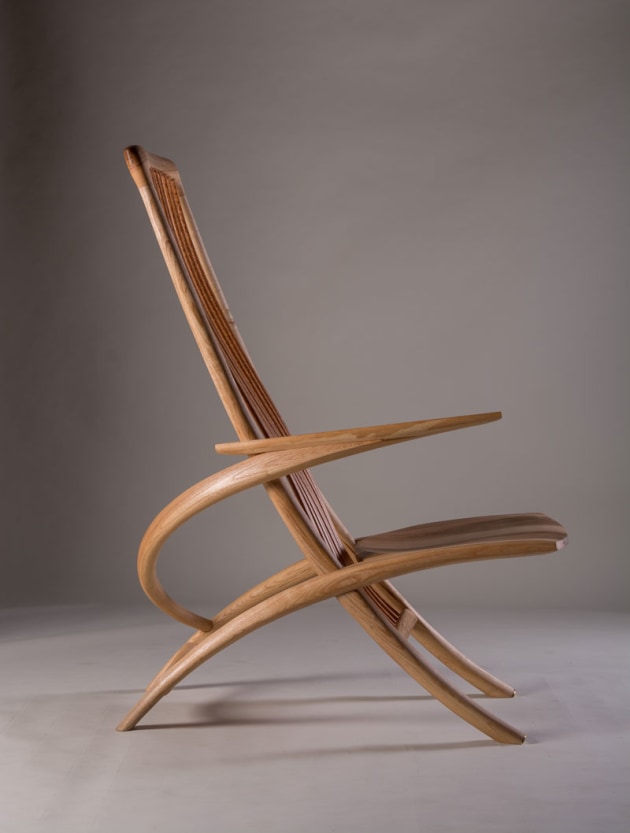 Eliot Brand's Dream Steamer, made last year during the Furniture Makers' Programme.
The Furniture Makers' Programme is a 32 week intensive course designed and developed by practising furniture makers and teachers. It is intended for the serious woodworker and provides an unparalleled opportunity for students who want to get to grips with the essence of fine furniture making. An emphasis on the mastery of traditional woodworking skills and processes will develop proficiency in a wide range of technical disciplines, giving students the confidence to design and develop their own work.
2020 tutors include Michael Fortune (Canada) shown above, Adrian Ferrazzutti (Canada), Aled Lewis (UK) along with David Haig and Thorkild Hansen from New Zealand.
There are four terms, each with a different focus and tutor:
Term 1: Introduction to Fine Woodworking & Cabinetmaking. Tutor – Thorkild Hansen
Term 2: Steam bending & laminating. Tutor: David Haig; Design & Make a Hall Table. Tutor – Aled Lewis
Term 3: Chair Design & Make Project. Tutor – Adrian Ferrazzutti
Term 4: Final projects. Tutor – Michael Fortune
Applications are now being received for 2020 and 2021 programmes  and it is also possible to attend an individual term of the Furniture Makers' Programme.
Learn more at www.cfw.co.nz and enquire at cfwoodwork@gmail.com
Below: Saul Parkinson's Steam Bent Hall Table in American walnut also made last year during the programme.