A Weekend for Spoon Carvers

Spoonies in the Tweed 2017, was the fourth and fabulous year for the annual Spoonies in the Tweed event!
On 29 September 2017, over 50 happy carvers gathered in Uki, a peaceful village in the Tweed Valley NSW, to hear the wisdom of three talented woodworkers: Robert Howard, Barton Chesworth and Jeff Fraser.
The three artisan presenters offered a variety of approaches for the Spoonies participants. Robert (Bob) Howard was a source of inexhaustible knowledge gained from decades of dedication to wood and its transformation to art and utility.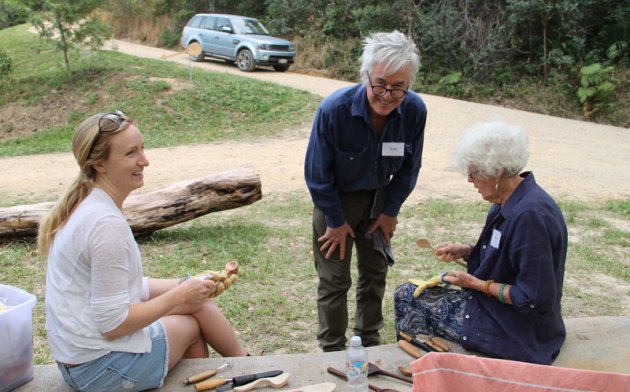 Using prepared spoon blanks, Bob introduced the beginners to straight and hook knives, safety techniques, and the importance of grain. Honing their newfound skills, the fledgling carvers were soon engrossed in the meticulous and calming art of spoon carving.
Barton Chesworth took the more experienced carvers from raw log and axe to the final polished spoon. This journey was well appreciated, as carvers explored a range of woods and tools to fulfil their pieces.
Jeff Fraser brought creativity of method and design. Combining the belt grinder with raw branches and sticks, Jeff demonstrated the potential of the spoon in found materials: bringing to life new ideas for the carvers.
Over 50 spoons were carved and presented for the chance to win Carbatec Gift Vouchers along with the annual Spoonies in the Tweed Artisan's Challenge.
Above: Graeme Findlay accepts the Most Creative Spoon Award from Bob Howard (left) with co-organiser Graham Folland.
The 2017 Artisan's Challenge invited experienced carvers to prepare a set of salad servers using the woods and design of their choice. The closely contested 2017 prize was won by Diane Page, a second time Spoonies in the Tweed participant.
Above: Diane Page accepts the Artisan's Challenge Award
As always, new friendships were soon apparent with carvers coming to Spoonies from all over the country and the globe. Irish visitors from 2016 returned for a second Spoonies and brought new friends from the Emerald Isle to join the fun.
Local band, Sydney to the Bush entertained around the campfire as the woodfired pizza was heartily consumed after the long Saturday carving session.
Many Spoonies' carvers camped on site – with swags, tents and camper vans spread across the beautiful campsite and guests enjoyed the many attractions of the area – with Mount Warning to climb, the villages of the Tweed Hinterland to explore and local beaches a picturesque drive away.
Photos: Dan Wong
The next Spoonies in the Tweed once again takes place in Uki, NSW on the weekend from September 29 to 30, 2018.
Learn more from www.tweedspooncarving.com.au