A Visit to AWISA 2018
Words and photos: Linda Nathan, Wood Review editor
On July 4, 2018 I visited the woodworking industry suppliers' largest trade show. Held biannually AWISA ( Australian Woodworking Industry Suppliers Association Limited) was this year held in Sydney, the first time in this capital city for six years. For the first time attendance figures topped 10,000, and the increase from the last AWISA was a very healthy 16%. And not only that, visitors found, not surprisingly, that with 28,000 square metres of machinery, tooling, software and associated equipment and hardware, there was much more than could be seen in a day, so a third of the attendees came back for more.
AWISA is a massive event. Picture the bump-in, the vehicles and forklifts needed to ferry in large and very large equipment. The teams of people required to install not only stand displays, but dust extraction and run power to all. A remarkable number of exhibitor personnel are required to set up, man and pack up displays that cover two levels of Sydney's ICC Exhibition Centre, a staggering 2277 people in fact!
The thing is, woodworking is not what it used to be. Today's industrial woodworker may spend far more time looking at monitors and digital displays than tooling and machinery. And, judging by the materials and machinery on show, she or he now spends a lot less time looking at wood.
Nowadays cabinet shops as small as four or five person operations, and some smaller, will be investing in significantly sized and priced plant to produce kitchens, cabinet and shopfittings. According to Colin Clisby, national sales manager for South Australian based company Leda Machinery, 'The market for solid wood is slowly starting to shrink, and is more and more flat panel based'. In his opinion, buyers are looking for 'more modern looking and freestanding furniture', and in any case it's now easier and cheaper to import it. Out of the 1500 machines Leda Machinery stocks, around a third are for handling solid wood. Amongst their display Leda showed its new KDT PV panel saw as well as Max edgebanders, machines that even small panel shops can utilise to speed up production.
The face of the woodworking industry has changed, however AWISA is still where it displays its finest products and innovations. This is a trade only show where company branded clothing or suits are the normal attire for sales staff and buyers alike.
Amongst the 28,000 square metres of machinery and equipment along with the software to drive it was also an incredible array of manmade materials, surfaces, finishes and edgings and hardware. With large investments to be made and a loyal and focused clientele to engage with, there is also generosity, with many stands offering complimentary café seating and catering. It's not hard to clock up your daily 10,000 steps walking around, but at least there are pit stops at regular intervals to refuel at.
Felder Australia provided sustenance for solid timber users with their display of high end saws, bandsaws, thicknessers and more and also displayed its newest Format 4 Tempora hi-tech edgebanding solution. Tempora's Smarttouch control unit gives fingertip control and monitoring of all functions including adhesive selection and temperature setting, pre-veneering, spraying and buffing. Multi-function trimming units not only end-trim but permit radius trimming on one or both sides. I wouldn't have been surprised if they'd told me this machine could bake a cake as well.
West Australian based Beyond Tools recently celebrated 32 years of trading for the trades. As well as Rikon machinery and Virutex power tools their display included a large of range of Woodfast machinery. A brand that originated in South Australia in 1941, Woodfast moved its manufacturing base to China some 14 years ago. With a workforce of over 300, the company now exports globally and is distributed locally by Beyond Tools. Woodfast machinery is mostly supplied to the educational sector, where it is favoured for its well priced and sturdy construction.
Toughcut machinery also had its Australian premiere at AWISA after its launch at CIFM in China in April this year. Building on the robust qualities of the original WA Tough brand founded by Beyond Tools founder Tony Mirabile, this digitally operated range channels qualities of the Australian sourced minerals its machines are named after, including the Toughcut Zircon nesting CNC router, Toughcut Rutile edgebander and Toughcut Diamond panel saw.
'Transforming sustainable timber' is the mission statement of Accurate, a tooling manufacturer based in Brisbane. Looking at the use of timber in an environmentally friendly way, for example processing shorts and waste instead of just burning them as was commonly done in the past is what this company is all about, explained sales manager Chris Roberts. A range of cutters and accessories for sawmillers through to end manufacturers such as cabinetmakers and joiners were on offer.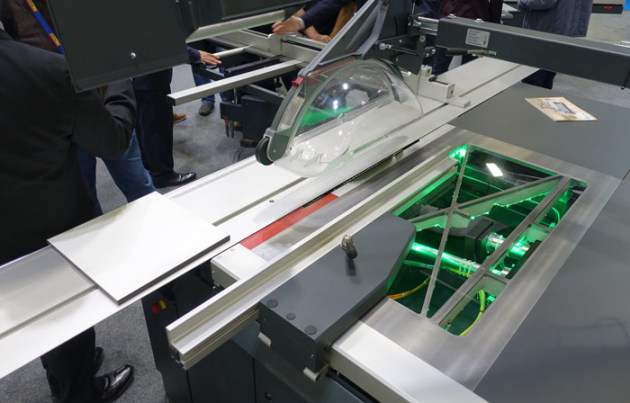 Altendorf's F45 Evo3PQS/2 Vacuum (don't try saying this fast) panel saw was a magnet for those intrigued by its disco-lit air cushion table that makes moving panels literally a breeze. Twin tilting sawblades and digital options are part of the package. Altendorf recently took over Hebroc so edgebanders of that make drew interest for their affordability as well as functionality.
Giant panel processing machinery was everywhere as were several manufacturers of dust control systems. Bag units can tend to blow dust all around and clog prematurely, said Tony Farrell of Australian manufacturers Micronair who was on hand to explain how their units can run three or four machines and run on a negative pressure systems that pull the air through pleated filters with higher surface area and efficiency 0.3microns at 99%. Fan life is longer because particles which could damage the impeller don't reach there.
Founded in 1974 Carb-I-Tool is one of Australia's flagship tooling manufacturers. Only a few days before AWISA its acquisition by another great Australian company became official. Sutton Tools began in 1917, also as a family enterprise, and now produce a broad portfolio of cutting tools for manufacturing, electronic, automotive, medical, mining and power generation industries.
The acquisition of Carb-i-tool signals an expansion into the woodworking industry and signals a new stage of growth. Production of the Carb-i-tool range will continue at Moorabbin in Victoria under the current team and continue to develop in line with the company's recent investment in CNC manufacturing technology.
This is by no means intended to be a comprehensive presentation of all the technology and processing machinery and equipment displayed at AWISA 2018 but may give you a taste of what there was.
The scale and diversity of AWISA 2018 was an affirmation of the strength of this Australian manufacturing industry even though the nature of the materials it now uses have largely moved from natural to manmade.
Click on the images in the gallery to read captions.
Learn more at www.awisa.com