Winging It

Words and photos: Ben Culley
The flowing curves of a Douglas DC-3 Dakota wing provided the inspiration for Ben Culley's Wing Desk, but the sum of the thousands of parts of this unique piece is more than just an aerodynamic profile. The Queensland furniture maker went to great lengths to replicate the methods used in real aircraft construction, making all the timber and metal components himself to maintain authenticity.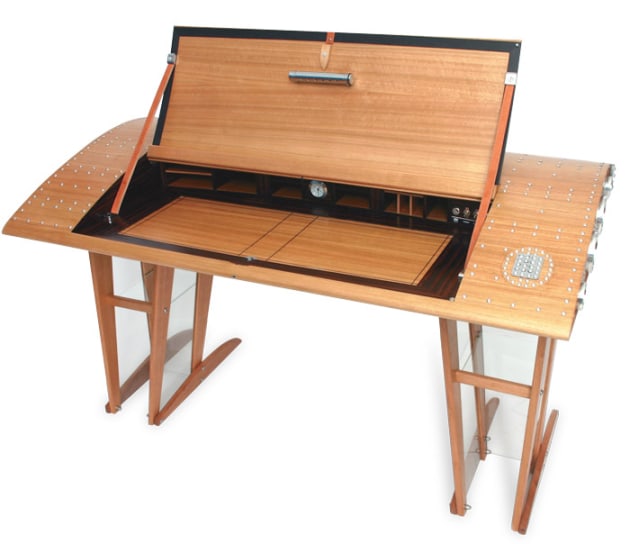 'The idea quickly became much more than simply creating a desk that copied the shape of a wing', said Ben. 'The entire construction process mimicked that used in building aircraft, only in timber.'
The curved profile was achieved using laminations over spars linking two solid pieces of oak. A little artistic license was needed with the overall shape to retain some symmetry to the desk, and the 'aerodynamic lift' was sacrificed in favour of a more aesthetic curve.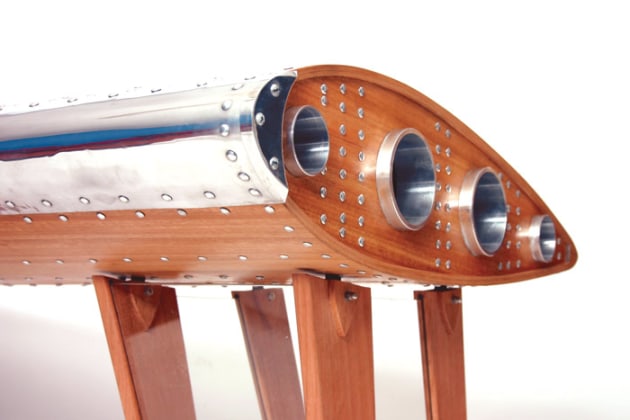 Tas oak was used as the main timber, its light colour relating well to the chrome finish of actual Dakota wings. A chrome 'wing tip' was added to represent the real thing. The almost one thousand rivets that adorn the desk were individually polished, one reason why Wing Desk #2 is not on the immediate horizon. 'It's not a process I'm keen to repeat anytime soon', Ben said.
The rivets carry over to one of the most unique features of the desk—the electronic keypad. The rivet styled buttons on the keypad can be set with a code of up to eight digits that allows access to the desk's interior.
Innovative touches
Innovative touches inside the desk continue the aviation theme: runway lights shine down from the custom made chrome lightfitting on the desk lid, toggle switches activate the landing lights on the sides, and the clock has that aircraft dial look. The clock panel also houses a hidden compartment opened by another code on the keypad.
Wiring for the lights, switches, keypad and telephone point is built into the desk, concealed in a tube in the lid halfway through the laminations. Ben's electrical and engineering background made this and other technical aspects of the desk possible.
'I began my working life in electrical and engineering fields, so I have always been keen to use these skills when making my furniture. To be able to combine the three disciplines in the construction is probably the thing I'm most proud of', he said.
First published in Australian Wood Review #49. Learn more about Ben Culley.