A pegged and turned lidded box

Words and photos: Kerry Cameron

I first saw this form of embellishment many years ago with a turned bowl created by a Townsville Woodturning Club member, Jack Wooderson. I have used the concept in a few of my turnings with one of the most recent being the turned and carved bowl Migration that was an entry in my club's annual competition. The 'pegging' decoration is done by drilling a pattern of holes using Forstner bits and using plug cutters to create contrasting round infills.
The process is quite straightforward and shown in the photos below.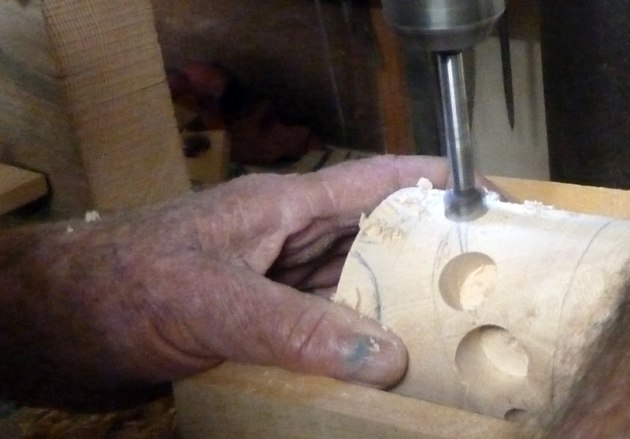 1. Holes were drilled with a Forstner bit.
2. Pre-cut plugs of various species are inserted.
3. Turning off the pegs.
4. The blank is now ready for final shaping.
5. Gluing on the 'collared' lid before turning out the box to expose the plugs on the inside.
6. The box has its lid taped back on for turning and further drilling and inserting of additional plugs.
The completed box prior to the shaping of the base.
Three small feet were carved out on the base using the Dremel before finishing the box in a satin lacquer.
Some extra plugs were also inserted in the lid.
Kerry Cameron is a member of Redcliffe and District Woodcraft Society Inc in Queensland and has written for Australian Wood Review magazine.